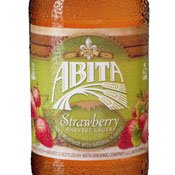 The appearance of Abita Strawberry Harvest Lager, commonly called just "Abita Strawberry," is a highpoint of spring for its fans. The beer is only brewed during strawberry harvest season, and hits shelves starting in early spring with sporadic shipments continuing until Abita runs out––usually just a few months. It is hard to find, as dedicated drinkers snatch it up almost instantly.
Four years ago, I would have dismissed the fruit-flavored lager out of hand, but I've become more ecumenical in my beer drinking since then. While I don't usually favor this sort of beer, I decided to take the topic as a challenge and tracked down a bottle. I am fortunate to know an Abita Strawberry hoarder, who graciously shared one of her treasures.
Having only tried Abita Strawberry on one or two occasions, I sat down with a bottle to reacquaint myself with the beer, and although I have not been converted—my tastes run darker and heavier—I found it pretty drinkable. Like an album by The Clash, a portabella mushroom sandwich and (perhaps) "Glee," Abita Strawberry is a success in the sense that it seems to meet the goals of its creators, regardless if you or I buy into the hype.
Abita describes its seasonal release as "a lager brewed with pilsner and wheat malts and Vanguard hops." The twist, of course, is that brewers add "real Louisiana strawberry juice" to the beer after it is filtered.
It starts out mellow, with the hops making an appearance just before the swallow. The strawberry taste hits about then and lingers for a moment. The mouthfeel is light, and the aftertaste is mild. While the strawberry taste is prominent, its sweetness is not cloying. Abita Strawberry Harvest Lager is definitely a refreshing drink.
Note, though, that I chose the word "drink." Like some other fruity beers, this is a beverage that I enjoy more in the manner of a soda than a beer. At 4.2% alcohol by volume, the same amount as Bud Light, Abita Strawberry doesn't pack too strong a punch, and it will fit in better at the pool than a stout or a porter. (Safety note: don't take glass to the pool, you guys). Although they are not yet available in Mississippi, fans of Abita Strawberry might also try SweetWater Blue, a blueberry beer out of Georgia, or Shiner Ruby Redbird, a grapefruit and ginger beer from Texas.
So, if I liked strawberries better and owned my home, I'd probably take this on as a lawn-mowing beer. As it stands, though, I won't be stockpiling it anytime soon.
More like this story
More stories by this author