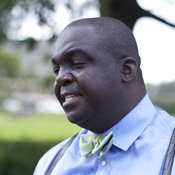 Eric Stringfellow has his work cut out for him. As a Jackson Public Schools public-affairs consultant, the district has given him the task of selling an unpopular rezoning plan that will close one school and require students at several other schools to transition to different locations next year.
Stringfellow spoke at this morning's Friday Forum at Koinonia Coffee House. Although he defended the plan as a necessary measure to account for population shifts, Stringfellow acknowledged that the district could have done a better job at preparing people for rezoning.
"The process and the way that this was rolled out could have been better," he said. Parents found out about the rezoning plan shortly before the end of the school year, in some cases from their children, rather than directly from the district's administration.
District officials have presented the plan as a cost-saving measure, although Stringfellow did not say how much money the district expects to save by rezoning.
Lanier and Provine high schools both have room for several hundred more students, while other schools suffer from overcrowding, Stringfellow said. The maximum student-to-teacher ratio allowed by law is about 26 to one, so rezoning should even out class sizes to be closer to that ratio. That means some classes will get smaller, but some will be larger.
JPS board member George Schimmel said the district would like to have smaller class sizes across the board, but can't afford it.
"Next year JPS will have $6 million less to spend on students," he said, adding that the district will lose about $5.8 million in federal funds and $200,000 to $300,000 in state funds compared to this year.
"We'd like to have 18 (students) in every class, but we don't have the money to do that," Schimmel said.
To see new zone maps for the effected schools, visit the JPS website.
More like this story