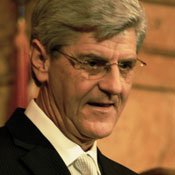 JACKSON — On July 4, Gov. Phil Bryant named four of his agency directors to a task force on state recovery projects related to the 2010 Gulf Oil Spill.
The panel members will include Mississippi Department of Environmental Quality Trudy Fisher, Mississippi Department of Marine Resources director Bill Walker, Mississippi Department of Employment Security director Mark Henry and new Mississippi Development Authority director Brent Christensen.
The panel will recommend projects and priorities that promote seafood, tourism, economic recovery, ecosystem restoration, infrastructure, planning, workforce development and job creation, Bryant said in a statement.
"We will not rest until the Gulf Coast is made whole," Bryant said.