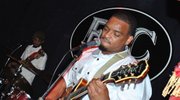 After an ankle injury permanently sidelined basketball player Jarekus Singleton in 2008, he was on crutches for 18 weeks and had to learn to walk all over again. It was then that the former Clinton High School star point guard and William Carey University's 2007 National Player of the Year returned to his roots deep in the Mississippi blues.
The 27-year old blues guitarist began playing guitar in his grandfather's church as a child, but these days, he is playing to much larger audiences.
Clinton native Singleton and his band, The Jarekus Singleton Band, perform regularly throughout Mississippi and across the South. The band was named Guitar Center's King of the Blues in Mississippi in 2011 and nominated as the Jackson Music Awards' Blues Artist of the Year for the past three years straight.
When it comes to recent honors, including the United Kingdom's Blues and Rhythm Magazine labeling him as a "star on the rise," the modest Singleton says, "I'm just concentrating on getting better."
The band is a family affair, with Singleton's cousins Chancellor Cain on keyboard, and Ben Sterling on bass and his brother Jackirus Singleton on drums. Jarekus plays lead guitar. In 2010, the band released its debut album, "Heartfelt," and is currently working on a second CD.
Singleton credits his mom as his biggest inspiration and acknowledges his uncle, Tony, as one of his favorite artists and the person who taught him how play the bass guitar at age 9.
On July 7, the Jarekus Singleton Band performs at Hal and Mal's (200 Commerce St., 601-948-0888) in celebration of Singleton's birthday. The band also performs at F. Jones Corner (303 N. Farish St., 601-983-1148) July 27; Underground 119 (119 S. President St., 601-352-2322) July 28; and at the Jackson Music Awards July 30 at the Marriott Hotel (200 E. Amite St., 601-981-4035).
More like this story
More stories by this author