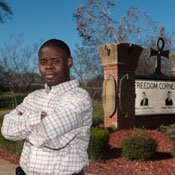 Jackson needs more investment in businesses and needs it quick. That's how Albert Wilson, who is running for the Ward 3 City Council seat, thinks the city can boost both its tax base and the number of opportunities for its citizens.
Wilson, 45, said economic development is the key to Ward 3 resolving some of its ills, like the high crime rate. In addition to fixing potholes, reducing crime and funding more after-school programs for youth, he wants to generate more business in the ward and enhance the ones that are already there.
"There are a lot of businesses in the ward; they just haven't been showcased," he said.
In 1992, Wilson started the Genesis and Light Center, an organization that offers tutoring, counseling, and enrichment activities to low-income children and families. As a councilman, he wants to create more city-sponsored programs for young people.
The Jackson native graduated from Wingfield High School and has a bachelor's degree in computer science from Jackson State University. He lives in Jackson with his wife, Kim, and their three children, and is currently pursuing a master's degree in education from Mississippi College. He is a Democrat.
Why are you running for City Council?
This is my third run for the seat. I believe those two earlier runs were just preparation for this special election. It's more of a personal thing for me, because I was born in that area and grew up in that area—I've lived in Ward 3 (most of) my life. It's time to move our area to a new level.
The potholes are one (problem), as well as the crime, and there's no business growth there. I fault the leadership for not all having the vision for moving our ward to progress a little bit more than it's been doing. I feel that with my experience with running my own business and living in this community, I have the experience to move it to the next level.
What would you do the same or differently from Kenneth Stokes?
The thing that I would do the same as him is I have a heart for the people and really looking at the needs of the residents and the needs of the people themselves—their hurts and concerns. The main thing I'm going to do differently is economic development. ... My campaign slogan is, "It can be in Ward 3," and that means we want to bring more economic development to the ward, more business to the ward. We don't have to go to Madison and Flowood and some of these other places for businesses; we can bring things right here.
Stokes has advocated some con­troversial measures, such as a teen curfew and requiring convenience stores to hire security guards. What do you believe needs to be done to help reduce crime in Ward 3?
We've got to engage our young people, not just punish them and put in statutes. That's not enough. Curfews are not working. ... The kids coming in shoplifting—give them something to engage their minds. If we could have a skating rink or some kind of bowling place here, even a city-sponsored dance, something positive and constructive for our young people. ... I do recommend a curfew, but I want something added to the curfew to positively engage them.
So where should they put kids when they violate curfew?
I have a problem with the detention center because you're throwing everyone in one (place). You've got good kids mixed up with repeat offenders that have done terrible things. If they do put them there, they should put them in a special area, but I would like to have another program similar to in-school detention at another site similar to the Boys and Girls Club or the YMCA.
What role should Jackson have in development projects, such as issuing bonds for Farish Street development?
Whatever we issue, we have to make sure it's going to be beneficial to Jackson. Our tax base is so low (and our tax rate is so high), we can't afford to be putting more taxes.
How can Jackson fix its water lines and roads?
That is one of the big concerns in my ward. It's going to be a process, and I think it's going to have to be fixed through federal funding. ... I think what we have done so far, trying to tax the citizens, isn't working.
Name something you'd change about the Jackson City Council.
I want to be more business friendly—whatever decision we'd make, think it out for what effect it would have on the businesses.
Candidates for Ward 3
So far, these candidates have told the Jackson Free Press they intend to run for the Ward 3 seat or have filed papers with the city clerk. The filing deadline is Jan. 25. The special election is set for Feb. 14.
• Beneta Burt
• Gwendolyn Chapman
• LaRita Cooper-Stokes
• Michael Harrison II
• Joyce Jackson
• John Taylor Jr.
• Zachery Williams
• Albert Wilson
More like this story
More stories by this author
Like independent media outlets around the world, the Jackson Free Press works hard to produce important content on a limited budget. We'd love your help! Become a JFP VIP member today and/or donate to our journalism fund. Thanks for considering a JFP VIP membership or one-time support.