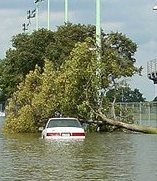 Get links to updated tropical storm/hurricane info here.
Attorney General Jim Hood is warning Mississippians to be on the lookout for price gouging in the wake of tropical storm Isaac.
Hood said in a press release that Governor Phil Bryant's state of emergency announcement does not allow Hood's office to enforce the price gouging.
"The governor must invoke the necessary language from the Mississippi emergency management laws," Hood said in the press release.
Numerous citizens have called the AG's office to report upswings in prices. With the price gouging statute not in effect, the increases are legal. When in effect, the law states that "the value received for all goods and services sold within the designated emergency impact area shall not exceed the prices ordinarily charged for comparable goods or services in the same market area at or immedialey before the declaration of a state of emergency."
"Even during a state of emergency, the law still allows a reasonable increase in prices to account for additional supply costs," Hood said.
If Gov. Bryant does invoke the law, the AG's office will immediately begin taking reports of gouging. To report price gouging, call 800-281-4418.
Hood recommends that Mississippians use their cameras to take video and photos of price gouging for proof.
Mississippians can also get a Hurricane Preparedness Guide and a model home repair contract, to help protect against home repair fraud, at the agjimhood.com
"Having all your terms in a detailed, written contract will help you if you find yourself in the unfortunate situation of being conned by a crooked contractor," Hood said.
More like this story