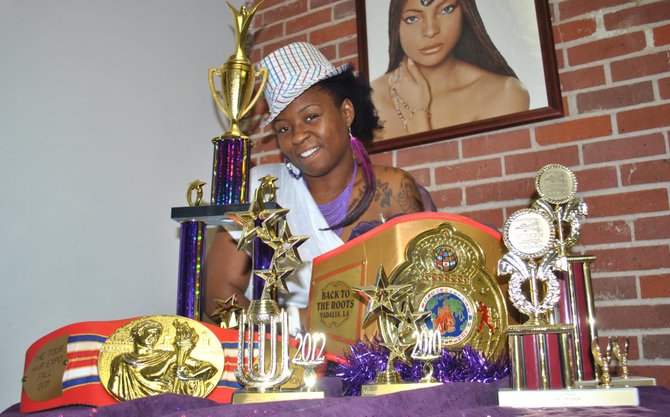 These days, Sheka Epps enjoys her successes. But the businesswoman and prize-winning platform hair stylist had to overcome some life-altering obstacles to get here. A 2006 house fire left Epps and her family--she's a mother of four--homeless. Earlier that week Epps received notice that the shop she was working in at the time was in its last week of operation.
She and her kids had no choice but to stay with friends and in motels for more a year. "I was scared," she says. "I had hit bottom."
To most, this would seem to be the worst week of Epps' life. Yet, in the days between receiving notice of her workplace closing and losing her home, she met a friend of a friend who helped her open her own shop the next year.
Epps, 38, now owns and operates the barber and beauty salon Secrets of a Glamorous You located in the Jackson Enterprise Building at 931 Highway 80 W.
In addition to running her salon, Epps, a Jackson native, competes in hair-battle competitions throughout Mississippi and the South. This past April, she placed first at the International Hair and Bridal Expo, hosted annually in the capital city.
Epps has been styling hair since high school; she graduated from Lanier High School in 1993. But she had to find her place in the field of cosmetology. In November 2010, she found that niche by competing in a hair battle on stage. Epps did not make the finals in that first competition, but her determination and persistence led to a first place win in her second competition the following year.
Since 2010, Epps has participated in seven competitions, placing first at four 
different shows.
"It's my God-given talent to be on stage in competition," Epps says.
Earlier this month, she competed at the Bonner's Brothers International Hair Show held annually in Atlanta, Ga.--the location of Chris Rock's documentary, "Good Hair." While Epps didn't bring home a first, she was one of the two finalists in the Milky Way Platform Hair Competition and placed in the top five in the Bonner's Brother's Grab Bag Competition.
In September, Epps will be back competing on the platform at the first Mississippi Hair Battle Royal at the Transformations Center in Grenada.
Overall, though, she says she wants to focus on being an excellent businesswoman and mother to her three daughters--Ebony, 23, Elexis, 19, and Emary, 17--as well as her 12-year-old son, Eddie.
"I want to set an example for my children that they can be proud of," Epps says.
More like this story
More stories by this author