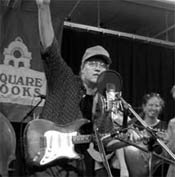 Sept. 30, 2011
Jerry "Duff" Dorrough, a honky-tonk guitar player and a painter, grew up in Ruleville.
"I always said, you know, painting is my day job and playing music is my night job. It's not always that simple," Dorrough said in the documentary, "Drawing on a Dream." Susan Dobbs and David Rae Morris made the film this year. Barefoot Workshops in Clarksdale produced it.
In the documentary dated September 2011, Dorrough says he graduated high school in 1970, then went to Delta State University to study art. After he graduated, he wanted to play rock 'n' roll music, so he moved to Nashville. When his grandfather became ill in 1975, Dorrough moved back home.
He played with the Tangents, billed as the Bad Boys from the Delta. "It was a monster band," Dorrough says in the documentary.
He talks about the deaths of friends and loved ones, including his wife. "I learned not to wallow in self-pity," he says. "What I learned over the years is life goes on."
In the 1990s, he went back to school to study art again with a new passion for light and color in his paintings.
"My idea of success when I was younger was a real selfish idea of what I thought was success," Dorrough says in the film. "I thought if I made a lot of money or if I was in a group that got recognition and hit records, that would be success. Now, you know, I sort of make my living by drawing on my dreams."
More like this story
More stories by this author