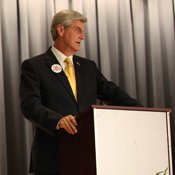 Three Republican Party gubernatorial candidates leaned heavy right on social issues, but differed slightly on some money matters at a Flowood debate sponsored by the Mississippi Tea Party.
The June 25 debate, also sponsored in part by WAPT News Channel 16, featured Republican front runner Lt. Gov. Phil Bryant, Mississippi businessman Dave Dennis and Pearl River County Supervisor Hudson Holliday. All adopted near-identical stances on illegal immigration, property rights and opposition to legal abortions, but their opinions differed regarding taxes and education.
All three said they would fully support an Arizona-style state bill forcing local law enforcement to ask suspects if they were legally documented residents of the country, and to arrest those who could not provide documentation. The three also said they would immediately commit to restricting the state's ability to seize private property for anything other than public projects, such as roads and bridges--an opinion that deviates from that of Gov. Haley Barbour.
The three said they supported the personhood initiative on statewide ballots this year, which would grant rights to microscopic human eggs.
Holliday deviated from his Republican comrades on some money issues, however. While Bryant and Dennis advocated downsizing some Institutions of Higher Learning curricula and courses, Holliday pointed out that the state had a rotten history with funding higher education.
The candidate from Poplarville said he believed "community colleges have had 33 percent increase in enrollment," but "eight percent less money (from the state) than they had in 2000."
Ed Sivak, founding director of the Mississippi Economic Policy Center, confirmed that the state had been allotting less funding to community colleges since 2000, although the sluggish economy pushed more people to get more skills through higher education.
Bryant stuck to his predecessor's "No New Taxes" mantra in the debate. Gov. Haley Barbour made a career out of opposing some revenue increases by calling them "taxes" and then refusing to back them, even when his refusal meant inevitable fee increases on hospital patients or on the municipal or county level. Barbour only recently allowed the Legislature to pass a tax increase on the price of a pack of cigarettes to offset budget shortfalls.
The lieutenant governor said he would commit to the same mantra, saying he had signed an Americans for Tax Reform pledge to oppose and veto any proposal for a statewide tax increase.
"I have signed it, and that's why I have made sure I have not voted for any tax increase. As governor I'm going to make sure I'm there to veto tax increases," Bryant said.
Dennis and Holliday stepped away from that commitment.
"I didn't sign it because my integrity means too much to me," Holliday said. "I fought against tax increases in Pearl River County ... but I don't know what's going to happen down the road."
Dennis agreed that the pledge was short-sighted. Both then pointed to examples of local tax hikes under a governor living by the "no new taxes" pledge.
"Taxes on beds at extended health care nursing home--their bed taxes went up from $9.27 to $12 a day. Think about that--$3 a day on 100 beds. I think that's a tax," Holliday said.
Dennis, meanwhile, pointed out that employers' unemployment compensation contributions "literally doubled" recently, even though it did not count as a tax increase by some standards.
"If it quacks, it's a duck," Dennis said.
CLARIFICATION: In this story, we said MEPC director Ed Sivak confirmed "that the state had been allotting less funding to community colleges since 2000." Sivak told the Jackson Free Press that community colleges "were doing more with less," which he did not intend to mean the state was providing less funding than at FY 2000 levels, only that the state's funding did not match college's rising enrollment. We regret any confusion.
Previous Comments
ID

163897

Comment

....and they are all ducks (Republicans) and with the same quack! It's the same old story from these Republicans. Local, City, State, National - It's all the same. Absolutely no difference in the QUACKS! Any candidate asking for your vote, but, is admitting that he/she have already signed a pledge with anyone, for any reason, should not get your vote. What is this anyway; a constitution within a constitution? I know that those who are signing aren't along in the country; however, it is the same craziness with the bottom line of protecting the wealthy - That 1% of the State who owns and controls everything. When will people "without color" wake up and call these wolves, "UGLY"!!

Author

justjess

Date

2011-06-27T13:40:52-06:00
ID

163900

Comment

Jess, does that include Michelle "Do My Eyes Make Me Look Crazy" Bachmann? Yes they do, but that is not the only reason many of us believe she's crazy. How about the Tea Party Klan she belongs too?

Author

Walt

Date

2011-06-27T16:57:50-06:00
ID

163903

Comment

Ah, veiled shots of racism from Walt. Who saw that coming? Sidebar: Anyone else see Jackson ranked the 3rd laziest metropolis in America? Maybe we should have a blog entry on that.

Author

RobbieR

Date

2011-06-28T07:41:39-06:00
ID

163904

Comment

What's the source, Robbie? And no real surprise: we're certainly one of the most car-obsessed cities I've ever been in. We're starting to see some change, though, thanks in no small part to the first lady's obesity initiative, all the farmers markets efforts and local work by groups like the Jackson Bike Advocates. We can change this.

Author

DonnaLadd

Date

2011-06-28T08:48:48-06:00
ID

163905

Comment

Men's Health Magazine. The Daily UK covered it here: http://www.dailymail.co.uk/news/article-2008802/Lexington-Kentucky-Americas-laziest-city-revealed-Mens-Health-magazine.html#ixzz1QZipQRQN

Author

RobbieR

Date

2011-06-28T09:19:36-06:00
ID

163906

Comment

Also, I'm not sure the car obsession point is relevant, as exercise was just one part of the rubric for the study. "To do so, editors looked at how often residents exercise, the number of households that watched 15 hours of cable television a week and bought more than 11 video games a year, and the rate of DVT, a blood clot in a vein, usually in the leg, which is associated with inactivity." It seems the majority of people living in my city live a very sedentary lifestyle and simply don't seek to do anything active. I'm not sure an anti-obesity campaign would help much, but the Bike Advocates could definitely help. I cycle, but not with JBA, usually just with friends on the trace or in my neighborhood. It's about personal responsibility and wanting to be healthy. You can't help or advocate to those who don't want to change themselves.

Author

RobbieR

Date

2011-06-28T09:28:28-06:00
ID

163907

Comment

Obviously, it is all relevant, Robbie. Even getting people to garden gets them active. Eating better gives one more energy. Riding in cars all the time, and sitting, is inactivity and, thus, leads to blood cots. You can't help or advocate to those who don't want to change themselves. Of course you can. With due respect, that's a ridiculous statement. People aren't born not wanting to "change" themselves. Neuroscience shows that people can change throughout their lives and being inspired to do it is a huge part of it. And people learn to have more "personal responsibility" all the time. Frankly, I find the tone of your post disturbing and all superior, implying that certain people (apparently Jacksonians) just will never get it and are born lazy. Good golly, man: be part of the solution and don't just ding people who haven't figured out everything you seem to have.

Author

DonnaLadd

Date

2011-06-28T09:55:48-06:00
ID

163908

Comment

There was no implication of superiority, so apologies if it came off that way. As I re-read my statement, you're right, it's too all or nothing. Yes we can and should advocate a healthier and more active lifestyle to Jacksonians in every aspect of our day whether it be commuting to work, after work activities, or dietary intake. There will always be some that will jump two feet in no questions, and some that don't partake. Its the way the world is. I'm just saying that we, as neighbors, can only do so much. Provide a person with options (such as JBA, gardening, etc) and hope that they grow to want and enjoy these things.

Author

RobbieR

Date

2011-06-28T10:10:24-06:00
ID

163909

Comment

No problem. Thanks for clarifying. I happen to believe that every human has remarkable power to change the world for the better if we believe in ourselves and other people. And there are many societal/collective reasons that Mississippi suffers from "laziness" and obesity. We can and must tackle them. If each person does a bit, it'll happen. And start with never assuming that people can't change. I can't even imagine what our state would be like today if everyone in the past had made that assumption.

Author

DonnaLadd

Date

2011-06-28T10:48:23-06:00
ID

163910

Comment

Agreed, btw, on the TV point. I really can't get over how much of their lives many people waste in front of the television. And I saw yesterday that the average child watches 28 hours of television a week. You have to be freakin' kidding me. Allowing that is child abuse.

Author

DonnaLadd

Date

2011-06-28T10:49:32-06:00
ID

163911

Comment

"the average child watches 28 hours of television a week. You have to be freakin' kidding me. Allowing that is child abuse." It really is. I would almost equate that with feeding your kid McDonalds every day. You're not even putting the child in a position to have healthy and active habits down the road.

Author

RobbieR

Date

2011-06-28T10:57:50-06:00
ID

163912

Comment

God, I haven't been on this site in forever? But I figured I see what everyone was talking about and I see it's the Republican Primary Gubernatorial Debate, that was sponsored by the Tea Party of Rankin County or something of the other - but I know it was something tied to the Tea Party. I have to agree with JustJess on this one. All in all, it was just to see who's the biggest conservative and how many social programs they would cut if they were President. Yet it was supposed to be a debate for the Governor spot in Mississippi. Same ol' same ol'

Author

Duan C.

Date

2011-06-28T11:00:03-06:00
ID

163913

Comment

So, did anyone else catch the Phil Bryant 'we are the envy of the nation' statement, referring to job opportunities here in Mississippi? Listened to the debate on live audio feed, and wondered if he was indeed able to maintain a straight face during and immediately after making such a comment.

Author

jamesparker

Date

2011-06-28T11:07:30-06:00
ID

163915

Comment

I'm still stunned that WAPT sponsored a Tea Party debate.

Author

DonnaLadd

Date

2011-06-28T12:40:25-06:00
ID

163918

Comment

WAPT had been giving, at least in my view, right-of-center undertones to their broadcasts for at least the last few months; but I am politically biased, and was wondering if this wasn't just 'chasing shadows' on my part. Their sponsorship of this debate has somewhat confirmed my beliefs - quite a bold move by their station if they are genuinely interested in balanced reporting, wouldn't you say?

Author

jamesparker

Date

2011-06-28T14:23:26-06:00
ID

163921

Comment

How is it any different than the NAACP sponsoring a debate and partnering with a news station, Donna?

Author

RobbieR

Date

2011-06-28T16:23:19-06:00
ID

163922

Comment

Right. Let a network sponsor a Socialist Party debate or forum of some type, and let's see who's calling it radical. No doubt, it's stunning. For CNN, too. Conservative is one thing, but radical right is another.

Author

DonnaLadd

Date

2011-06-28T16:25:07-06:00
ID

163923

Comment

Very different, Robbie. The NAACP is not a political party. And it's not a group of extremists, contrary to how the old guard tries to cast it. It reminds me of seeing The Clarion-Ledger "balance" a quote from the NAACP with one by the Klan. That is false equivalency on steroids. Of course, the Tea Party is not a terrorist group, so it's not *that* offensive. But as I say above, imagine the outcry if a supposedly mainstream media outlet partnered with the socialist party.

Author

DonnaLadd

Date

2011-06-28T17:55:03-06:00
ID

163927

Comment

Donna, Your comparison of media outlet forums for the Tea Party versus the socialist party same to hinge on the Tea Party being extreme or radical. An April 2011 Gallup poll found 33% of Americans had a favorable image of the Tea Party. http://www.gallup.com/poll/147308/Negative-Views-Tea-Party-Rise-New-High.aspx A Feb 2011 Gallup poll shows Mississippi with 50% conservative, 32% moderate and 14% liberal self identification. http://www.gallup.com/poll/146348/Mississippi-Rates-Conservative-Rates-States.aspx#2 In Mississippi any way, the core of the Tea Party may be rather mainstream and thus reasonable for a media outlet debate. Since only 20% of Americans self identify as liberals, the Tea Party may be more mainstream than the liberals. Rich Sun

Author

RichardASun

Date

2011-06-29T12:45:35-06:00
ID

163928

Comment

An April 2011 Gallup poll found 33% of Americans had a favorable image of the Tea Party. http://www.gallup.com/poll/147308/Negative-Views-Tea-Party-Rise-New-High.aspx I'll let Donna answer for herself, but I do have to point out that in that same poll linked, 47% view the Tea Party *unfavorably*. :-) Not sure that's the ideal link to support your argument...

Author

Todd Stauffer

Date

2011-06-29T13:57:19-06:00
ID

163929

Comment

Todd, All the 47% unfavorable does is re-iterate how polarized we are at the moment. The 33% favorable view statistic documents that a very substantial minority of people are supportive of the Tea Party (it is probably as close as we can get to quantifying "membership" or identification with a movement with no single national organization or platform). If I looked, I could probably find a credible poll with similar unfavorables for liberals, but that would not speak directly to whether liberalism (in its regular or extreme version) is a mainstream movement. The fact that only 13.8% self identify as liberals in Mississippi (and about 20% nationally) allows one to gauge whether it is representative of the mainstream. It happens, that in the current Rasmussen numbers, the President has a negative 16 percentage point spread in strongly disapprove versus strongly approve(22-38, thus even more polarized). I would NOT use that negative spread (similar to the split in Tea Party favorables) to make a case that Obama is in the radical fringe.

Author

RichardASun

Date

2011-06-29T14:34:57-06:00
ID

163930

Comment

All the 47% unfavorable does is re-iterate how polarized we are at the moment. Actually, technically, it re-iterates that nearly half of the people polled *disapproved* of the Tea Party. My only point.

Author

Todd Stauffer

Date

2011-06-29T15:01:49-06:00
ID

163933

Comment

I don't have much else to say to Sun. Todd, you made the point very well. I will only add that thank God, the definition of extreme views doesn't rely on polling. At one point, you know, Mississippi voters overwhelmingly voted to close the public schools rather than integrate them. It would be very hard to argue that that was not an extremist view. Of course, there are always apologists for extremists, but I tend to ignore them on the left and the right.

Author

DonnaLadd

Date

2011-06-29T16:27:52-06:00
ID

163936

Comment

The 30% favorable for the Tea Party is a national number not a Mississippi or Southern one. O I understand you correctly that the votes of Southern segregationists 50 years ago taint the opinions of a national constituency today? Your opinions deserve better support than the race card. If public opinion is not the first reference point of the center and the extreme, then who defines it? Academics? Newspaper editors? Subjective personal opinion? Apologist? Note that I did not express an positive or negative opinion on the views of the Tea Party. I did point out that there were enough of them that it requires a subjective personal opinion to label them an extreme fringe and compare them to socialists. But perhaps you have quantitative data to support the label and comparison? I did a quick search looking for that support and in addition to the famous New York Times survey, which can be selectively quoted in support of your position (and equally quoted to the contrary), there is an article in Newsweek (not noted for a conservative bias), (http://www.newsweek.com/2010/04/15/the-life-of-the-tea-party.html) leads with: "There are conflicting polls about the tea party rank and file. A rally on tax day in New York City shows a wide demographic of the movement. For more than a year now, pundits, politicians, and the public have been trying to understand the tea party. Yet, even after two nationwide reports released this week–a USA Today/Gallup poll and a New York Times/CBS News poll–the definition of a "tea partier" remains elusive. The Gallup findings say that tea-party members are more like the rest of the country than one might expect. Of the 28 percent of U.S. adults who call themselves supporters of the tea-party movement, the survey surmised that they skew right politically, but demographically and ideologically they are generally representative of the mainstream public. The New York Times's article instead leads with its conclusion that tea-party members–18 percent of Americans–skew not only Republican, but mostly white, male, married, and older than 45." The article goes on to focus on those most active in the movement and finds them more passionate (and perhaps in some people's view more extreme), but that would be true on the left also. Rich Sun

Author

RichardASun

Date

2011-06-29T17:31:33-06:00
ID

163939

Comment

Rich: I'm still not getting your point. You quote portions of that article that purport to diffuse the notion put forth by the New York Times' poll that the Tea Parties are aging white Republicans. Did you read the last line of the story? The crowd here generally confirmed what the New York Times poll found. But only time will tell who stays in the movement for the long haul. I don't think this argument is working. You're trying to suggest that the Tea Party is "kinda-sorta-less-extreme" than the Socialist Party, but you're doing so only by suggesting that it has broader support. You then seem to have a bit of trouble actually proving that broad support. But even if you did, that doesn't make the movement "un-extreme." Extreme movements can have broad support; witness National Socialism in Germany or Eugenics in this country. It doesn't make them any less extreme.

Author

Todd Stauffer

Date

2011-06-29T18:50:25-06:00
ID

163940

Comment

Funny how some folks call a very apt historic analogy the "race card" when said analogy reveals the weakness of their argument. And of course, Tom's post is right on, considering that many Tea Partiers do not shield their disdain for powerful black folks or even race-mixing as was revealed at a local tea party rally Adam Lynch covered. Still others are in the party because they hate the gays. Then there are those who are there because they despise the Muslims. And many of the ones who seem the most defendable on the surface are there because they don't want their tax money paying for health care and schools for "them." Of course, as Tom alludes, public schools were just fine until they were forced to integrate, leaving the Dixiecrats (yes, they were extreme, too, and had much more then 30 percent support in our state and, arguably, still do). Funny how suddenly public schools were such a drain on the economy for those kinds of people when they had to educate everyone. Whoops, there goes the "race card" again! To that, I will say that if the Tea Party doesn't want to be associated with racists, it needs to start calling and forcing out those who believe they belong there. You know what they say about the company one chooses to keep ... It is so obvious it's not even funny that polls are not the appropriate barometer to determine extremism. And, of course, Germany and eugenics are also very good examples. I can only examine how many more amazing examples we could come up with, especially if we get Brian Johnson, Ronni Mott and Tom Head to join in the brainstorming. Meantime, it'll be mildly amusing to watch Sun twist himself into a pretzel trying to support his argument that the Tea Party isn't a harbor for extremists. Have fun,

Author

DonnaLadd

Date

2011-06-29T19:01:33-06:00
ID

163942

Comment

At one point, you know, Mississippi voters overwhelmingly voted to close the public schools rather than integrate them. It would be very hard to argue that that was not an extremist view. Since every voting issue represents, in essence, a yes/no decision, it would be very hard to argue that integration of public schools was not an extremist view as well.

Author

Darryl

Date

2011-06-30T07:09:49-06:00
ID

163946

Comment

Since every voting issue represents, in essence, a yes/no decision, it would be very hard to argue that integration of public schools was not an extremist view as well. Yes, that would be logically sound IF one believes that "extremism" should only be defined by Sun's standard: polling. And even then, considering that Mississippi has long, and still has, the highest percentage of African Americans of any state -- thanks to our historic marker as a hotbed of slavery -- it would be intriguing to see just how marginal the desire for integrated/better schools would have been, had white folks allowed everyone to be polled. Me, I never trust any political party, but especially one that exists on a small tent principle of trying to keep people who might disagree from voting. Let's just admit it: The Tea Party is one big mess of a party that arose out of a weird amalgam negativity, prejudice and selfishness (such as the belief that regulating insurance companies is going to cost taxpayers more, which is based on ignorance about what what NOT regulating insurance companies is costing all of us). Then there is the pesky little fact that major corporate, anti-regulation money is behind the Tea Party, and the whole is especially sickening. I really, really, really hate when major corporations fund political pawns whose sole job is to play off people's ignorance and prejudices on behalf of corporations. The Tea Party plays Nixon and Reagan's (and Barbour's southern strategy) is a more extreme way than we've ever seen. In case anyone is out of touch with the Koch Brothers and their role in the Tea Party, definitely read this story: Covert Operations: The billionaire brothers who are waging a war against Obama. Read more http://www.newyorker.com/reporting/2010/08/30/100830fa_fact_mayer#ixzz1QlsAcqXl

Author

DonnaLadd

Date

2011-06-30T08:51:47-06:00
ID

163952

Comment

Donna wrote: Yes, that would be logically sound IF one believes that "extremism" should only be defined by Sun's standard: polling. No, that's logically incorrect and extrapolation without context. My original statement: "Since every voting issue represents, in essence, a yes/no decision, it would be very hard to argue that integration of public schools was not an extremist view as well." was written as a simple mathematical/binary exercise in logic.

Author

Darryl

Date

2011-06-30T13:25:11-06:00
ID

163953

Comment

Darryl: If yours is an exercise in logic, then it's worth noting that your argument is fallacious -- I'd call it a false dichotomy. Your logic: Because there was a vote between A and B, and A was an extreme position, B must also have been an extreme position. While you might disagree with Donna's assertion that voting to close the public schools instead of integrate them was an extreme position (which it would be interesting to see you attempt), you cannot logically argue that the decision to integrate the schools was extreme BECAUSE it was a potential outcome of the vote where the other option was an extreme position.

Author

Todd Stauffer

Date

2011-06-30T14:07:33-06:00
ID

163954

Comment

Todd, I actually agree with her assertion that the vote to close public schools is an extreme position...as I assert as well that the opposite vote to integrate them was binarily too an extreme position. And you may call it a false dichotomy, but it is a dichotomy nonetheless. Mathematically, when only two points are represented, they are equally apart from each other. Therefore, they represent an extreme but only mathematically. I have not attempted to use the word "extreme" as an adjective but as a noun. My use of the word "extremist" earlier referred only to its fundamental character of being an extreme... not in being extreme.

Author

Darryl

Date

2011-06-30T14:25:27-06:00
ID

163955

Comment

I'm also shaking my head at the slippery slope part of the voting-extremist sleight of hand. And whole 30-percent-polled-for-it-so-it-wasn't-extremist statement is one the dumbest things I've ever seen anyone type into print. Wonder how many folks would have polled in favor of McCarthyism? Let me spell this out a bit: The primary tool of extremists is fearmongering. When they are able to fan those fears to enough of a tipping point, then their extremism starts to encroach on the mainstream. The fact that fact-devoid fearmongering is effective for a period of time does not in any way diminish the extremism of the viewpoint. We've seen this happen repeatedly throughout history, and it is exactly why being well acquainted with the facts and lessons of history is necessary so we don't let the same kind of backward fearmongering keep tipping our society toward hatefulness, excessive greed and evil (in)action based on those states. This is why it is so, so ridiculous to argue that an extremist group ceases to be extremist when they manage to scare the hell out of a third of the population. Tell that to the people of Germany and the Jews they allowed to be persecuted based on popular extremism.

Author

DonnaLadd

Date

2011-06-30T14:40:37-06:00
ID

163957

Comment

Donna said: And whole 30-percent-polled-for-it-so-it-wasn't-extremist statement is one the dumbest things I've ever seen anyone type into print. I re-read everything written, including (quite closely) Mr. Sun's statements. I didn't see him say anything about that except this: Apologist? Note that I did not express an positive or negative opinion on the views of the Tea Party. I did point out that there were enough of them that it requires a subjective personal opinion to label them an extreme fringe and compare them to socialists. But perhaps you have quantitative data to support the label and comparison? As I teach those who work with me...back up and take a deep breath everybody... Donna goes on to state: This is why it is so, so ridiculous to argue that an extremist group ceases to be extremist when they manage to scare the hell out of a third of the population. I would only caution all of you to remember that extremist groups exist on both the leftist and rightist sides of the political spectrum and that the ills and woes attributed to one extreme position can historically be attributed to the opposite.

Author

Darryl

Date

2011-06-30T15:21:16-06:00
ID

163959

Comment

I would only caution all of you to remember that extremist groups exist on both the leftist and rightist sides of the political spectrum and that the ills and woes attributed to one extreme position can historically be attributed to the opposite. Obviously, that's true. That's why I said it up above. ;-)

Author

DonnaLadd

Date

2011-06-30T16:18:48-06:00
ID

163960

Comment

Mathematically, when only two points are represented, they are equally apart from each other. Therefore, they represent an extreme but only mathematically. I have not attempted to use the word "extreme" as an adjective but as a noun. My use of the word "extremist" earlier referred only to its fundamental character of being an extreme... not in being extreme. I think I may frame that.

Author

Todd Stauffer

Date

2011-06-30T16:39:45-06:00
ID

163961

Comment

What is really extreme, in my opinion, is the reaction to integration. In my home town, Vicksburg, MS, money was taken out of the public school budget to finance private academies. We were never given new books. Our books were issued 5 or more times and often they were without backs and with many missing pages. Here in Jackson, two things were happening: Whole communities were moving out and private schools were popping up everywhere. Most were inferior because they could not attract good teachers because of low salaries. MS schools began to integrate in the early 60s. Today, 2011, there is very little evidence that this was ever an issue. Whites who attend JPS live in areas that are predominately white and those school reflect the make-up of the community. The inner center schools are 99% black and so are those communities. Even St. Jo moved its school when the enrollment became too black. Now that it is located in Madison, fewer black kids attend and most have been priced right out of the market. I am still puzzled over the fact that Chinese kids could attend white schools, but, blacks could not. It didn't matter about this country's history with Asians and that blacks fought in these wars: It was the same story after returning to the States. "If you are Black; Get Back. So, can we turn our attention to the "extreme" thoughts and behaviors of the folks living in the here and now? Just asking.

Author

justjess

Date

2011-06-30T16:47:03-06:00
ID

163962

Comment

Todd wrote: I think I may frame that. I honestly have a mental tongue-in-cheek spasm... Thanks for the laughs!

Author

Darryl

Date

2011-06-30T17:18:04-06:00
ID

163963

Comment

Jess- How was money taken out of public schools budgets to fund private schools in Vicksburg? That would have been illegal.

Author

BubbaT

Date

2011-06-30T22:26:23-06:00
ID

163968

Comment

@ BubbaT "That would have been illegal". Just simply change would in your statement to "WAS". Drop the "have been" and your question is answered. Fair, legal, just, equal and right are terms infrequently used but never practiced during that period in MS's history. The term, Vicksburg Seperate but Equal Public School System, was a misnoma. Schools were "Seperate" and "Unequal".

Author

justjess

Date

2011-07-01T20:38:03-06:00
ID

163970

Comment

Jess- Got proof? Feds would have been all over that by now. Just asking.

Author

BubbaT

Date

2011-07-01T21:34:46-06:00
ID

163975

Comment

This State had many more BIG fish to fry than to focus on a MS town being robbed of funds and equiptment to include text books to support private schools. This was the culture of MS. Black folks were second-class citizens. There wasn't any law protecting the rights of my people: White was Right! Black policemen could only arrest black folks. If they saw a white person breaking the law, they had to call in for a white officer to arrest the criminal. Just to name a few: What about the murder of Emmitt Till - Were they "all over that"? What about the murder of Shriner, Goodman and Chaney? - Were they "all over that"? What about the denial of African-Americans to have the opportunity to fair employment, promotions, access to housing in certain communities, even the ability to buy life insurance. Do you realize that blacks could only buy sub-standard burial policies; most ranging in $200 -$250 in value? These policies were paid weekly and for the life of the insured. So, BubbaT, don't fret about my proof of the dollars, equipment, books and ect. taken from VPS. Our losses in this State have been insurmountable! You didn't have to be fair to a man if you didn't believe that a man was a man.

Author

justjess

Date

2011-07-05T17:31:17-06:00
ID

163977

Comment

Jess- Not talking about why something wasn't done about it 50yr ago,don't care why it wasn't,talking about now in the present. I know about 15yrs ago the Feds made a town and private school give back a school building, the town had legally bought and given the private school 25yrs before,because some of the blacks and the NAACP raised hell about it, because the sales contract didn't specify the new owners could use the building for a school. Seems like if someone had stolen money and supplies and there was any proof, the Feds would be drooling over that.

Author

BubbaT

Date

2011-07-05T18:46:11-06:00
ID

163978

Comment

Hey Jess, let me add these names to the list of people who were murdered and NEVER received any kind of justice! They definately desrve to be mentioned to the "all over it, right?" list: Lamar Smith - Brookhaven Vernon Dahmer - Hattiesburg Herbert Lee - Liberty Roman Ducksworth - Taylorsville Louis Allen - Liberty Charles Moore and Henry Dee - Meadville Ben White - Natchez Wharlest Jackson - Natchez Benjamin Brown - Jackson Just a few of the fallen, but not forgotten, who never received justice for their murders either

Author

Duan C.

Date

2011-07-05T20:00:15-06:00
ID

163979

Comment

Thanks Duan C. for listing the names of some of the men murdered and whose cases remain without justice. These men were murdered. There is also many cases that did not make the list or the cause of death was ruled, "suicide" or "accidental". There were many men and women who suffered beatings and other near death experiences. There were property losses to include the boming of my parent's grocery store. A cab driver parked in front of the store was killed and my nephew have permanant scars from being tossed from a window to save his life. BubbaT, in my opinion, has become "actualized" and to continue to respond to anything he says on this subject is an exercize in futility. I made the statement earlier that if you don't believe that a man is a man, you won't be fair. This comment from BubbaT proves his position and sadly, it is the position of many others who refuse to acknowledge MS's history and desire to address only the here and now. There are many progressive whites in MS who are trying to work towards racial equality with a goal of racial harmony. Not BubbaT. He says the following: "Not talking about why something wasn't done about it 50 yrs ago, DON'T CARE WHY IT WASN'T, TALKING ABOUT NOW IN THE PRESENT." His "DON'T CARE" statement pulls him out of the closet. Thanks, BubbaT.

Author

justjess

Date

2011-07-06T08:27:15-06:00
ID

163980

Comment

I tried to correct a few grammatical errors in my last post, but I keep getting, "Invalad Request." Sorry.

Author

justjess

Date

2011-07-06T08:46:39-06:00
ID

163983

Comment

Jess- Aren't you using the wrong word?, "dwell" would be the word to use not acknowledge. For someone to not acknowledge the past would mean they deny the past ever happen, never heard of anyone denying MS's past. A person who is over 40 and has live here since they were born has knowledge about MS's history good or bad, so there is no way not to acknowledge it. They just don't dwell on it. You're the one who went off of the tanget of unsolved murders etc. instead of answering a simple question. You're evading the question. So I can only assume that you truly don't know if it's true or not that funds were taken from Vicksburg schools and given to a private school, and are just repeating something you heard. Never been in the closet,I have never held back my opinions.

Author

BubbaT

Date

2011-07-06T13:24:47-06:00
ID

163986

Comment

Jess, don't let Bubba get you down or peeved off. Haven't I said numerous times Bubbas are unmovable. I recall Bubba saying something once about Africans or Blacks doing something to his ancestors over a century ago. Bubba doesn't have a problem with old or ancient history, he just have a problem with the history of Black folks, like many white southerners. Bubba attitude is the reason I tell blacks all the time to not be stupid enough to forget their history. You're still my friend though, Bubba. Where is the veil, Robbie? And your comment about the NACCP shows me that I have long pegged you right. A mind is a terrible thing to lose and unfortunately some of us don't have anything to lose.

Author

Walt

Date

2011-07-06T16:55:29-06:00
ID

163989

Comment

Walt- How you doing? You're recalling wrong, I said I wanted reparations from the Pope for the Romans enslaving my ancestors in Scotland. Didn't say nothing about blacks doing something to my ancestors. Must been somebody else. Don't have a problem with black folks history just not really that interested in it. ;)

Author

BubbaT

Date

2011-07-06T17:45:10-06:00
ID

163990

Comment

Thanks Walt. Don't worry, I won't let Bubba get me down. It is interesting how he avoids certain issues, i.e., admitting that he doesn't care, then chosing to talk about..... I'm aware of that position and plan to spend absolutely no more energy trying to make a race horse out of a jackass or a silk purse out of a sow's ear.

Author

justjess

Date

2011-07-06T18:11:20-06:00
ID

163991

Comment

Jess- Get your proof together and I will come get you and take you to the FBI office with it. Let me know when you are ready.

Author

BubbaT

Date

2011-07-06T19:27:58-06:00
ID

163994

Comment

justjess--Your comment conerning "St. Jo" (sic) could not be more inaccurate. I attended St. Joe from 1970 to 1973, when it was still located on Boling Street. I also was involved in the decision-making process regarding refurbishing the Boling Street location vs. building a new facility, and I assure you that race had absolutely no involvement in that decision--it was purely one based on economics and the shifting in location of the Catholic population in the metro Jackson area. I'm not sure of the difference in percentage of black enrollment since the move, but I can find out. However, I attended St. Richard kindergarten and elementary school from 1960 to 1967, and I can confirm that the percentage of black enrollment there was much greater than that of the "white" Jackson public schools at that time, since the latter was zero.

Author

notmuch

Date

2011-07-07T13:01:19-06:00
ID

163995

Comment

Well, I'm also a graduate of St. Joe. (when it was on Boling). I've been vocal about about my displeasure of it moving to Madison. One, because it goes against the mission of the school. We can talk economics..sure. But lets talk about it in the sense of moving to Madison because big money donors and tuition-payers no longer wanted their kids going to school on *gasp* boling St because of the stigma. And because of it's accessibility to more Black Kids. When I was at St. Joe we took in many kids who had been removed from JPS and came to st Joe for a more structured, disciplined environment. They also bused kids from Holy Child in Canton giving lower-income catholic kids the chance at a St. Joe education. Now I only see the desire to be "elite" and status quo with St Andrews and MRA. The mission has changed obviously. Sure any one can go now..Black or White...if they can pay the hiked up tuition and can get dropped off all the way in Madison. Doesn't always make me a proud Bruin

Author

Kamikaze

Date

2011-07-07T13:28:49-06:00
ID

163996

Comment

Kamikaze--the mission of the school, as stated in the last line of its mission statement, includes the desire "to awaken the minds and spirits of our students to the appreciation of the beauty of creation, the dignity of life, and the demands of justice". The relocation of the facilities (based on a 50-year plan) to the best location to serve the population (again based on a 50-year projection) does NOT go against that mission. Yes, you can "talk about it in the sense of moving to Madison because big money donors and tuition-payers no longer wanted their kids going to school on (gasp) boling (sic) St because of the stigma. And because of it's (sic) accessibility to more Black Kids" (It's interesting that you capitalized Black Kids, but not Catholic--I think I see what your higher priority is). The fact that you can talk about it does not make it true. I can honestly say that I was not aware of any stigma attached to the Boling Street location when I was there; again, the decision was purely due to the condition of the facility and the amount of money that would have been required to restore it to a condition that would have made it serviceable for the 50-year period. Now that I think about it, the Boling Street location was actually less accessible to most of the black students than to most of the white students when I was there. As far as the desire to be "elite" and compete with St. Andrews and MRA, this subject was discussed, and it was very clear that St. Joe did NOT want that to be a priority, or even a consideration--again, refer to the mission statement--and no, it has not changed. Yes, tuition has increased, as has tuition at any other private school, along with any other expense you care to name. I thank God for my parents' sacrifices, which I didn't always appreciate at the time, to make my Catholic education a priority. I am sorry if your experience, and your perception, does not make you a "proud Bruin". Although no school (or anything else on this earth) is perfect, I am proud to be a St. Joe grad (the "Bruins" came long after my time there!)

Author

notmuch

Date

2011-07-07T14:20:50-06:00
ID

163998

Comment

"Best location to serve the population" that is the portion I always zero in on. Because the BEST location to serve the population is not in Madison IMO but in Jackson. Either at Boling or a location close by. But indeed, we can disagree. Im a very proud Bruin..just not when it relates to the relocation. And Im not Catholic BTW. Wasnt when I went to St. Joe but they took me in and embraced me anyway as they did EVERYONE. It was a melting pot then just doesnt seem that way now. And perhaps I could be wrong. The "capatilization" was merely coincidental but...I do want there to be the same opportunity for low-income and non-catholic black kids to atten St. Joe that was there when I walked those halls. Doesnt seem that way now thats all.

Author

Kamikaze

Date

2011-07-07T15:14:46-06:00
ID

164000

Comment

Again, your opinion does not agree with the study commissioned to determine the best location to serve the population, and I have to disagree that the Boling Street location is best. We obviously have very different perceptions about the diversity of the student body--both "now" and "then". Again, I'm not sure of the exact numbers, but it seems to me that if anything it's more of a melting pot now than in '70-'73 when I was there. My niece and nephew graduated in '02 and '03, and their classes seemed to be more diversified than were mine. I definitely think the religious diversity is greater now--I can't remember anyone in my class who was not Catholic--but I hope we didn't give the appearance of alienating any non-Catholics back then! I still think it's a pretty good school, all things considered--although we all wish everything could cost less!

Author

notmuch

Date

2011-07-07T15:49:44-06:00
ID

164001

Comment

And again. We can disagree. No prob. I'll always feel the GREATER population is served in Jackson. And I can respect the commission's decision and still maintain my opinion. There were many of my classmates who weren't Catholic and I think my class had the largest Black percentage in it up to that point. And we only had 100 or so in our graduating class. I just will never see how moving anything to Madison makes economic sense (even in education) unless it's to attract those who can more easily pay the tuition now. I dunno.

Author

Kamikaze

Date

2011-07-07T16:21:04-06:00
ID

164002

Comment

...and it's a GREAT school BTW. I loved it. The St. Joe I knew took in all students. Rich, poor(working with them on tuition), Catholic or Non, Black, White, Asian. Outcasts from JPS, transfers etc. And by the current model some of the great classmates I met may not have been able to get that great St. Joe education

Author

Kamikaze

Date

2011-07-07T16:23:09-06:00
ID

164003

Comment

I am very familiar with Catholics and this sense of "fairness" and being without prejudice. Let me share a few of my experiences. 1/2 of my siblings were Catholic; The other half was Baptist. We went to Fayette,MS to spend two weeks with my grandma . This was in the early 60s. My brother was a student at Tougaloo and in keeping with his Catholic faith, decided to go to church at the only Catholic church in Fayette. He was not trying to integrate the school: He was trying to follow a tradition of going to mass. The church was totally white. He was arrested. The only news outlet that covered this story was JET. The Bishop from a Northern state came to the town and begged for his release. My best friend's kids attended St. Joe. It took years for her daughter to make the team of majorettes. She was beautiful, a great dancer and also an honor student. St. Joe did not allow black girls to participate in these activities. My friend threatened to take St. Joe to court. Her daughter was the 1st black majorette on the "Spirit Stepper" group. My best friend's kid had the highest grade point average at St. Joe and should have been valedictorian. It didn't happen as a solo act. There were two valedictorians that year,- a black one and a white one. Long after Public School were intergrated in Vicksburg, MS, Catholic kids who had been displaced secondary to the closing of their school (St. Mary's) had to be bused to the Black Catholic School in Yazoo City. Kids would leave on the bus at 5am and they would return at night. Catholic schools in Vicksburg refused to integrate for years. Please don't try to act as if the decisions to relocate St. Jo was without racial considerations. Remember that whites had moved out of communities contiguous to the school. We can't re-write the history: We can acknowledge it and try to move on to more progressive thinking about how MS can become more racially sensitive, tolerant and inclusive.

Author

justjess

Date

2011-07-07T16:30:29-06:00
ID

164004

Comment

just jess--I am confused; you mentioned that your friend's daughter was the first black majorette in the "Spirit Stepper" group. First, the majorettes were a totally different group from the Spirit Steppers. However, I was at St. Joe long before the "Spirit Steppers"--they were the Rebelettes back then, and they were definitely an integrated group. I never agreed with the black/white valedictorian concept, which also came along well after my time at St. Joe. The reason it was introduced was complaints from racist groups who complained that blacks could not become valedictorian if they had to compete on equal terms with whites. I can't speak for the Vicksburg schools, since I have no experience with them, but I was at St. Richard in the early '60's (long before integration of JPS), and black students there were treated just like white students--skin color just wasn't a big deal. Each student was taught that God could have just as easily put his or her soul into a black or white body, and that was good enough for us. I am not "acting" as if the relocation decision was not racially motivated--I am stating facts.

Author

notmuch

Date

2011-07-07T16:44:52-06:00
ID

164005

Comment

Whoa whoa whoa, what racist groups?

Author

Kamikaze

Date

2011-07-07T18:14:35-06:00
ID

164006

Comment

Kaze, I'm not confused. Just had a consult with the person involved at St. Joe at the time. I'm from the OLD SCHOOL: We call the girls who march in front of the band majorettes. Jackson State's girls are called JaSetts (sp) Alcorn's girls are "The Golden Girls" and Southern girls were once called "Dancing Dolls". At the time I referenced the 1st black majorette(Spirit Stepper) St. Joe only had this group and Cheer Leaders. I'm glad that your experience at St. Andrews was a positive one. I know parents who moved their kids at a certain age because they were being excluded from certain off campus social events. Perhaps you were too young to know!

Author

justjess

Date

2011-07-07T18:25:02-06:00
ID

164007

Comment

Jess- What year was your brother arrested for going to the Catholic church in Fayette? Because there is a searchable datebase on the internet of every issue of Jet from 1950 to 2005 and I coming up empty finding anything about anyone getting arrested for going to a Catholic Church.

Author

BubbaT

Date

2011-07-07T18:36:21-06:00
ID

164008

Comment

Jess, I went to St. Joe. 10-12th grades. And my experience was wonderful. Let me clarify that. Secondly, during my time there I never experienced any racial tension. Never experienced any "racially" motivatd incidents. The captain of the spirit steppers was black and she dated the white quarterback of my team. I played sports, was on student gov, and played in the band. And this is from the son of a woman who grew up in Neshoba county and would not hesitate to come up to that school if she felt her son was experiencing ANY alienation. My experience was different than what your kinfolk experienced Jess. I was indeed "old enough" but as far as I was concerned(cant speak for my Black classmates) things had changed a tad. I'm sure it wasn't 0% but hey...when is it ever. Do I think the move was ALL about race? NO WAY. But do I think it had a bit to do with it? at some level? Sure. And again it's my opinion And I suppose thr truth may lay between what you think happened and what notmuch saw happen as a member o the committee.

Author

Kamikaze

Date

2011-07-07T18:52:09-06:00
ID

164009

Comment

Your experiences should be different because many before you endured the pain and suffering. I'm sure the students at Ole MS today will look back with a similar report and they should; however, the history will not be rewritten to fit the here and nowwithout the process of how you got there. Blood was shed and blacks endured many atrocities so that your experiences could be as reported.

Author

justjess

Date

2011-07-07T19:52:01-06:00
ID

164010

Comment

Just to clarify, the majorettes marched with the band (and also played instruments in concert settings), while the "Spirit Steppers" were the successors to the Rebel Belles (I mistakenly called them the Rebelettes in my earlier post). The Rebel Belles were NOT majorettes; the majorettes twirled batons, while the Rebel Belles/Spirit Steppers used flags and were a much larger group than the 3 or 4 majorettes. Although justjess says that the J-Settes, Golden Girls, and Dancing Dolls are majorettes, they are actually dance teams, like the Rebel Belles/Spirit Steppers. Justjess may be old school, but I am older, and none of these groups have ever been classified as majorettes. The Spirit Steppers came along after the Rebel Belles, so perhaps the reference by justjess to the first black Spirit Stepper is correct; however, I guess this could be called a technicality since the black Rebel Belles preceded her membership in the Spirit Steppers. Just in case a clarification is needed regarding the racist groups, I am talking about the NAACP primarily, although other minor groups were involved.

Author

notmuch

Date

2011-07-08T07:16:50-06:00
ID

164012

Comment

@Notmuch, Are you implying that the NAACP is a racist group? On What grounds?

Author

Renaldo Bryant

Date

2011-07-08T08:22:56-06:00
ID

164013

Comment

Implying? No, I am stating a fact. Grounds? Well, let's just start with the title of the group! Come on, is there really anyone who can believe that an organization whose name, and stated purpose, is the favoritism of one race does not define the description of "racist group"? I suppose "Aryan Nation" is not racist either?

Author

notmuch

Date

2011-07-08T08:45:17-06:00
ID

164014

Comment

Yes, my fellow St. Joe Grad that may put a slight strain on this dialogue.I think lol. NAACP? racist group? ummm ok. ..and I dont think ANY group would have made the outrageous statement that if Black students had to compete on equal grounds they COULDNT compete with White students. I dont think that was ever the argument. The argument was being RECOGNIZED equally Im sure. When positions on dance teams are clearly earned, when valedictorian level grades are earned is it not correct and fair that those students got their just do?

Author

Kamikaze

Date

2011-07-08T08:48:49-06:00
ID

164015

Comment

Oh brother. we've got to have this convo AGAIN. First off, its the advancement of COLORED people which does not single out African Americans. Its for ALL people of color. and if you studied the true history you will see the NAACP was created by and originally run by WHITE Americans. A simple scanning of the history of the Arayan Nation or the KKK and you will see the history...BLOODY, murderous history of those groups is in no comparison to the NAACP. Cmon now! The dialogue was going Sooooo well lol. 2 groups fought to proclaim the SUPERIORITY of the white race and one was to help ADVANCE one race who by your own admission had been discriminated against traditionally. The two aims are different. SMH And for the record Not Much I was ON your side. especially considering MY personal xperience at St. Joe. Part of our problem with moving on in most instances in Jackson. in business, in politics, in education is the stubbornness of two sides. ONE being STILL angry Black elders male and female who are STILL holding on to and referring to what THEY endured and using it as motivation for their actions now. Those memories can sometimes be excess baggage when the younger generation is trying to move forward. ...and THE OTHER side tries to deny or gloss over the obvious injustices that were done in the past. Trying to trivialize them. Acting as if in MS "race" doesnt still play a small part in the decisions made around here.Its that lack of acknowledgement that also adds to the stagnant situation. Race is not always the issue (Jess) but sometimes it IS and you have to be considerate of those who are affected by it (not much)

Author

Kamikaze

Date

2011-07-08T08:54:12-06:00
ID

164016

Comment

Kamikaze--I cannot in my wildest imagination consider the NAACP as anything but a racist group--agian, look at the title! And please don't tell me that the C in the title represents all colors! I should also clarify that this has not always been the intent of this organization, which was a much-needed force during the early part of the 20th century. However, although there are still many well-meaning and good-hearted people who support and belong to the NAACP, its focus has sadly deteriorated into one of promoting and prolonging racial strife and tension. I'm sorry that you do not believe that the statements were made, but think about what you are saying--if the argument was about being recognized equally, why would there be a need for a separate valedictorian based on race? You have made my point again in your last sentence--when valedictorian level grades are earned by a student, that student is by definition the valedictorian, and thus gets his or her "just do" (sic). I am not aware of any black student being denied the position of valedictorian when that student's grades were the highest in his/her class; please correct me if I am wrong.

Author

notmuch

Date

2011-07-08T09:05:54-06:00
ID

164017

Comment

Kaz- At the time the NAACP was formed colored people did mean just blacks, not people of color.

Author

BubbaT

Date

2011-07-08T09:10:10-06:00
ID

164018

Comment

Not Much, that was Jess who gave the example. So Im sure she has the proof that that Black student had the highest GPA and wasnt recognized. Ill leave that to her. But otherwise. Im done lol. And fyi I dont have to tell you that the "C" in NAACP stands for all colors. THEY can tell you(and show you)better than I can. Its written in the by-laws. The President of the JSU chapter is a white guy for crying out loud. lol

Author

Kamikaze

Date

2011-07-08T09:11:30-06:00
ID

164019

Comment

Definition of colored from Wiki- Colored is a term once widely used in the United States to describe black people (i.e., persons of sub-Saharan African ancestry; members of the "Black race") and Native Americans. It should not be confused with the more recent term people of color, which attempts to describe all "non-white peoples", not just black people.

Author

BubbaT

Date

2011-07-08T09:12:37-06:00
ID

164020

Comment

Kamikaze--you got another post in before my response went out, so I will respond to that as well. I guess it is a little ironic that my attempt at humor with my comment about the "C" representing all colors coincided with a statement by you that actually purports this to be true! I did have to laugh when I read that--please tell me you are joking also! And no, I would not compare the NAACP to Aryan Nation, KKK, or any of the other hate groups out there, who proclaim, as you mentioned, that their particular race is somehow superior to any other. However, the violence and bullying tactics used by the NAACP at the polls during the last Presidential election(although these tactics were "subbed out" to other groups such as Black Panthers) unfortunately lend credence to those who would put the groups on equal footing. I agree 100% with your assessment of the two sides--what a shame it has been and continues to be for all of us, who are all created equal in God's eyes. I cannot speak for justjess, but I hope I am not included in THE OTHER side! I lived through the injustices done in the '50's and '60's, and they cannot honestly be denied by anyone who did. However, I did not participate in them, and have no intention of starting now. There are many others on both "sides" who feel the same as I do--one case in point being the whites you referred to who were instrumental in the origins of the NAACP. Somehow I don't think there will be any reciprocation--I don't think Jesse Jackson will be supporting any organization that supports only equal (not favored) status for blacks.

Author

notmuch

Date

2011-07-08T09:30:52-06:00
ID

164022

Comment

@ notmuch, Just as I suspected, you equate racial advocacy with racism. Simply because a group identifies race doesn't mean they willfully and purposefully discriminate and /or distribute resources along racial lines to assert a racial hierarchy in society (racists). Advocacy against injustice and for progress does not a racist organization make. No sense of carrying that line of questioning along with you. @ Kaze, I applaud your work in the area of moving Jackson forward, and I do agree that the issue of racism can be (and is) a barrier in many efforts to progress in MS on a variety of fronts. But I think the way you characterize how racism blocks progress, by asserting that older Black people are bitter about the past and "won't let go" and how some White people don't respect the history of racism in the community, is an incomplete understanding of how racism characterizes the lack of social progress in MS. Real progress in the 21st century in the south must start with truth telling and reconciliation, born out of justice. This is not simply a matter of conscious, but of economic and community development. The history of purposeful state action works today to stifle the development of the human capital in most black communities. State law and practice for generations acted to prevent Black people from obtaining educations, political power, economic opportunity, equal protection under the law, and health care for generations. That denial of human development manifests itself today when one considers the generational nature of resource distribution (inequality, for the most part, is inherited). Disproportionate poverty, lack of healthcare access, economic power, and political efficacy wreck most black communities, with little to no redress from government and business leaders who do not respond to this history and benefit from concentrating resources in among their own constituency and interests. These things are the major hurdles to progress today. It is no accident that any community that is predominantly black in MS is disproportionately poor, disfranchised, and displaced (Uh Oh! Byram). And this can't possibly be due solely to elderly Black people being bitter or a few ignorant white people disrespecting history. There are systemic and institutional factors in play born out of racism. These things are not remedied by individuals simply letting go of past issues or respecting past injustices (it can start there, but not end there). There needs to be true redress in these situations, born out of truth commissions and governmental action to establish justice in the land. Government action for redress includes targeted investment in the development of human capital and capacity in these communities (things like early childhood education, universal health care, world class educational experiences, and pointed investment in infrastructure) are needed to redress for the stifling of human development perpetrated by the state, and is the interest of justice and equality. Anything short of this type of investment is merely a nod to the status quo.

Author

Renaldo Bryant

Date

2011-07-08T09:57:04-06:00
ID

164023

Comment

Blackwatch--no, I absolutely do not equate racial advocacy with racism. I do agree with some of your statements regarding availability of resources--there was a great article (as unusual as that may be!) in the Sunday, June 26 Clarion Ledger titled "Capitalizing Diversity" about that very subject. However, I also agree with Kamikaze's assessment of the two "sides"--both the bitter blacks (Kenneth Stokes, Chokwe Lumumba) and the in-denial whites (where do I start?) I have to bow out here--God bless all of us!

Author

notmuch

Date

2011-07-08T10:21:49-06:00
ID

164024

Comment

I just want to add this one tidbit to the discussion. I wish there was some kind of way to get one group of Mississippians to wake up and that would be your working poor and lower middle class blacks and whites in this state! That is one the biggest voting blocks in the state of Mississippi. But when I mean none of us are on the same page, WE ARE NO WHERE CLOSE to having the same understanding of how politics works in this state or in this country. I mean that in regards to health care, taxes, social entitlement programs, and government spending. We basically have people voting with one group and just giving the power away, without really thinking about or considering the ripple affects of the vote they made and how it is REALLY affecting them.

Author

Duan C.

Date

2011-07-08T11:19:34-06:00
ID

164026

Comment

@Lorenzo- You can be interested in history and not be interested in one segment of it. My college major was history. Lots of segments of history I have no interest in.

Author

BubbaT

Date

2011-07-08T13:46:47-06:00
ID

164027

Comment

Thank you blackwatch. The NAACP is callously maligned all the time. Im beginning to think it taught in some households like the ABCs.

Author

Walt

Date

2011-07-08T16:03:42-06:00
ID

164033

Comment

My college major was history. Lots of segments of history I have no interest in. That's deep, then why did you become a history major? lol!

Author

Duan C.

Date

2011-07-11T07:01:17-06:00
ID

164034

Comment

Duan, just because you major in history doesn't mean you have to like or be interested in for example the history of Outer Mongolia, now does it? I majored in history because I like mililtary history.

Author

BubbaT

Date

2011-07-11T09:47:09-06:00
ID

164035

Comment

Notmuch, you truly inhabit an alternative universe if you believe that the NAACP orchestrated voter intimidation in the last presidential election. That is outrageous nonsense. You also defame Jesse Jackson. He does not advocate "favored" status for blacks. He explicitly advocates equality. Here is the mission statement of the Rainbow PUSH coalition: The Rainbow PUSH Coalition (RPC) is a multi-racial, multi-issue, progressive, international membership organization fighting for social change. RPC was formed in December 1996 by Reverend Jesse L. Jackson, Sr. through the merging of two organizations he founded earlier, People United to Serve Humanity (PUSH, 1971) and the Rainbow Coalition (1984). With headquarters in Chicago and offices in Washington, D.C., Atlanta, Detroit, Houston, Los Angeles, New York, and Oakland, we work to make the American Dream a reality for all our citizens and advocate for peace and justice around the world. We are dedicated to improving the lives of all people by serving as a voice for the voiceless. Our mission is to protect, defend, and gain civil rights by leveling the economic and educational playing fields, and to promote peace and justice around the world. If you cannot see the difference between that mission and the mission of the Aryan Nation, you are truly blind. Words cannot express how disgusting your statements were.

Author

Brian C Johnson

Date

2011-07-11T14:33:32-06:00
ID

164036

Comment

Brian- Jackson can say equal all he wants, but usually his definition of equal is "favored".

Author

BubbaT

Date

2011-07-11T15:02:01-06:00
ID

164038

Comment

Thanks Brian. Notmuch is gone for good as he has already shot in the house of innocent people and placed the dynamite in the church house. As soon as Kaze and Blackwatch challenged him he got back on his horse or in pickup truck and ran praying none of his clothing would fall off and he be recognized, accosted and brought to trial for his actions. He didn't want any of Kaze or Blackwatch, especially Blackwatch. Duane, Bubba likes his history like all Bubbas and deep Southerners whitewashed, one-sided and confederacy laced. He doesn't have any interest or time for the history of minorities or people looking for handouts or favors. Bubba knows the republican and tea party are right and the NAACP and Jessie are wrong about everything. He got it like that! However, Duane I loved your response to him and thought you had him swamped or overwhelmed with simple logic and common sense. Bubba would never let those things or the truth get in the way of his program. Bubba I thought you had finally gone into purposeful or intentional comedy. You certainly had me laughing.

Author

Walt

Date

2011-07-11T17:10:00-06:00
ID

164039

Comment

Stop making false equivalencies such as NAACP = Ku Klux Klan or RPC = Aryan Nation. To be racist means that you believe your race is inherently superior to another and that your superiority gives you the right (or the "burden") to dominate or subjugate one or all other races. To be racist is to be intolerant of another (or any other) race. Racists would like to see a world where their perceived superiority is manifest in daily life and political ideology. Please show me how that is true for either the NAACP or the RCP. The NAACP and the RPC seek to provide advancement opportunities, seek to end racial disparities and create an equal playing field for people of color in America. The Ku Klux Klan and the Aryan Nation are terrorist organizations that want to keep blacks "in their place" and want all ethnicities other than white people of northern European descent obliterated from America (at least). Two of these are not racist. Two of these are. Not equivalent. Period.

Author

Ronni_Mott

Date

2011-07-11T17:18:48-06:00
ID

164040

Comment

Of course I used metaphors quite liberally in the above commentary.

Author

Walt

Date

2011-07-11T17:24:58-06:00
ID

164044

Comment

"Duan, just because you major in history doesn't mean you have to like or be interested in for example the history of Outer Mongolia, now does it? I majored in history because I like mililtary history." Walt, that there is very one-sided! lol! Well Bubba, if you like it, I love it. I can't lie to you, I was a business major, who LOVES history - whether it's civil war, slave trade, knights templars, african continent, world war I or II, bay of pigs, migration, ellis island, how the FBI and CIA were formed, skull and bones, the boule', social and cultural georgraphy, greek philosophers, you name it, I've touched up on it - I think it only helps in being knowledgeable and well versed, to become a better human being. History, to me at least, shows what we have in common and that is we all have a past. To be honest with you, the only reason why I didn't choose history as a major, I hate writing papers! lol!

Author

Duan C.

Date

2011-07-12T06:45:15-06:00
ID

164050

Comment

Duan- History is a wonderful thing to study. I changed from a engineering major to history, because of a great history professor,Dr Dallas at DSU, and because I failed Probability & Statistics and didn't want to take it again..LOL

Author

BubbaT

Date

2011-07-12T12:17:18-06:00
ID

164060

Comment

Although I have already wasted WAY too much time on this forum, when all I wanted to do was to correct an incorrect statement regarding the reason for the relocation of St. Joseph High School, I am going to jump back in one more time. Brian, you are the one who lives in an alternative universe if you can honestly say you believe the NAACP does not foster prejudice and discrimination. As far as defaming the Rev. Jackson, I don't think anything I say will contribute to the further defamation of a two-faced adulterer who happens to have a talent as a gifted orator that he has used to accumulate wealth and power. I won't waste any more time on that one. Walt, rest assured that I am not "challenged" by any comment on this forum, since I am only stating facts. Ronni, if you read my earlier posts, you will see that I never stated that the KKK and/or Aryan Nation were equivalent, or even similar to, the NAACP and/or RPC. I agree totally with your assessment of the first two; however, while I am well aware of the advocacy functions of the latter two, I will not deny the facts regarding the one-sided efforts they sustain, and the way they twist any incident for their benefit. Since I will probably be challenged on this statement, and since I truly do not have time to continue this, I will just pick one incident at random for your enjoyment. The NAACP asked Maine governor Paul Le Page to spend MLK day visiting black inmates at the Maine State Prison. He told them he would meet with ALL inmates, regardless of race, if he were to visit the prison. I believe this is what Dr. King would have wanted. However, the NAACP news release stated that the governor refused to participate in any MLK events. The governor did not even find out about the news release until the morning of MLK day, since no reporter who had run the NAACP release had even called him to verify the truth. By the time he read the release, he had already attended the local MLK breakfast in Waterville, Maine, as he had done every year since he was mayor of Waterville. Oh by the way, if any reporter had bothered to investigate, he might have found out that the governor has an adopted son from Jamaica who is black. I wonder if that would have made any difference in their press release? Probably not--they would have just labeled the adopted son an "uncle Tom".

Author

notmuch

Date

2011-07-14T08:59:13-06:00
ID

164065

Comment

Notmuch, I challenge you to present even a single case--even one--in which an NAACP press release uses the term "uncle Tom." To adapt a quote from Abraham Lincoln, "It is better to remain silent and be thought a racist than to open one's mouth and remove all doubt."

Author

Brian C Johnson

Date

2011-07-14T13:22:24-06:00
ID

164066

Comment

Brian--Okay, just for fun, how about the press conference held by the Missouri NAACP demanding that assault charges be dropped against union thugs Perry Molens and Elston McCowan, who were arrested in August 2009 after they beat, kicked, and stomped on Kenneth Gladney, a 130-pound cancer survivor (who happens to be black) because he was distributing "don't tread on me" flags and buttons. Molens and McCowan called Gladney the n-word as they were pounding him into the concrete. Ironically, Gladney reached out to the NAACP for help following his hospitalization from the beating, but the NAACP said he was "not black enough to protect". Wait a minute, I thought someone said the "C" in NAACP meant all colors? But I digress--during the NAACP press conference, the NAACP called Mr. Gladney an "uncle Tom". I wonder if the NAACP would have offered any support to Mr. Gladney if the beating had occurred earlier that year in April, when he had been distributing Obama promotional material?

Author

notmuch

Date

2011-07-14T13:57:16-06:00
ID

164069

Comment

notmuch, That was an isolated incident and should not discredit the entire NAACP, just as a racial slur used by one despicable Tea Party member should not mischaracterize their intended purposes.

Author

jbreland

Date

2011-07-14T14:38:03-06:00
ID

164071

Comment

jbreland--Every incident is isolated, and I could have cited many more, all of which were isolated. However, Brian challenged me to "present even a single case--even one--in which an NAACP press release uses the term 'uncle Tom.'" I presented a single case. I did not imply that the racial slur used by one person should discredit the NAACP; I was referring to the official press conference by that organization.

Author

notmuch

Date

2011-07-14T15:24:27-06:00
ID

164072

Comment

According to Notmuch: The NAACP asked Maine governor Paul Le Page to spend MLK day visiting black inmates at the Maine State Prison. He told them he would meet with ALL inmates, regardless of race, if he were to visit the prison. I believe this is what Dr. King would have wanted. However, the NAACP news release stated that the governor refused to participate in any MLK events. But according to easily discoverable new stories on the topic: LePage said he would have attended the forum if he would have been able to meet with all prisoners. But Rachel Talbot Ross, president of Portland's chapter of the NAACP told NEWS CENTER that the invitation, which went out to all candidates, did not specify the race of the prisoners. She went on to say, "We would not be allowed to have that kind of program at the Maine State Prison." Talbot Ross said the event was part of a voter registration effort the NAACP had helped organize at the prison. She said that LePage was the only candidate who turned down the NAACP's request, and that he had cited a scheduling conflict. http://www.wcsh6.com/news/story.aspx?storyid=144480&catid=2 Notmuch also left out the part where LePage told the NAACP to "kiss my butt." ;-) Here's video: http://www.wcsh6.com/video/default.aspx?bctid=751025652001 In other words, it's not quite clear that this is the example to hang your hat on.

Author

Todd Stauffer

Date

2011-07-14T16:03:03-06:00
ID

164073

Comment

Interesting--when I view that video, it is very clear to me that the governor's demeanor when making the "kiss my butt" comment is one of polite tolerance of an organization who has offended him by accusing him of being a racist. Having acquainted myself with much more of the actual facts of this incident than the NAACP's media line, I am comfortable hanging my hat on it.

Author

notmuch

Date

2011-07-14T16:25:36-06:00
ID

164074

Comment

What astounding stupidity, arrogance, and hatred of the truth it takes to reach the said conclusion about the glorious NAACP. There are more facts to unfairly paint a certain race totally racist and without redeemable qualities than to paint the NAACP as racist based on the facts presented here and elsewhere. There is a better chance of convincing me that bears mess in the woods because they are too lazy to build bathrooms or outhouses. Intelligence and the lack thereof soon parted. No person or organization is perfect though. Carry on notmuch. You are so convincing. Educate your slaves!

Author

Walt

Date

2011-07-14T17:08:55-06:00
ID

164075

Comment

Having acquainted myself with much more of the actual facts of this incident than the NAACP's media line, I am comfortable hanging my hat on it. Fortunately, I'm not trying to convince you of anything. I present, instead, actual evidence for others to consider. Also, here's a straight news story on the events and timeline: http://www.pressherald.com/news/facts-belie-lepages-assertion-on-forum_2011-01-19.html

Author

Todd Stauffer

Date

2011-07-14T17:38:32-06:00
ID

164076

Comment

Notmuch: The problem with picking out individual incidents (and selected accounts of them) and using them to paint an entire group is that it inevitably presents a false picture. That would be like me finding 10 racist Mississippi white men in the history books and concluding that all Mississippi white men are racists. See how that works? Every organization I have ever encountered has problems and problem people. But please, hesitate before using those incidents to "prove" that an entire organization is "racist," or one that (per the definition of racist) seeks to promote the superiority of black people to dominate and/or subjugate other races. Give me a break. Is the NAACP one sided and focused on its purpose? Of course it is; that's what makes it effective. Is it perfect in every way? Show me an organization that is. And on what planet is being told to "kiss my butt" polite tolerance? That's just an absurd statement. It reminds of the first joke I ever heard about Mississippi from a Mississippian: Q: How do you say "f" you in Mississippi? A: That's nice.

Author

Ronni_Mott

Date

2011-07-14T17:49:27-06:00
ID

164079

Comment

Okay, children, for the last time: Walt, I am sorry my 150+ IQ does not elevate me beyond your threshold of non-stupidity; I bow to your superiority. However, were I as fortunate to have been blessed by God with your apparent perceived status, I would hope that I would not consider myself above another human being. I think I am better off just being dumb and happy, believing that we were all created equal in God's eyes. I am also happy for you that God has made you able to be happy with your elevated position; how fortunate we both are! Todd, I mentioned that I do not rely on the media line for my facts, so you included a link to the media line as your rebuttal--not much (sound familiar?) I can do about that. Ronni, I agree 100% that individual incidents should not be used to characterize an entire group; my earlier response to jbreland clarifies this. The definition of "racist" varies from Merriam-Webster to Oxford to Random House, etc. However, there are also hundreds of variations of "real world" implications and effects of racially-influenced policies--for example, "minority set-asides" that result in the award of contracts to entities who know they can bid higher than their non-minority competitors and still get the contract--and then subcontract the actual work out to the non-minority firm and pocket the mark-up. Ironically, this occurs on a weekly basis in Jackson, where although whites are the minority, they compete at a severe disadvantage. As far as the "kiss my butt" comment, please watch the video; if you can truthfully say that you believe the governor's facial expression and mannerisms indicate that he is not joking, perhaps my social skills are as inferior as my intelligence. Although I do not use the foul language, I was amused by the joke; the old story sometimes rings true that a southerner can say anything she wants about someone, as long as it is followed with "bless her heart". This really does have to be my last post; unfortunately, I must work for a living and this has cost me too much time and money already, so I will leave all of you to slap each other on the back and congratulate each other for running me off with your collective enlightened intellects.

Author

notmuch

Date

2011-07-15T09:38:07-06:00
ID

164081

Comment

notmuch ... You have absolutely used individual incidents to characterize the NAACP as racist as these statement from your previous posts attest: "...regarding the racist groups, I am talking about the NAACP primarily, although other minor groups were involved." and this: "...I will not deny the facts regarding the one-sided efforts they sustain, and the way they twist any incident for their benefit." "Racially influenced" (i.e., something influenced by race) is a far cry from "racist," and you are smart enough to understand that difference. And let's inject a little truth into this whole context: If America and its citizens had treated African Americans with respect and equality, there would be no need for organizations like the NAACP. Unfortunately, blacks have had to fight tooth and nail for every inch of equality, and institutional racism is still a huge barrier for many. If whites compete at a "severe disadvantage" the national jobs picture surely doesn't reflect it; jobs growth is enormously skewed toward white males, with all other groups (especially women and blacks) having lost ground. And I watched the video. My take on it was that he was just done with the conversation and wanted to end it. "Kiss my butt" indicates finality, not tolerance. Granted, it was a stupid-reporter-question response ("How do you feel..." always becomes a stupid question, IMHO). My take on the smile after his statement? He realized he just stuck his foot in his mouth. It's embarrassment, not amusement.

Author

Ronni_Mott

Date

2011-07-15T10:55:40-06:00
ID

164084

Comment

Notmuch, I asked you to present a press release, not an anecdote about a press conference. You didn't include any evidence to support your description of the press conference, so there's no way for us to know if you're describing it fairly. However, we can say for certain that you are incorrect in claiming that "the NAACP" called someone an uncle Tom at a press conference. That's not even possible. Was it a representative of the organization? An ally? Without a link, we have no way to evaluate your claim. In any case, a remark made at a press conference is not a "press release," which was your original claim. I wonder if that would have made any difference in their press release? Probably not--they would have just labeled the adopted son an "uncle Tom". Anyway, thanks for stopping by. It's always fun to see someone twist himself into a pretzel to call the NAACP a racist organization. You would make your segregationist forefathers proud!

Author

Brian C Johnson

Date

2011-07-15T14:31:14-06:00
ID

164086

Comment

Todd, I mentioned that I do not rely on the media line for my facts, so you included a link to the media line as your rebuttal--not much (sound familiar?) I can do about that. So you are unwilling or unable to point to any evidence of your assertions of the events you describe without attribution, and when someone else does present evidence -- what the rest of the world calls "facts" -- you ignore it because it came from a media source. And that's a *strength* of your argument? Hmm... are you sure that was an IQ test you took? The thing with the ball and pins is called "bowling."

Author

Todd Stauffer

Date

2011-07-15T15:13:09-06:00
More like this story
More stories by this author