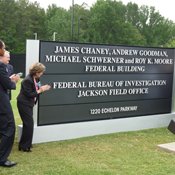 The federal government recognized the sacrifice of three civil-rights workers today at the naming of the new Federal Bureau of Investigation building on Echelon Parkway.
The building was named the James Chaney, Andrew Goodman, Michael Schwerner and Roy K. Moore Federal Building. Chaney, Goodman and Schwerner were civil-rights workers murdered by terrorists in 1964 near Philadelphia Miss. Moore was the FBI agent who headed the investigation of the worker's disappearance. among other civil-rights crimes during that time.
Angela Lewis, James Chaney's daughter, said the naming represented the social changes that have taken place in Mississippi since the 1960s.
"We have services to commemorate 9-11 and the hard work of our soldiers, but when a family gets recognized for its services, there doesn't need to be a building named or a service, because we never forget. Sometimes there is grieving among family members and sometimes there is a celebration of love, but the fact that you are doing this this morning shows that you remember," Lewis told a crowd of about 400 that gathered at the unveiling. "On behalf of my daddy and the Chaney family, I'm honored and grateful."
David Goodman, Andrew Goodman's brother, said he was 17 when Goodman was murdered.
"There are always some bad people in any place, but basically we're a great nation full of great people, and the state of Mississippi has shown the rest of the country what you can do positively," Goodman said. "Having my brother's name on an FBI building is beautiful and a little ironic, I must admit, because the FBI did crack this case, but the whole country, not just Mississippi, was racist to a greater or lesser extent. It wasn't just in one state, or two or three or five."
Goodman added that the naming of the building did not bring to conclusion the nation's racist issues. He said the country had a new trumped-up boogey-man with whom to target new, undeserved animosity.
"Our brothers and sisters who are Muslim face a similar situation today," Goodman said. "There are some bad people among Muslims, but these individuals do not represent the all 2 million of them."
U.S. Rep. Bennie Thompson, D-Miss., and Mississippi NAACP President Derrick Johnson attended the ceremony, along with Attorney General Jim Hood, former Gov. William Winter, former Secretary of State Dick Molpus, and other state and local politicians.
The blast-resistant 110,000-square-foot building at 1220 Echelon Parkway officially opened last June.
More like this story
More stories by this author