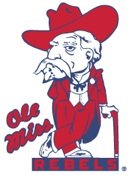 A House bill that proposes to reinstate former Ole Miss mascot Colonel Rebel and require the university to play the controversial "From Dixie With Love" fight song during football games will likely die in the House Universities and Colleges Committee.
Rep. Mark DuVall, D-Mantachie, said he introduced the bill on behalf of his constituents who are unhappy with the school's new mascot, Rebel Black Bear, and want the school to continue playing its old fight song.
In October, students and alumni voted for the new mascot to replace Colonel Rebel, which the school had removed in 2003. In 2009, Ole Miss Chancellor Dan Jones asked the band to stop playing "From Dixie With Love" at school events and football games due to students chanting "The South Shall Rise Again" at the end of the song. The chant, which is a Confederate rallying cry, was offensive to many students and spectators. The fight song controversy received national media coverage. FOX News Anchor and Ole Miss alumnus Shepard Smith recorded a message to students asking them to stop the chant.

Duvall, however, doesn't find the song offensive.
"The song is about our culture and our heritage," DuVall told the Jackson Free Press." We live in the South, which is Dixie, ... to me that song is not controversial."
The deadline for bills to pass out of committee is tomorrow. DuVall said the House Universities and Colleges Committee is not scheduled to meet before then, meaning the bill will likely die.
Previous Comments
ID

161861

Comment

I can only pray that the bill and the old mascot will die a quiet death.

Author

tombarnes

Date

2011-01-31T13:53:14-06:00
ID

161866

Comment

I don't get it. What's the big deal?!?! I went to USM, and if they decided to change their mascot, I wouldn't care a bit. Seriously, not one bit! Is it just because the old mascot is offensive to a certain group of people? People seem to like to put up a fight to hold on to old, racist southern traditions while claiming it's heritage they are trying to preserve. I'm not buying it! If it offends a large number of Mississippians, get rid of it! The people will get over it. Same with the flag. I'm sure it won't be a quiet death, but it needs to die already. Put that stuff in history books and museums where it belongs; it no longer represents us.

Author

Tre

Date

2011-01-31T15:23:05-06:00
ID

161870

Comment

Tre- Ole Miss didn't decided to change their mascot,Robert Khayat did and Dan Jones wouldn't let Colonel Reb be put on the ballot for people to vote on it. The majority still want Col Reb as the mascot, not some stupid ass bear that has nothing to do with Ole Miss or even Mississippi.

Author

BubbaT

Date

2011-01-31T18:49:53-06:00
ID

161871

Comment

Also, Rep. Mark DuVall is a Mississippi State alum. Did he mention that?

Author

jbreland

Date

2011-01-31T23:37:35-06:00
ID

161874

Comment

Hi Bubba- Again, I don't understand the frustration. Do you just hate bears? What does a golden eagle have to do with Mississippi? ...or a tiger, or a bulldog, or a devil??? At least the "teddy" bear has it's origins here in MS. The University of MS should have been the "toddy" bears. And, again, I ask: who cares?!?! It's just a guy in a costume running up and down the sidelines. If the Chancellor of a University decides to change it, then it's changed. Move on. It didn't even need to be voted on, in my opinion. Just say, "we are the bears now... deal with it!" Just like Musgrove should have done with the flag. He was governor. He could have just said, "this is the new flag... deal with it!" I just don't get it.

Author

Tre

Date

2011-02-01T09:31:08-06:00
ID

161876

Comment

Or a bulldog ...? The obsession with Colonel Reb is befuddling, and rather disturbing.

Author

DonnaLadd

Date

2011-02-01T11:59:16-06:00
ID

161877

Comment

It's time to start a campaign to get rid of the stars and bars in the Mississippi state flag too. Maybe the JFP could start a petition? I realize that Barbour isn't going to get behind this, but perhaps it's time to make noise? The Confederate battle flag belongs in the history books, not in a state flag. Sorry if this is off-topic, but it continues to baffle me how symbols continue to bedevil a state which very much needs to get on with its promising future. The past is past- respect it and treasure its buildings and history, but don't let it get in the way of the future.

Author

tombarnes

Date

2011-02-01T13:06:59-06:00
ID

161879

Comment

Maybe Phil Bryant will lead the charge. [sarcasm off]

Author

DonnaLadd

Date

2011-02-01T13:53:52-06:00
ID

161883

Comment

Ahhh, this is where I get off easy. As a graduate of Delta State I really don't have to worry about anyone but my 19-month-old being offended by Okra!

Author

Lori G

Date

2011-02-01T15:21:26-06:00
ID

161884

Comment

Tre- Who cares? Probably about 1000 to 1 to the people like you that don't. Colonel Reb was the mascot there was no reason to change or remove him.

Author

BubbaT

Date

2011-02-01T15:48:18-06:00
ID

161885

Comment

That seems numerically impossible in a state where the percentage of African Americans is highest in country, Bubba. And that doesn't include all the white people who think it's really stupid and backward for a taxpayer-funded institution to use symbols of the Confederacy. Truth is, it's not really up to you and other apologists. Go paint the front of your house any offensive thing you want, but this is government doing it, and it has no place forcing such an offensive symbol on taxpayers.

Author

DonnaLadd

Date

2011-02-01T16:46:22-06:00
ID

161886

Comment

I would say somthing about mascots and sports here but this time I will keep my opinion to my self. There seems to a lot of people who do not look at mascots or have noticed a lot on the subject. That is all I will say about that.........

Author

Bryan Flynn

Date

2011-02-01T17:26:14-06:00
ID

161887

Comment

Well, that was helpful. ;-) There are many offensive mascots, if that's what you mean. That fact doesn't make any of them less distasteful. I don't root for teams with Native American mascots. Period.

Author

DonnaLadd

Date

2011-02-01T17:30:49-06:00
ID

161888

Comment

Donna, you still haven't come up with a valid reason to change Colonel Reb.

Author

BubbaT

Date

2011-02-01T19:24:02-06:00
ID

161891

Comment

Yeah, well... I still don't get it; and, if my opinion is one in a thousand, then why is this an issue? It simply doesn't matter. Stop wasting time and money on such a non-issue. I hate to hear about how broke our state is and all of the budget cuts to schools and state-funded programs that were already under funded. They don't need to waste on minute of time in the House discussing school mascots. WHO CARES?!?! If you have to continue praising the people and actions of the "good ole days" of the south, go ahead; but, don't expect me to contribute to your cause.

Author

Tre

Date

2011-02-02T10:25:24-06:00
ID

161892

Comment

Bubba, we've talked about many reasons for changing Colonel Reb here over the years -- from "it's the right thing" to helping Mississippi's economic development and reputation. Just because these things do not matter to you, Bubba, certainly does not in any way indicate that they are "invalid." I'm rather tickled that you think that, I must say. Donna, you seem to be very opinionated. And Tyler, you must be new here. Yes, I have opinions. So do others. Allow us to stipulate that point, which has little to do with the conversation at hand between people with various opinions. We have discussed Colonel Reb and other symbols of the Confederacy many times here, including Blind Jim, etc. There is no reason to rehash any of it, especially considering that this is a non-issue at this point. The mascot is gone. But if you want to see other conversations here about it, go find them in Google. Should be easy. No, Mississippi State is my alma mater. (And Columbia University.) But that isn't particularly irrelevant, either; I presume you understand that the University of Mississippi is not a private college? Every resident of Mississippi has a stake in the messages it sends out about the state. You are welcome to your traditions, Tyler, as long as the government does not fund pushing them onto other people. You should paint a big ole rebel flag on your house. No one cares. Your personal beliefs have nothing to do with a conversation about symbols that a public university uses to represent everyone there. If you want to lead a revolution to change the symbols back, go for it. But running around belittling others who do not agree with your world view and calling us names is just juvenile. I'm sure you can come up with a more convincing tactic.

Author

DonnaLadd

Date

2011-02-02T10:34:38-06:00
ID

161894

Comment

Well said Donna! I don't think people who were raised in Mississippi, educated in Mississippi, and have always lived in Mississippi really realize how this looks to the outside world. For a state that is roughly 36% Black, it amazes me that this is actually ok in the minds of so many Mississippians. Colonel Reb as the mascot of the university of a southern state shows that we have not moved into the future. When I watched a youtube video of the Dixie and South Shall Rise Again drama, I was amazed. I also can't understand why they think any minorities would feel welcomed to the "Ole Miss," knowing the history of this state. Where is the New Miss? That's the school I want to send my children! And if Ole Miss and Ole Massa means what I've read online, that would be even worse. I guess it's all personal and means different things to different people. To me, it means that we are not inclusive of everyone in the state.

Author

News Junkie

Date

2011-02-02T11:17:24-06:00
ID

161895

Comment

Thanks, News Junkie. I am constantly amazed that some people want us to live in the past just so they don't have to challenge their own world review. It is exactly this attitude, and the politicians who pander to it, who keep us on the bottom, run off many of our smart young people and keep good-paying jobs away. They'll always be there, trying to move us backward. The rest of us must speak up and drown them out on behalf of lifting our state up and progressing, rather than regressing. SPEAK!

Author

DonnaLadd

Date

2011-02-02T12:11:06-06:00
ID

161896

Comment

As I have stated before, Mississippi must look to the future. Divisive symbols like Col. Reb and the stars and bars only serve to place Mississippi in the straightjacket of its past. Until such symbols are rightfully put in their proper place (a museum perhaps?), Mississippi will continue to be looked upon by the country and the world as backward. This is not something a forward-looking people should desire. Entangling the issue of the state flag in this debate is possibly unwarranted on my part, but it is an issue which must surely be addressed again. If it was voted upon before, it can be voted upon again. I prefer the idea that it could simply be retired without argument. Other states have done so and Mississippi should follow their good example.

Author

tombarnes

Date

2011-02-02T13:16:42-06:00
ID

161897

Comment

As a parenthetical note to Tre: USM did change its mascot--in 1971 to be exact following a school vote. Prior to that year they were known as the Southerners and the field mascot was "General Forrest," i.e. Confederate General and Ku Klux Klan Grand Wizard Nathan Bedford Forrest, for whom Forrest County (where Hattiesburg is located) is also named.

Author

ed inman

Date

2011-02-02T13:38:08-06:00
More like this story
More stories by this author