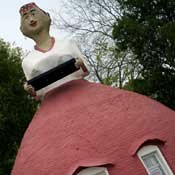 Mississippi is unique. And no matter what naysayers believe, the Magnolia state has something for just about everyone. Take some time this summer to travel around the state and explore some of the one-of-a kind and unusual sites Mississippi has to offer. Then tell your friends, so they can visit, too.
World's Largest Rocking Chair—Folks at the family-owned, Gulfport-based Dedeaux Furniture Factory made the world's largest rocking chair 30 years ago out of solid oak. Hurricane Katrina damaged the chair, but Dedeaux has since restored it. The chair stands 35 feet tall and is officially labeled the "Magnolia State Rocker." (11451 Canal Road, Gulfport, 228-832-0079, http://www.dedeauxfurniture.com)
Winterville Mounds—These sacred ceremonial mounds were built by prehistoric Native Americans between about 1000 and 1450. The site originally contained 23 mounds, but development has leveled many of them, leaving about a dozen, including the tallest at 55 feet. (2415 Highway 1 N., Greenville, 662- 334-4684, http://mdah.state.ms.us/hprop/winterville)
Windsor Ruins—The Windsor Ruins are located in Port Gibson, near Alcorn State University. Once a large mansion owned by Smith Daniell, the homestead covered 2,600 acres, prompting Mark Twain to call it a college. Windsor had four stories, contained 25 rooms and 25 fireplaces and cost $175,000 to build in 1861. During a house party Feb. 17,
1890, a guest left a cigar burning on the balcony, and the mansion burned. All that is left are 23 30-foot-tall Corinthian columns. (15095 Rodney Road, Port Gibson, 601-437-4351, http://www.southpoint.com/states/ms/windsor)
Ghost Town of Rodney—Rodney was once a bustling trading town and almost became the capital of Mississippi. Trade was lively because of its proximity to the Mississippi River, but as the course of the river changed, people moved away. In 1880, Rodney residents voted against having a railroad stop in the town and more people left the area. Where once 5,000 people lived in Rodney, today all that is left of the town is a store, an old black Masonic lodge, two churches, a cemetery, a gas station, an abandoned hotel and a few abandoned homes. The town is located near Lorman. (http://www.southpoint.com/states/ms/rodney).
Woodall Mountain—Woodall Mountain is the highest point in Mississippi, located in Iuka, near the Alabama border. It was the site of a Civil War battle and is the only high point in the United States to be directly involved in battle. (http://en.wikipedia.org/wiki/Woodall_Mountain).
The Witch of Yazoo—A posse trapped a woman accused of witchcraft in quicksand near Yazoo City. According to legend, before she sank, she swore revenge by promising to burn down the whole town. She was buried deep in the ground, and her casket was chained. Years later, much of the town did burn, and at the same time, the chain surrounding the casket broke in two. (Glenwood Cemetery, Potters Field Road, Yazoo City; http://www.yazoo.org/Wtchgrav.htm)
Graceland Too—Located in Holly Springs, Graceland Too is a floor-to-ceiling dedication to Elvis Presley created by Paul McLeod. The home is a pink, two-story, mini Graceland, open 24 hours a day; admission is only $5. (200 E. Gholson Ave., Holly Springs, http://www.roadsideamerica.com/story/11097)
Mammy's Cupboard—Located in Natchez, Mammy's Cupboard is a restaurant built inside the skirts of a 28-foot-tall black woman. Creepy, but the food is good. The restaurant is open for lunch Tuesday through Saturday from 11 a.m. to 2 p.m. (555 Highway 61 S., Natchez, 601-445-8957, http://www.roadsideamerica.com/story/3344)
Rock and Blues Museum—This 3,000-square-foot museum has tons of rock 'n' roll, country, blues and R&B memorabilia from the '20s to the '70s. The owner, Theo D, is from the Netherlands and moved his museum from there to Clarksdale in 2007. Admission is $5. (113 E. Second St., Clarksdale; 662-302-3803; http://www.blues2rock.com)
More like this story
More stories by this author
Like independent media outlets around the world, the Jackson Free Press works hard to produce important content on a limited budget. We'd love your help! Become a JFP VIP member today and/or donate to our journalism fund. Thanks for considering a JFP VIP membership or one-time support.