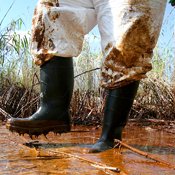 British Petroleum announced that Mississippi will receive a total of $65 million to fight oil coming onto the beaches and for tourist advertising, but Attorney General Jim Hood says he requires none of those funds to pursue a suit against the oil giant, should one become necessary.
The petroleum company's Deepwater Horizon rig sank in April, leaving an uncapped well spewing oil into the Gulf. The new count, according to a New York Times report last week, is now between 20,000 and 40,000 barrels per day, amounting to 840,000 to 1.68 million gallons flowing into the sea every day for almost 60 days.
Louisiana Gov. Bobby Jindal announced at the end of May that he would set aside $5 million of a $25 million BP grant for Louisiana Attorney General Buddy Caldwell to sue the company.
Caldwell told reporters earlier this month that the $5 million was only a piece of what he really needed to pursue a successful suit, and asked state lawmakers for an extra $27 million to hire outside attorneys and expert testimony on the science behind the spill.
In comparison, Hood does not need to request funds from the Legislature.
"Caldwell's problem is they have legislation expressly prohibiting the hiring of counsel," Hood told the Jackson Free Press. "During the tobacco settlement, when (Mississippi Attorney General) Mike Moore was (in Louisiana) trying to get them involved in the tobacco settlement, they just cut his knees out from under (the attorney general) because the legislators could do that."
That is power the Mississippi GOP would like as well. Republicans in the state Legislature have submitted bills every year seeking to restrain Hood's power to contract outside attorneys to pursue expensive litigation against high-powered companies like Microsoft and the now defunct WorldCom. Every year Democratic committee chairmen refuse to allow the legislation out of committee.
Under current law, Hood can contract outside counsel and pay them on a sliding scale, based on how much money the attorneys win in their case. Attorneys in the state's $100 million settlement with Microsoft Corp. earned $10 million for their services, as specified by their contract. Republican state Auditor Stacey Pickering fought the legitimacy of the contracted Microsoft work, arguing that the contracted attorneys should be paid from the state's general fund—similar to the situation in Louisiana—and has sought to reclaim the $10 million. Hinds County Chancery Court Judge Denise Owens shot down Pickering's endeavor in an April decision.
Hood admitted that state law makes his pursuit of BP easier, should a suit be necessary.
"Legal fees with the Exxon Valdez thing went over $20 million. What are the odds of a state putting up that kind of money?" Hood asked. "But as long as BP continues to work with me I won't need outside counsel."
Gov. Haley Barbour continues to downplay the impact the oil has had on the state.
Barbour told members of a June 8 House Select Committee on the Gulf Coast Disaster that the oil is less damaging than other oils because of its classification as "sweet Louisiana crude" meaning it is light in weight and low in sulphur, and, in his words, "deteriorates very quickly." The governor also argued that organisms in the Gulf "digest" the oil, rendering it harmless.
But the governor made no reference before legislators to the strong potential for oxygen-depleted dead zones created by the microbes that digest the oil. He also glossed over the toxicity of the oil to wildlife, which can clog the gills of fish and the lungs of birds and other wildlife, while devastating the state's oyster and shrimp industry for generations. Barbour admitted that BP is "paying fishermen not to fish" because of the potential health risk posed by the harvest.
Above all, Barbour joined Jindal in criticizing President Barack Obama's decision to issue a moratorium on new drilling off the Gulf Coast, complaining that the moratorium would send oil prospectors to competing countries like China and Venezuela and cost the state jobs.
The moratorium's impact, however, would be tiny, according to a June report issued by the International Energy Agency. The agency predicts that a two-year delay on all deep-water oil rigs in the Gulf—33 of them, according to Barbour—could reduce production by up to 300,000 barrels a day by 2015. The amount is about 5 percent of the country's total domestic production, and less than 2 percent of the nation's oil consumption.
In any case, the moratorium has no impact on drilling wells in depths shallower than 500 feet—of which there are more than 3,800 currently in the Gulf—and does not affect deepwater wells already in production, although those wells hold suspect permits and certification awarded by the now-controversial Minerals Management Service.
Previous Comments
ID

158287

Comment

Cha-ching, cha-ching!

Author

DrumminD21311

Date

2010-06-23T00:08:26-06:00
More like this story
More stories by this author
Like independent media outlets around the world, the Jackson Free Press works hard to produce important content on a limited budget. We'd love your help! Become a JFP VIP member today and/or donate to our journalism fund. Thanks for considering a JFP VIP membership or one-time support.