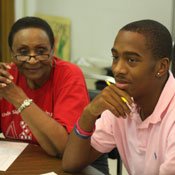 Jackson Public Schools will enter the coming school year with a lean budget and a growing Board of Trustees. The five-member school board, which already boasts four members with less than a year of experience each, is set to add two new members this fall.
The City Council approved the board's expansion to seven members at its July 13 meeting. City spokesman Chris Mims told the Jackson Free Press that Mayor Harvey Johnson Jr. plans to submit his picks for the new board positions to council by the end of August. Those names will come from Wards 5 and 6, the two wards currently without representation on the board.
Ward 6 Councilman Tony Yarber said he plans to submit at least two names to Johnson for consideration. Many residents have contacted him to share their concerns and desires, he said.
"They don't necessarily want another educator or somebody who has ties to community organizations," Yarber said, adding that his constituents have expressed their desire for an "everyday person" on the board.
Current board members Kisiah Nolan and Ivory Phillips are former JPS teachers, while members George Schimmel and Monica Gilmore-Love both have ties to local public-education advocacy group Parents for Public Schools. The board's fifth member, Otha Burton, served as chief administrative officer for Johnson during his previous administration.
Yarber is principal of Marshall Elementary School and, thus, cannot vote at the Council's confirmation hearings for new board members. Ward 5 Councilman Charles Tillman did not return calls.
The City Council made a bigger school board one of its key requests during this year's state legislative session. Previously, Jackson mayors appointed board members on the recommendation of individual city council members, with representation on the board subject to an unofficial rotation system between the city's seven wards.
The expansion will eliminate the need for a rotation, but it could also create a more explicit link between school district policy and city politics, a possibility that concerns Susan Womack, executive director of Jackson Parents for Public Schools. She hopes Johnson's new picks will look after the interests of students across the district.
"In the past ... for the most part, the five-member board took (its) job of representing the entire school district very seriously," Womack said. "In other words, they weren't concerned about only the schools in their particular ward. I would hope that we don't turn into that."
If seats on the JPS board become closely associated with specific wards of the city, some potential board members may be discouraged from serving. Politicized organizations tend to attract different people than more politically insulated appointed boards, Womack said.
If recent board meetings are any indication, though, a bigger board will still operate more smoothly than the divided group of five that served during former Mayor Frank Melton's administration. That group drew criticism for consistent bloc voting, micromanagement of Superintendent Lonnie Edwards and meetings that often ran more than three hours. By comparison, the board's current incarnation is positively friendly, with no evident divisions and is a model of efficiency. When speaking to the media, board members often decline comment, deferring to Board President Nolan to speak for the entire board.
Phillips, the last remaining member from the Melton-era board, provided a rare moment of dissent when he cast the only vote against approving the district's 2010-2011 budget at a June 29 meeting. Phillips objected to the 125 unfilled teaching positions the budget eliminated and argued that the district could restore some of those by saving money on other contracts.
He also suggested the board could trim administrative positions in the district further. Nolan told the Jackson Free Press she expects Edwards to present an evaluation of the district's central administration to the board at its August meeting.
"Our superintendent is working on that now, to see where we might consolidate some things," Nolan said. "We're not going to micromanage him, so we're giving him an opportunity to bring forth his plans for reorganization."
Edwards' plan will almost certainly address the vacant position of deputy superintendent for operations, which has been unfilled since Michael Thomas' retirement in March. Executive Director for Finance Sharolyn Miller led the budget process in Thomas' absence.
Miller indicated during budget hearings last month that she would work to find additional money to restore 15 of the 125 eliminated teaching jobs later in the year. Adding back teachers will only add to the difficulty of the next year's budget process, however. Despite trimming its budget by 12 percent for the upcoming school year, the district is facing the loss of $7.8 million for its 2011-2012 budget when funds from the American Recovery and Reinvestment Act run out.
More like this story
More stories by this author
Like independent media outlets around the world, the Jackson Free Press works hard to produce important content on a limited budget. We'd love your help! Become a JFP VIP member today and/or donate to our journalism fund. Thanks for considering a JFP VIP membership or one-time support.