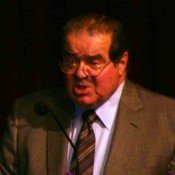 The United States should not look to other countries when interpreting its own Constitution, U.S. Supreme Court Justice Antonin Scalia said yesterday in a speech at First Baptist Church of Jackson sponsored by Mississippi College School of Law.
"If there was any thought absolutely foreign to the founders of our country, surely it was the notion that we Americans should be governed the way Europeans are," Scalia told the audience of roughly 600, which included Gov. Haley Barbour and his wife Marsha, in addition to MC law students. "I dare say that few of us here would want our life or liberty subject to the disposition of French or Italian criminal justice—not because those systems are unjust, but because we think ours is better."
If the Supreme Court takes cues from foreign law, it cannot do so selectively, Scalia argued. He pointed to the Court's 2003 decision in Lawrence v. Texas, which found state laws banning sodomy to be unconstitutional and in which he dissented. Justice Anthony Kennedy's majority opinion in that case cited a 1981 decision of the European Court of Human Rights to argue that Western civilization did not uniformly condemn homosexuality.
Among non-European countries, laws prohibiting homosexuality are more common, Scalia pointed out, meaning that the Court had arbitrarily selected European precedent to justify its decision. On the other hand, the Court has not relied on foreign law in abortion cases, Scalia noted, despite the fact that the United States places fewer restrictions on abortion than many other developed Western nations.
"I will become a believer in the ingenuousness, though never the propriety, of the Court's newfound respect for the wisdom of foreign of wisdom minds when it applies that wisdom in the abortion cases," Scalia said.
Scalia is one of the leading proponents of originalism, a doctrine holding that courts should interpret the U.S. Constitution as people living at the time of its writing would have. Answering questions from students, he said that the Supreme Court decision he was most proud of was his majority opinion in District of Columbia v. Heller, the 2008 case that struck down a firearms ban in Washington, D.C.
"What was good about the case was that not only did my majority opinion proceed upon that road, but even the dissent was an originalist dissent," Scalia said. "It got it wrong, but it was trying, using the right approach."
Scalia also said that he was worried by a mounting trend of appointing career judges to the judiciary. Scalia, 73, is a former appeals court judge, but he had also worked in private practice, as a law professor and in the administration of President Gerald Ford before Ronald Reagan nominated him to the Supreme Court in 1982.
"Every aspect of your career broadens your outlook and the insights that you would have. It's good for the Court to have people with varied backgrounds. One of the things I'm concerned about is that in recent years, nobody who has been appointed has come from another bench," Scalia said.
"It's probably not good," he continued. "It's leading us toward the European system. The big differences between our system and the European system are not what I am talking about here. ... The big difference is the nature of the judges."
Calling European judges "the most blinkered bureaucrats," Scalia said that career judges in European systems can develop a sympathy for the government's side of a case, having worked for the government their entire professional lives.
"You contrast that with the Anglo-Saxon system, where in the most important courts the judges not only have not been spending their whole life with their snout in the public trough, they've been suing the government," Scalia said. "They've been defending their clients against the government. (It's) a different mind, a different mindset."
"I worry about our not having people of a lot of different experiences, especially with substantial legal practice," Scalia added. "More and more people practice for a couple years, then they become a minor state court judge and they stay in the judiciary the rest of their career. You can have some people like that, but if our whole judiciary becomes like that, we're going to become European. I may as well move to France."
Previous Comments
ID

154740

Comment

The U.S. Constitution wasn't drafted until 1786, and wasn't ratified until 1787. This makes it difficult to believe that "Justice Antonin Scalia would like to take us back to 1776, constitutionally." as the JFP tweets.

Author

Mark Geoffriau

Date

2010-01-05T15:27:58-06:00
ID

154741

Comment

Ronni's tweet stands corrected. ;-) That wasn't in the story above.

Author

DonnaLadd

Date

2010-01-05T15:32:57-06:00
ID

154745

Comment

"You contrast that with the Anglo-Saxon system, where in the most important courts the judges not only have not been spending their whole life with their snout in the public trough, they've been suing the government," Scalia said. "They've been defending their clients against the government. (It's) a different mind, a different mindset." ___________________________ Oh wow. Antonin Scalia, Esquire, lawyer for the people. Yeah right. How many plaintiff oriented lawyers are on the U.S. Supreme Court? How many criminal defense lawyers are on the U.S.Supreme Court?

Author

blkjazz

Date

2010-01-05T15:53:39-06:00
ID

154762

Comment

Well, heck, Mark, what's nine years over the course of 224? ;-) Should have looked it up; my bad. My point, of course, that Scalia wants to see the Constitution interpreted as it would have been by the men who penned it. Besides being an exercise of questionable result, it would also necessarily reintroduce the mind sets of those esteemed gentlemen unwise enough to exclude most of the population from any freedom, voting, holding property or so many other constitutionally granted rights that many of us take for granted today. Constitutional "originalism" reminds me of the religious fundamentalism that picks and chooses which parts of the Bible (or Qur'an or Torah) to take literally and then condemns everyone who doesn't agree with its narrow view. It makes the Constitution a dead, unchangeable thing. Yuck.

Author

Ronni_Mott

Date

2010-01-05T19:54:06-06:00
ID

154775

Comment

I (and I imagine Justice Scalia) would take issue with that characterization. Justice Scalia has been very precise (and Ward notes correctly in the article) in his belief in the original meaning method of interpretation, and not original intent. He would argue, then, that it's not our job to guess at the intent of the writers, but rather to interpret the writers' words as any intelligent, reasonable person might have done during the time of the writing. Moreover, I imagine he might argue that the writers gave us a method of ensuring the Constitution doesn't become a dead, unchangeable thing -- by amending it. The writers must have recognized that times and cultures change, and had the foresight to include a way to update the document while maintaining continuity in its meaning and interpretation. And, of course, I imagine he might argue that if the original text may be interpreted to fit whatever modern doctrine we find most attractive or agreeable, then the text itself actually becomes meaningless. That is, having ceased to carry any meaning independent of interpretation, it becomes empty and absurd (and as a foundational document, useless for any purpose other than as an emotional symbol). Lastly, while I can sympathize with your comments on religious fundamentalism, I'd offer that it's more accurate to describe that type of interpretation as "wooden", rather than "literal". It's one thing to color the plain meaning of the text with historical, cultural, and literary context; it's another to so expand the possibilities that the plain meaning is lost altogether.

Author

Mark Geoffriau

Date

2010-01-06T08:42:03-06:00
More like this story
More stories by this author