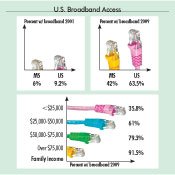 As omnipresent as the Internet has become in most people's lives, the "digital divide" separating those with regular, fast Internet access and those without persists. By the mid-1990s, the "digital divide" had become a concern for policy makers.
Households that don't have the Internet or have slower connections lose economic and educational opportunities, Jackson State University professor Willie Brown says.
"If you don't have any connectivity at all, there are lots of resources that you can't access at all—information sources and services," Brown says. "(With broadband), you can pay bills, sell merchandise and buy merchandise. And even if you have the access, if it's too slow, it limits the amount of value that you can get from it."
Wireless Internet and cell phones have changed some of the dynamics of the digital divide, though, by making cheap Internet access available to those without a land-based Internet connection.
President Barack Obama tried to affect the urban-rural digital divide by including $7.2 billion in the federal stimulus package to extend broadband infrastructure to rural, under-served areas. In Sept. 2010, the U.S. Department of Agriculture announced a $2.63 million grant from the stimulus package to bring broadband to 18,200 people in Panola and Quitman Counties.
More like this story
More stories by this author