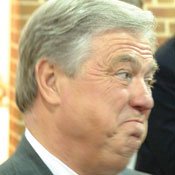 Speaking at a biofuels conference this morning, Gov. Haley Barbour re-affirmed his support for construction of a $2.88 billion experimental coal plant in Kemper County while criticizing a federal energy bill that imposes a carbon-limiting policy on power-production companies.
During the 2010 Mississippi State University Biofuels Conference at the Jackson Hilton Hotel, the Republican governor warned "the energy bill is the government takeover of 100 percent of the American economy, because energy is the lifeblood of the economy."
The American Power Act of 2010, which was defeated in Congress, would have limited the amount of carbon that a utility company can produce based on the company's size. To avoid reaching the cap, companies can purchase carbon permits from another power-producer using carbon-light energy methods, such as solar energy.
In an April 22, 2009 letter to The Washington Times, Barbour wrote that if the federal government requires a power company to invest in renewable energy, it would drive energy producers to pass those costs down to ratepayers.
During his speech today, however, the governor failed to mention the electricity rate hikes consumers face from the construction of the Kemper County plant, a project he continues to support.
"It behooves us to learn how to burn coal cleaner, and I'm very proud of the fact that Mississippi is a state that has now … a carbon capture … project for a coal-fired power plant in the United States, over in Kemper County," Barbour said.
The Mississippi Sierra Club is challenging the Mississippi Public Service Commission's April decision in Harrison County Chancery to allow Mississippi Power Company to pass the $2.88 billion cost of the plant to ratepayers, instead of the $2.4 billion cost cap the Commission imposed in March.
When compared to the impact of the similarly priced Entergy Mississippi nuclear reactor near Port Gibson, the new plant could impose a 40 percent rate increase on Mississippi Power customers. Mississippi Power ordered the Commission to keep rate impacts under wraps, but the Sierra Club is demanding the company make the information public.
Barbour praised the Kemper plant, while criticizing all fuel-industry projects that require government subsidies to finance.
"I believe every fuel area that we deal with has got to be able to make money in a private economy without a government subsidy," Barbour said. "If it can't get there without a government subsidy, then we're really short-changing the taxpayers," Barbour said, without mentioning that the Kemper plant receives $680 million in federal support, in addition to financing through rate increases.
Barbour made note of the $680 million federal investment in a May 24 letter he sent to the Mississippi Public Service Commission, stating that if the commission delayed or stopped the construction of the Kemper power plant "Mississippi ratepayers will lose the benefit of $680 million in federal monies."
More like this story
More stories by this author