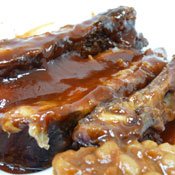 If you go to a restaurant called The Rib Shack, you'd better order some ribs. The Lynch Street barbecue joint just opened in late July, and I recently decided to put its namesake item to the test. The Rib Plate arrives with five well-proportioned meaty ribs, slathered in barbecue sauce, two slices of wheat bread and your choice of two sides. I picked beans and cole slaw, because I like to at least pretend that I'm getting my vegetables.
The meat, of course, is the main attraction, and it more than earns its top billing. Head chef and co-owner James Kimble is a veteran of several Atlanta barbecue restaurants, and you can tell that he's refined his technique and recipes over many years by the smoker. Kimble uses a relatively lean cut, which leaves less fat on the final product.
He prepares his ribs with a dry rub of spices and then smokes them, using wet hickory wood for three and a half hours. The result is tender meat that comes off the bone easily but has a cleaner taste less reminiscent of the fire.
The Rib Shack's sauce, which is prepared by Kimble's co-owner Earnestine Bowden, is also lighter and less smoky than many Mississippi establishments. Like all self-respecting barbecue sauciers, Bowden starts with a tomato base, then adds plenty of paprika, pepper, honey and lemon juice.
The baked beans are another slight deviation from Southern barbecue gospel. I like my sweets, but sometimes these sides kick me harder in the pancreas than any dessert. Kimble's beans have a welcome balance of sweet and savory, with generous slices of caramelized onion contrasting the sweet sauce.
The Rib Shack won't rewrite the barbecue playbook—and that's a good thing, 'cause it's a winner. But Kimble's ribs offer a delicious variation on the theme.
More like this story
More stories by this author