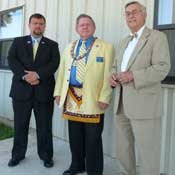 When Mayor Harvey Johnson Jr. mentioned in passing at a Sept. 15 City Council meeting that the city shares City Hall with a local Masonic lodge, it was the first many had heard of the longtime Jackson urban legend. This legend, however, happens to be true, and nothing like a Dan Brown novel.
Councilman Jeff Weill, who says he had heard about the relationship "peripherally," unwittingly resurrected the story when he asked Johnson about the city's need for 24-hour security at City Hall.
"We've got a 24-hour armed guard even on weekends," Weill told the Jackson Free Press. "There's no reason we need a person like that, when most other public buildings in Jackson just have an alarm system."
Johnson explained to Weill that the city had to pay for around-the-clock security to accommodate the Masons. Weill, always vigilant about fat in the city budget, considers the roughly $50,000 that the city pays for City Hall security excessive.
"I can't imagine the Masons would throw up their hands and cry outrage if we didn't have an armed security guard in City Hall on the Fourth of July," Weill said.
Still, Weill was intrigued by the relationship and sent requests for information to the Masons and the mayor's office.
"I've heard that somewhere deep in City Hall is a Masonic lodge-looking thing," Weill said. "When (former Mayor) Frank (Melton) was alive, he told me he was going to give me a tour of City Hall to show me that room. We never got around to doing that."
Weill's peripheral knowledge of the Masons' claim to City Hall is typical of city leaders. Former Councilman and Jackson State University professor Leslie McLemore said that he knew of little more than the presence of a Masonic meeting room in City Hall.
"I just know we have the arrangement," McLemore said. "I was sort of surprised to learn about it when I joined the City Council."
Former Mayor Kane Ditto also confessed to knowing little about the agreement, other than its existence. "I know during my term in office it was discussed several times, but I don't know that I've actually seen documentation," Ditto said.
City spokesman Chris Mims confirmed that the city does have an agreement with the Masons allowing the organization use of a third-floor meeting room in perpetuity, but he could not retrieve any formal documentation of the relationship.
The Masons' claim to City Hall dates back to the building's construction, which began in 1846, Mims said. In that year, the mayor and aldermen of the city of Jackson, which was still in its infancy, began to discuss consolidating government functions into a single building. An act passed by the state Legislature nearly a decade earlier had already granted the Jackson Masonic organizations the right to build a lodge on the same site, however.
So when the city began to hire contractors, representatives of the Masons and another fraternal organization, the Odd Fellows, approached the city with an offer to pay for the addition of a second floor to what was intended to be a single-story building. In return for paying the added cost of building a second floor and reinforcing the lower walls with roughly 100,000 additional bricks, the Masons and Odd Fellows gained the right to use the new floor in perpetuity.
Work on the building was slow. As was common for public buildings at the time, the corner-stone ceremony on July 22, 1853, was accompanied by the "singing of a Masonic Ode," according to an account from the "Flag of the Union" newspaper. The building was finally completed in 1854.
As bizarre as it may seem to contemporary citizens for a private fraternal organization to meet in a public building, the practice was anything but unusual when City Hall was built. Many political leaders at all levels were Masons: President George Washington laid the corner-stone for the U.S. Capitol in a Masonic ceremony. S.P. Baley, a mayor of Jackson during the 1830s, was also the first Master of Pearl Lodge 23, one of the three branches that currently use City Hall for meetings. During the Civil War, Masons met in the Senate chamber of the Old Capitol.
Masonry also had its role in the state's black political leadership as well. The offices of the Mississippi Conference NAACP are housed inside the M.W. Stringer Lodge on Lynch Street, headquarters for the historically black Prince Hall Affiliated Freemasons. Although the two organizations are now distinct, the Prince Hall Masons helped establish the Mississippi NAACP, president Derrick Johnson explained.
"Wherever they had their headquarters, they housed all their auxiliaries, including the NAACP," Johnson said.
Despite their deep roots in city history, the Masons have had to explain their presence at City Hall anew several times. In 1946, The Clarion-Ledger ran an article titled "Still Some Question Who Owns City Hall: No Record of Lodge Hall Agreement." The article refers to "local attorney W. Harold Cox," who was puzzled by the Masons' claim to the building and "is at a loss to explain how the (Masonic) orders ever obtained use of the rooms."
Current Pearl Lodge treasurer Arthur Jackson remembers former Mayor Melton touring the third-floor meeting room early in his term after learning that the Masons used it. He said that sort of thing happens with every new administration.
"We always have to tell them again," Jackson said.
Three branches of Masonic organizations currently use the meeting room in City Hall, according to Micky McMahan, secretary for the Grand Lodge of Mississippi, the parent organization for Free and Accepted Masons in the state. Pearl Lodge 23, which currently counts roughly 230 members, dates back to 1835 and has used the city facilities since the building's construction in. A predominantly female organization, the Order of the Eastern Star, founded in 1850, also meets there. And a new 80-member Masonic body, the Mississippi Lodge of Research, meets regularly at City Hall.
The Odd Fellows, which joined the Masons' original agreement with the city, left City Hall after its 1964 renovation, which added two floors to the then-two-story building, putting the Masons' room on the new third floor. No Jackson lodges are listed in the phone book or online, and none of the Masons interviewed knew of any current Odd Fellows meetings.
The Odd Fellows and Masons are both victims of a general disinterest in fraternal organizations among younger Americans. McMahan estimates that the average age of the Grand Lodge's 21,000 members is somewhere in the mid-60s.
Previous Comments
ID

152481

Comment

The Masonic Hall in City Hall is also credited to saving the building from being burned down in 1863. The story goes that Gen Sherman was a Mason and could not destroy a Masonic Hall.

Author

Louie

Date

2009-10-07T12:55:26-06:00
ID

152482

Comment

Jeff Weill has too much time on his hands!!

Author

GratefulJTE

Date

2009-10-07T13:20:22-06:00
ID

152484

Comment

There's an Odd Fellows cemetary out in Clinton.

Author

Ironghost

Date

2009-10-07T13:55:49-06:00
ID

152487

Comment

Have you seen the early photo's of that building when it had a Cupola just above and set back from the front of the portico. It was oddly out of proportion but was part of the Gibbons brothers design. The Gibbons bro's also did the courthouse in Raymond. The cupola was removed in 1871. As it had caused leaks in the roof. Also the back portico was added in a 1928 (or so) renovation to match the front. I think it is a handsome building and you guys can be real proud of that. It's rare in a city the size of the "J" to have a city hall that old and essentialy still in use. I dont know much about Mr. Weil so I won't comment as to the "spring point" of this thread. I just thought you guys might like to know something more about the building.

Author

atlntaexile

Date

2009-10-07T15:44:43-06:00
ID

152490

Comment

Personally, I do not think the Masons should be meeting at City Hall. But since they are they should be responsible for any security at the building when the no city business is being conducted. There is absolutly no reason the citizens of Jackson should be paying to provide security for the Masons.

Author

wellington

Date

2009-10-07T18:28:04-06:00
ID

152495

Comment

Surely this question MUST be raised. Are any of the Masonic groups who use the facility African-American? My father was some number in the 80s that was suppose to be as high as you can go in masonery. I remember meetings in a back room of the house I grew up in when someone had to be sneaked out of town to avoid being lynched. My father and other masons would give money and make arrangements for the person who was in trouble. Their charge was often something as simple as calling a white man by his first name. It would seem that the City sharing space with a private/secrete organization would make for very strange bed fellows. Just saying.

Author

justjess

Date

2009-10-08T10:35:02-06:00
ID

152499

Comment

Maybe that's why its' called "Odd Fellows". :?

Author

atlntaexile

Date

2009-10-08T11:45:43-06:00
ID

152501

Comment

Generally, don't African American masonic groups meet at the Masonic Temple on Lynch? And I think that they are suffering from disinterest also just like their counterparts. I'm sure if they wanted to use the facilities in City Hall, they could get access ?? Interesting bit of history, I enjoyed that!

Author

lanier77

Date

2009-10-08T12:35:44-06:00
ID

152517

Comment

Justjess, I don't see how African Americans meeting in City Hall changes anything, but regardless, the answer to your question is no. Except where otherwise noted, when this article refers to the "Masons," as well as when most articles, books, etc. refer to "Masons," they are typically referring to Free and Accepted Masons. The 'African American Masons' yall are speaking of are Prince Hall Masons. Prince Hall Masonry and Free and Accepted Masonry are two separate, different organizations. Although they both use terms, symbols, etc. of masonry they are not affiliated in Mississippi and exist as two independent and unrelated groups. That being said, lanier77, no a Prince Hall Mason would not be given access to private meetings in Free and Accepted Masonic lodges. By the way, Louie, I own land up 25 in Scott County, and the old story goes that Sherman also only spared a Masonic Lodge as well as the home of a Mason from being burned up there.

Author

add144

Date

2009-10-08T21:19:14-06:00
ID

152559

Comment

In a lot of cities, masons generally met in the city hall. The Masonic order met in Clinton in City Hall for years up until several years ago when they relocated and built a meeting place on Masonic Drive. There was a Masonic emblem overlooking the entrance for a number of years.

Author

BetaOne

Date

2009-10-09T14:38:55-06:00
ID

152602

Comment

Add144 said, "Justjess, I don't see how African American meeting in City Hall changes anything, but regardless, the answer to your question is no." Add144, I'm not asking if anything changes, I was simply asking if African American Masons were/are permitted to use the facility. Your argument of "Free and Accepted Masons" translates in my head as "White and Right." Just saying.

Author

justjess

Date

2009-10-12T10:18:07-06:00
ID

152605

Comment

Jess: Why are you thinking all Masons are the same bunch?

Author

Ironghost

Date

2009-10-12T11:25:23-06:00
ID

152607

Comment

Iron, I would think that justjess' very good point would be: Is a segregated organization using Jackson's City Hall to meet? And are the taxpayers paying security costs for a segregated organization to meet? Those are very valid questions, no matter who helped build the thing way back when everything was segregated by law.

Author

DonnaLadd

Date

2009-10-12T11:53:35-06:00
ID

152609

Comment

Segregated organization? White is right? Now hold on just a minute here. Where are you people getting your history, or is that the real issue here, yall aren't reading your history. Prince Hall Masonry was started by Prince Hall and some other men by their own choice and free will to do so. It wasn't some sort of segregation where Masonry split into two entities, that's absurd. Can two different organizations not exist in this world without people randomly assuming it's some sort of split, or segregation, due to race? It is almost humorous how backwards this discussion has become. Justjess is the one who referred to Prince Hall Masons simply as African Americans, and Ladd threw out the term segregation, yet my comments and Free and Accepted Masonry are getting the racism stamp on our heads? I am the one clearly saying that race is irrelevant, and I didn't even understand the need for Justjess to bring up race, yet my words are being interpreted as "White is right?" And in regards to that, Justjess, my "argument" isn't an argument, it is the facts of the history of the two organizations – not my opinion by any means. If you cannot read history and factual information without conjuring up ideas of racism in your head, then that is simply sad. Masonry has nothing to do with race, religion, etc. that is part of the entire point of Masonry – those things are irrelevant to who a man truly is and a man's character and good heart, and those are the exact things that many people judge others upon, when those things are totally irrelevant to who a person truly is deep down. That is why Masonry has no interest in race, religion, political views, etc. and I think that is a respectable attribute for a group to have. Granted Prince Hall Masonry has traditionally consisted of African American men, but that is merely tradition, any man can petition a Prince Hall lodge for membership. And in the exact same fashion, any man can petition a Free and Accepted Masonic Lodge for membership as well. And no, that is not a loaded statement saying they can request membership but will probably be denied, I have seen and met many Free and Accepted Masons of numerous races and nationalities and as far as I could ever tell, they seem to get along with the rest of their fraternity just like anyone else. Simply put, we are talking about two different organizations, that's it. This whole idea of race being involved in a racist or judgmental fashion is clearly something that is being conjured up and pushed along by folks who aren't Masons. The only thing regarding race that is relevant to this discussion is simply the fact that Prince Hall Masons have traditionally chosen to be predominately African Americans. But that is their choice and their tradition, I'm white and that doesn't offend me, they have the right to accept or deny whomever they wish, it's their private organization, not mine, they should be allowed to run it as they like. Not to sound like a jerk here, but in all due respect guys, this is how nasty rumors about people, groups, etc. get started and become tossed around over the ages. You've got to do your research and learn the facts and the history of what you're discussing before you start throwing out accusations at someone(s), especially accusations as harsh as racism.

Author

add144

Date

2009-10-12T12:37:26-06:00
ID

152610

Comment

Thanks ladd. This is my question in its most simplistic form. THANK YOU!

Author

justjess

Date

2009-10-12T12:55:21-06:00
ID

152611

Comment

If their website is to be believed, the answer is "No."

Author

Ironghost

Date

2009-10-12T12:56:06-06:00
ID

152612

Comment

add144, don't be so defensive. People are asking valid questions, not answering them. The Masons are a secretive organization by nature; thus, people can't be expected to know everything there is to know about such a group. As for segregation: Are individual masonic groups multi-racial, or do they divide into white groups and black groups? If they do, that means that masons are "segregated" by definition. (Kind of like most fraternities and sororities in the state, right?) If true, that's a different question than whether different races are allowed to be masons. We all know that's true. The question here is: Does a group that doesn't allow people of a different race use City Hall to meet? I don't know the answer to that, but I find it a relevant question, regardless of how that rubs you, add144.

Author

DonnaLadd

Date

2009-10-12T13:39:21-06:00
ID

152613

Comment

And for God's sake, don't tell us to go learn the history of an organization that will barely talk about itself. That's precious. Otherwise, asking questions is not starting rumors. People who post here regularly know the difference.

Author

DonnaLadd

Date

2009-10-12T13:40:28-06:00
ID

152619

Comment

Go ask a Mason if they feel Masonry is a secret society and 99% of them will say no. There is a big difference in a secret society and a society that has secrets. There is a lot in contrast from a group that won't admit they exist, won't state their purpose, won't explain any details as to what they believe in/stand for, etc. versus a group that will very clearly and very publically state their purpose, their ideas, they're requirements for membership, how to become a member, etc. but simply choose to meet in private, and choose to keep their rituals and such private as well. Saying Masons rarely want to talk about themselves is far from the truth. I've never met or read of any Mason who doesn't love talking and explaining what Masonry is and what it's about. They simply won't tell you the private things that are reserved for members only. Do you consider a house full of college guys in a collegiate fraternity to be a part of a secretive organization? Every collegiate fraternal group has "secret" handshakes, rituals, etc. that they are not suppose to tell non-members (now if they actual keep true to that is a different story) but no one looks upon the campus frat houses as secret societies. Every single thing I have said is very public and very easily obtainable information about Masonry. Trying to use the excuse of most people not being able to know these things because it's a "secret society" is a cliché copout. All this information can easily be found online with five minutes of Googling. In an article from the Associated Press regarding Dan Brown's new book (which involves the Masons) there's a quote in it that even says "But it's not a problem getting Masons to talk about Masonry. Sometimes, it's a problem getting them to stop." I mean come on…that excuse is just ridiculous. As for the segregation discussion. Can anyone, anywhere speak for the actions/decisions made by EVERY member of a group which they may be apart of? Of course not. Could some Free and Accepted Masonic Lodges not let in non-whites? Sure, who knows. Could some Prince Hall Lodges not let in any non-blacks? Probably so too. Could the Sigma Chi chapter at Ole Miss not let in any people with blonde hair, or shoe sizes over 13? Maybe so, who knows, but that doesn't at all mean that the Sigma Chi fraternity as a whole is prejudice against anyone with blonde hair. That is not fair to expect any organization to totally and completely have every single one of its members always and explicitly follow every rule. I'm not saying breaking the rules would be okay, not at all, I'm just saying that the reality is no group can police and watch over every single member…so just because there could possibly be some bad apples in the bunch doesn't mean everyone should condemn the group as a whole.

Author

add144

Date

2009-10-12T14:40:13-06:00
ID

152621

Comment

Oh and I don't recall ever saying I was a Mason haha, so if people can't be expected to find this information on their own about such a secret society, how exactly was I able to do the research and figure all this out?

Author

add144

Date

2009-10-12T14:46:58-06:00
ID

152622

Comment

And for God's sake, don't tell us to go learn the history of an organization that will barely talk about itself. I dunno, Google is a force for good these days...

Author

Ironghost

Date

2009-10-12T14:49:33-06:00
ID

152623

Comment

Iron, in the past I've used Google to see what I could learn about the masons out of sheer curiosity. It's filled with rumor, innuendo and vagueness on the part of the group. Or, it was when I researched it. I don't get the impression that most individual mason groups are integrated, although clearly there are masons of different races.

Author

DonnaLadd

Date

2009-10-12T14:55:03-06:00
ID

152624

Comment

add144, you are defensive on this issue. More curiosity than anything has been expressed here, both about the masons in general and about their racial breakdowns in specific. That conversation in no way implies that every mason is a bigot, so stop the witch hunt. Clearly, sororities and fraternities in this state are racially segregated, by and large. That's why I brought them up. And it's also why I would never be a member of one of those groups, or defend them. I don't like to belong to organizations that aren't racially diverse (in fact, one group I belong to right now is causing me great grief because they do so little to increase their diversity, and show way too little concern about all-white gatherings, in my opinion). Being in groups with only people of my race is just not my thing. Either people around me need to address it, or I move on. The issue here, for me anyway, is whether a group that meets in City Hall excludes people of other races. I've already said that I don't know the answer, but I damn sure have the right to ask the question. As for your knowledge of the masons, you really haven't told us much, so I don't think that speaks a lot to whether good research on the masons is out there or not. How about this: If you know of good information, share some links or point us to sources. Otherwise, you might as well get over the fact that we're asking questions. We're an inquisitive bunch here, and don't really care who that fact makes uncomfortable.

Author

DonnaLadd

Date

2009-10-12T15:02:23-06:00
ID

152625

Comment

you are defensive on this issue. Classic. :)

Author

Ironghost

Date

2009-10-12T18:58:35-06:00
ID

152628

Comment

Prince Hall Masonry is comprised of people of many ethnic backgrounds and does not discriminate against anyone based on race. There are several Whites that are members of Prince Hall Masonry in Mississippi. I am a member of the oldest predominantly Black Fraternity in the world, started at a predominantly White institution in the United States and has been accepting whites for membership since 1945. Vice President Hubert Humphrey was a member. Let us get away from race, both organizations accept people of high moral character that adhere and aspire to the various tenets of each individual organization.

Author

BetaOne

Date

2009-10-13T03:57:32-06:00
ID

152630

Comment

Great! "has been accepting whites for membership since 1945." MSs history does not correlate with your claim of having whites as members of your BLACK organization here in Mississippi since 1945. Let me jog your memory, historically, if you are as I am - not born before 1945, BetaOne. We can't ignore our past and wishing or ordering it away will change not a single thing. What will initiate change is when we are able to face our issues and deal with them. The question for this article is: Can African-American Masonic Organizations use City Hall as a meeting place? Still another question is: Where are the documents evidencing these self-reports of a signed and sealed agreement between Masons and City Hall? African-Americans could not even VOTE in this state in 1945. All schools were segregated and it was not until the late 60s that James Meridith, with the protection of the National Guard (so ordered by JFK) enrolled in Ole MS. BetaOne, what is the name of your "Black Fraternity" and on what college campus here in this State did blacks and whites co-exist in the name of "fraternity" during the time period referenced?

Author

justjess

Date

2009-10-13T12:09:57-06:00
ID

152631

Comment

Google the Grand Lodge Of Mississippi, and look on bios and such and there's a man named Edgar Gonzales. The website credits him with creating the site, the photography for the site, serving as the current webmaster and his bio page has all sorts of positions and stuff he does. Point is, the was born in Peru, got his blue lodge degrees in Peru, and sure sounds like a big time Mason in MS (look at his page for all the stuff he does I'm not typing it all again). You'll also find a link on there to his private website that is a photography site of Masonic events and such in MS. He's even got pictures up on there of the Pearl Lodge that meets in city hall. The guy has a heck of a masonic resume if you will, and sounds like he is more than just the average joe, and he meets in city hall. So there's definitely non-whites meeting up there. As for could Prince Halls use city hall Justjess, I bet you the girl scouts of America could use that space if they wanted to. There's a big difference in the two masonic groups actually sharing a private meeting togther, versus sharing the space so that they can both have their own private meetings separately, but in the same space (city hall in this case). I've read plenty of things talking about local groups, or events or such being held at lodges that are not masonic related whatsoever, they're just simply using the space. So I bet you'd be surprised as to who they'd allow to use the space. I mean the lodge isn't anything secret or anything. They'll gladly let you look around the lodge room. I've been in a few with my uncle, I've never heard of anyone caring if a non-member wants to take a look around and stuff.

Author

add144

Date

2009-10-13T12:23:36-06:00
ID

152632

Comment

Jess- according to Wiki Humphrey was an honorary brother of Alpha Phi Alpha which was the first intercollegiate fraternity established by African Americans. Also from Wiki "In 1940, true to its form as the "first of first", Alpha Phi Alpha sought to end racial discrimination within its membership. The use of the word "Negro" in the membership clause of the constitution which referred to "any Negro male student" would be changed to read "any male student." The unanimous decision to change the constitution happened in 1945 and was the first official action by a BGLO to allow the admission of all colors and races. Bernard Levin became the first non-black member in 1946, and Roger Youmans became the first non-black member to address the fraternity at the 1954 general convention." Maybe that's the fraternity Beta's refering too?

Author

BubbaT

Date

2009-10-13T12:34:46-06:00
ID

152634

Comment

That's helpful info, add144. Thanks for posting.

Author

DonnaLadd

Date

2009-10-13T12:40:23-06:00
ID

152636

Comment

Here here. I must concur with my fraternity brothers in the fact that as "first and foremost" we were took the lead in integrating or "diversifying" our fraternity. And I have met white members from chapters in MS in my time. Cant speak for any others just affirming what Beta One and Baquan have already stated. Now I return to my status ans the most low key brother of Alpha Phi Alpha in the city lol

Author

Kamikaze

Date

2009-10-13T14:44:50-06:00
ID

152686

Comment

I am a member of Alpha Phi Alpha Fraternity and have been for more than 37 years and as was stated in the earlier dialogue Alpha Phi Alpha has been interracial since 1945 and I have been a Prince Hall Mason for more than 30 years. Let us stop the rhetoric if we don't know what we are talking about. There are many White Prince Hall Masons here in Mississippi that I interact with everyday and are active in many of the Masonic Houses here in the State and I am proud to call them brother. I also serve as a State Officer in several Prince Hall houses and know that to be a fact. Please cut out false information and misinformation. It is all out there, just do a little research, and thanks for documenting what I had said earlier. We have a tendency to not learn and retain information well when it is given out, do a little research. It is best to think one to be foolish than to open one's mouth and remove all doubt. Ask your city attorney that happens to be White, what fraternity did he pledge at Tougaloo College, ask your mayor what fraternity is he a member of. All the information is out there. Let us get away from the race issue. Racism has existed since the beginning of time. It will always be around. I realize my ethnicity, but I certainly will not allow myself to select friends based on that medium. Sociologist generally state that people congregate, socialize or become involved because of a conscious of kind. It can be because of ethnicity, economics, social and political ideologies. Let's move on. Don't let race be a hindrance to you seeing the larger picture.

Author

BetaOne

Date

2009-10-14T23:31:23-06:00
ID

152699

Comment

Ok BetaOne, I'll concede my argument if you are willing to admit that in 1945, in the Great State of Mississippi, blacks could not even vote. My father was the first registered black voter in Vicksburg, MS. Even when black were "ALLOWED" to vote, they were registered through the NAACP and under an alias to avoid being fired. Certainly you can claim that your frat was "interracial" because most black people can trace their orgins, after coming to America, to a white ancetrial past. Michelle Obama, America's First Landy, is not the exception - it is a given. If you look back to pictures of the first graduating class from Meharry Medical School, every (all males by the way) were light, bright and damn near white. No one asked you to select your friend based on the color of their skin. I, too, have friends of many races, including whites. I love these folks but because we have friendships and support eachother, nobody has ever asked me to re-write their racial history. The germ of all black schools, black fraternaties, black MS America Pagents, black restaurants, black swimming pools, black churches, black funeral homes and anything else you can think of, is because of racism. Blacks were believed to be first, slaves, second, indentured survants, and last, second class citizens. Just remember that black in this State were seen by vets, not your regular MDs. I'm hopeful for a better towmorrow; however, I will not sit back and listen to your story of ONE white male at Tougaloo pledging Alfa serve as a consciousness for interracial organizations for the State of MS. By the way, I was at Tenn. State when the Mayor pledged Alfa. I attended his Greek Show. His Alpha Hop was right on time. LOL! For the person writing the comment about Humphrey being an "honorary" member, didn't Bill Clinton become an "honorary" member of a Black fraternity? Why didn't he join when he was back in Arkansas? Just Asking.

Author

justjess

Date

2009-10-15T13:24:17-06:00
ID

152702

Comment

First LADY and Alpha is spelled Alpha. Please correct my spelling errors.

Author

justjess

Date

2009-10-15T13:44:07-06:00
ID

152706

Comment

"light, bright, and damn near white"? now I'm rotflmao......that's what they say over here..."cant get elected mayor of Atlanta "less you got's hazel eyes". I'm like..whatever. But maybe this time not, cause Kasim Reed is pulling ahead of the other two contenders. And he's like my coffee. Tall, Strong, Hot, and Black....

Author

atlntaexile

Date

2009-10-15T14:55:11-06:00
ID

152708

Comment

My Grandfather was Willie Albert Edney, 33 degree Mason who the A.F. & A. M. Lodge is named after. My father is a founding member of an Alpha Chapter, my Mother is an AKA and my two brothers and I are Alphas. So, I will weigh in with my opinion. I do not know much about Masons, but I do know that my Grandfather was one of the highest ranked Masons of his type. It did seem like there was a definate difference between White and Black Masons, but I would not say it was on the Black Masons part. Mostly, it seemed that the some White Masons were not accepting of the Black Masonic orders. As for Alpha Phi Alpha Fraternity Incorporated, the fact that it is mostly black is more of a function of its origin than its practices. The fraternity does not discourage Blacks from joining, I think it is similar to HBCUs, Whites just do not feel comfortable joining to any large degree. I have met some White Alphas and I did not see where it was a big deal to anyone. So, I can say without a bit of hesitation that the fraternity does not have a problem with Whites joining. Just like the NAACP does not discourage Whites from joining, but the impression may be that the organization is not for Whites.

Author

Goldenae

Date

2009-10-15T18:49:32-06:00
ID

152719

Comment

Let us be realistic, Alpha Phi Alpha is a Global Fraternity, just as Prince Hall Masonry. There were a few blacks that were voting before the time mentioned. Blacks were paying poll taxes to vote. Many Blacks chose not to do so because of that and had to prove themselves to be literate, certainly after the voting rights bill was passed, many Blacks were enfranchised here in Mississippi, Blacks could not get a Masters Degree in Mississippi until 1953 when a program was established at the then Jackson State College. The State paid for them to attend schools outside of the state. There were not any Whites pledging Black fraternities or Sororities in the state, but they were outside of Mississippi and that includes PH Masonry also. There are several military Lodges located outside of the continental USA.

Author

BetaOne

Date

2009-10-16T21:04:03-06:00
More like this story
More stories by this author
Like independent media outlets around the world, the Jackson Free Press works hard to produce important content on a limited budget. We'd love your help! Become a JFP VIP member today and/or donate to our journalism fund. Thanks for considering a JFP VIP membership or one-time support.