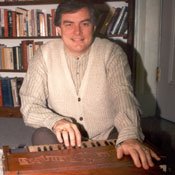 Born in Manhattan to a jazz musician father and an interior designer mother, Guy Beck spent his teenage years in Syracuse, N.Y., practicing classical symphony music from composers like Brahms on piano, listening to the Beatles and playing electric base for his surf-inspired rock band, The Islanders. In the late '60s, Beatle George Harrison helped introduce renowned Hindustani musician and composer, Ravi Shankar, whose mastery of the sitar lit a spiritual fire in Beck. Compelled to study Indian music and religion, he has learned to play instruments including the harmonium, electric drone and tabla drums, and to chant the sacred songs.
Beck is the author of "Sonic Theology: Hinduism and Sacred Sound" ($32.50, University of South Carolina Press, 1993), editor of "Sacred Sounds: Experiencing Music in World Religion" ($39.95, Wilfrid Laurier University Press, 2006), and has recorded two CDs: "Sacred Raga" (New Orleans, 1999) and "Sanjher Pradip" (Calcutta, 2004). A professor at Tulane University, Beck has a master's degree in musicology (1986) and a doctorate in South Asian religion (1989).
In January 2010, he returns to Kolkata (formerly Calcutta) with his Bengali wife, Kajal Beck, on a Fulbright-Nehru Senior Research Fellowship to study and recover lineages of singing catering primarily to men. He aims to preserve the songs that he feels are in danger of extinction. To his knowledge, Guy Beck is the only native U.S. citizen who has recorded Hindustani vocal music.
What took you to India? I had wanderlust after college (University of Denver). I'd heard Sitar, tabla and gone to yoga meetings. Yoga is where I became in touch with the vocal music. Of course. it was a different language, West Hindi. ...
You studied in Kolkata from 1976 to 1980. Why did you choose that area specifically? I chose to study North Indian music because that was where Ravi Shankar was from. It's all I knew at the time.
What is the role of women in contemporary India? There is the caste-system stereotype that women are "lower" than men, but Hindu culture has a lot of goddesses, so there is a sort of reverence for females. And women have come up in Indian society; they've done a full U-turn in terms of professional advancement. Many women are doctors and lawyers and also are flourishing in the arts.
This is certainly reflected in contemporary Indian pop culture, like in Bollywood films. Bollywood often is a misrepresentation. It likes to show the seedy underside of culture. Outsiders like to come in and focus on that, instead of the accomplishments of India, like the rise of the middle class and advancements women have made.
Can you tell me more about women in music? Women now dominate Hindustani singing to the point where the baritone role is being neglected because women have higher voices. They are actually flooding the schools. There is a stereotype that women need to be artists or singers to get a husband. … But it used to be taboo for women to sing or dance in public.
When you first arrived in India in '75, what was it like? I went to Delhi on a short-term, tourist visa. It was culture shock; a totally different feeling. First, it was hot, of course. But the people were very friendly; you could see the peace in people's eyes; a euphoria. If you took a taxi or a bus into the country side and saw the farmland, it was easy to feel at one with people, in a way you might not find here.
How so? They are much freer; there aren't so many social inhibitions like there are in a materialistic society. Some people say even when they go there for the first time, it feels like going back home.
Did you experience that? Yes. People who are shy feel immediately welcomed. It might be a healthy thing to do. You can find more out about yourself when you are forced to cross boundaries. You see people who are not wealthy, but they are happy. You see simple people, with maybe only a cow and not all the possessions like in the west, but truly happy. You pick up on vibrations.
Dr. Guy Beck will perform at Millsaps College Nov. 16 at 7 p.m. in the Ford Academic Complex Recital Hall. The admission is free and open to the public. For more information, call the Department of Performing Arts & Religious Studies at 601-974-1422.
More like this story
More stories by this author
Like independent media outlets around the world, the Jackson Free Press works hard to produce important content on a limited budget. We'd love your help! Become a JFP VIP member today and/or donate to our journalism fund. Thanks for considering a JFP VIP membership or one-time support.