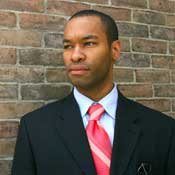 Political leaders in Terry are booting Democratic candidate Cedric Abston from the Terry mayoral ballot for the second time. Terry election commissioners Lessie Hayes, Shauna White and Kelsie Bloomberg opted to restrict the number of candidates in the race for Terry Mayor to incumbent Rod Nichols, claiming the Democratic Party did not follow state statute in registering Abston.
Terry City Clerk and Tax Collector Mary Smith said the commission relies on the city clerk to interpret state law. The clerk—who is appointed by the mayor and could be ousted under a new administration—told the Jackson Free Press that the Democratic Party didn't follow procedure on more than one front.
"The person heading up the municipal democratic committee that picked the Democratic nominee was serving in dual roles," Smith said. "And then, with further investigation, one of the people he had on there was from out of the voting district area."
Terry Johnson, the head of the temporary executive committee established to select a Democratic nominee for the race, argued that state law did not view his serving on the county Democratic Committee and the temporary committee as a conflict of interest.
"I do serve on both the Hinds County Democratic Executive Committee and the temporary committee in Terry, but there is simply no state law against it," Johnson said. "I don't see how she can make this argument."
Johnson admitted, however, that two of the temporary Democratic committee members did live outside the district, contrary to state statute: "That's true. There were two people whose names were turned in who didn't live inside the town. We were trying to fill slots in a hurry."
He said the two temporary members have since resigned, but added that a temporary committee "can be formed of just one person."
City of Jackson Democratic Municipal Executive Committee chairman Claude McInnis said the party followed state statute in establishing the nominee, including properly fielding qualifying committee members and posting public notice of the committee meeting.
"The Democratic Party was properly constituted in Terry, and it is the proper duty of the city clerk to recognize that party and place Democratic candidates on the ballot," McInnis said.
This is not the first roadblock set up by Terry city officials against Abston's campaign. The Terry election commission had claimed earlier that Abston was not a Terry resident, telling The Clarion-Ledger that Terry Public Works had determined Abston's home in Terry to be unoccupied. Abston says he lives there but was receiving mail from his mother's home in Jackson because his mailbox kept getting knocked down.
Terry's elected leaders, so far, are non-partisan, and hold office under no political party. The political leaning of the mixed rural community is moderate to moderately conservative, and it voted heavily in support of President Barack Obama during the November election. Democrats in the community, seeing an easy chance for a Democrat mayor, asked McInnis to form a temporary commission to enter a Democrat in the race. Johnson said the temporary committee had every intention of also recruiting the incumbent, Mayor Nichols, as a Democrat.
Oddly, one of the original petitioners for the establishment of a temporary committee was Terry Election Commissioner Lessie Hayes—who later signed her name on the letter notifying Abston of his disqualification.
Nichols held fast to his independent status, however, and when the temporary committee nominated Abston, city aldermen quickly started filling the previously empty slots on the Terry Election Commission, which then immediately got about the business of opposing Abston's candidacy. Terry aldermen appointed Commissioners Shauna White and Kelsie Bloomberg to join Commissioner Lessie Hayes the first week of this month. Abston received his first letter questioning his residency the following week.
Attorney Hal Dockins said he was prepared to prove Abston's residency last week before the "second sink" came flying at them.
"I started letting everybody know what was going on about his residency dispute," Dockins said. "I called the congressman, the secretary of state, the press. After all that, I get this (March 20) call, and Smith says we'll get our chance to argue our case before the commission on (March 23.) We get together his homestead information and voter registration and all that, and Smith then tells me the Democratic Party doesn't qualify because they didn't follow the statute."
Abston said the commission was protecting the incumbent.
"They're throwing the kitchen sink. If I overcome this new issue, they'll only find something else to throw. It's like they don't want any competition at all. They want the incumbent to continue to be mayor, but this is not a dictatorship so I should have the right to stand toe to toe with them and run against them," Abston said. "The people of Terry are entitled to a free open election, just like in Jackson or anywhere else. A handful of people should not have the right to dictate who can or can't run for office."
McInnis spoke with Smith Friday, but said the party could reach no resolution with the clerk.
"We will have to take this to the next level. It was a duly constituted Democratic Party in Terry, and we're not going to let those folks' efforts go to waste. The courts are the final word. We hate to do that, but we can't let people's legitimate efforts be wasted."
Previous Comments
ID

145335

Comment

Melton had a lot of luck with the courts, why not this guy?

Author

Ironghost

Date

2009-03-31T19:02:57-06:00
ID

145340

Comment

Maybe because Melton is the type of Democrat (in name only) that good-ole-boy judges can love?

Author

DonnaLadd

Date

2009-03-31T19:23:43-06:00
ID

145349

Comment

I figure whomever owns Melton also owns a few good judges. Just my hunch. :) This guy, however... I just hope he's got a good lawyer. Money talks when it's time for Justice.

Author

Ironghost

Date

2009-03-31T20:47:22-06:00
ID

145365

Comment

Stand up for your rights! You have a right to run and it is clear that this Mayor thinks he s a dictator. Let the man run and let the voters decide!

Author

Tony Davis

Date

2009-04-01T07:26:46-06:00
More like this story
More stories by this author
Like independent media outlets around the world, the Jackson Free Press works hard to produce important content on a limited budget. We'd love your help! Become a JFP VIP member today and/or donate to our journalism fund. Thanks for considering a JFP VIP membership or one-time support.