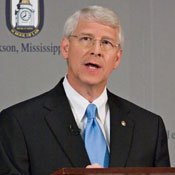 In their first and only debate, Senate candidates Roger Wicker and Ronnie Musgrove maintained in person the negative tone that has characterized much of the advertising for both of their campaigns. Despite criticism from panelists at the Friday night debate, held at the Mississippi College School of Law, interim Sen. Wicker and former Gov. Musgrove largely avoided substantive policy discussion in favor of generalizations.
Wicker, a Republican, presented himself as a staunch conservative in opposition to the liberal special interest groups he said were funneling "left-wing Hollywood money" into Musgrove's campaign. Musgrove, a Democrat, sought to distinguish himself as a Washington outsider, untainted by the federal government's mishandling of the economy.
Both candidates pursued well-worn lines of attack. Wicker tried to tie Musgrove to the demise of the Mississippi beef processors plant, going so far as to call it "Gov. Musgrove's beef plant scandal" and compare it to "the scandals in Wall Street" responsible for the country's recent economic woes. Musgrove dismissed Wicker's charge as a "political stunt."
Robert Moultrie, CEO of The Facility Group, which financed the failed beef plant, pleaded guilty in August to contributing $25,000 to Musgrove's failed re-election campaign in an attempt to gain favorable treatment. Musgrove has not been charged with any criminal wrongdoing in relation to the fiasco, which drew bipartisan support.
Musgrove hammered Wicker for allegedly voting nine times to raise his own pay. Wicker countered that the last stand-alone vote on raising pay for the U.S. House of Representatives took place in 1991, before he joined Congress.
In 1989, Congress instituted an automatic yearly salary increase. Wicker has voted nine times against motions to bring the automatic increase to an up-or-down vote.
In the night's final question, panelist Terry Smith of WTVA in Tupelo expressed frustration with the overwhelmingly negative tenor of the campaign.
"How can you sleep at night, knowing that those ads are running about your opponent, who at one time was your roommate?" Smith asked, drawing laughter from the audience.
"I campaign mighty hard all day long, and I'm tired at night," Wicker responded, to more laughter.
He then suggested that television stations were to blame for not pulling negative ads after his campaign demonstrated that they were false. "I wish my opponent weren't taking $5.5 million from the Democratic Senatorial Campaign Committee," Wicker said. "I don't like the tone, either."
Musgrove also avoided taking responsibility for the tone of the campaign and cast himself as a victim.
"The only ads on TV that have been checked and said were untruthful, were those presented by Roger Wicker," Musgrove responded. "Roger Wicker and his allies have spent millions of dollars to personally attack me, even to the point of his ad calling me a liar. Now, Terry, you're right. I don't sleep well at night when someone is calling me that.
"This really was like a live and hour-long campaign commercial more than a debate," Mississippi College law professor Matt Steffey said. "I think it was more spin than substance, honestly."
The race for Trent Lott's unexpired term has drawn closer in the past several weeks. Wicker led Musgrove 47-42 in a Rasmussen poll from August, but by Sept. 30, Wicker's lead had shrunk to 49-47.
"It's hard to imagine who had their mind changed tonight," Steffey added. "I thought they were very measured. I thought they were in control. I guess it's like the Hippocratic Oath: 'First, do no harm.Ҕ
More like this story
More stories by this author