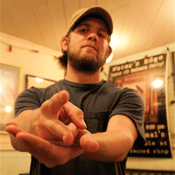 Andy Scissorhands stepped back from his opponent. Standing between him and the Mississippi state championship of Rock Paper Scissors was a no-nonsense girl who had won the first of three rounds in the semi-final match. He slowly turned his baseball cap around backward and rolled up his sleeves, never breaking the gaze of his antagonist. "1-2-3-Shoot!" cried the referee. Scissorhands won and tied the score 1-1. "1-2-3-Shoot!" Both players threw, and he emerged victorious.
Scissorhands left Buffalo Wild Wings that night as the state Rock Paper Scissors champion, bound for Las Vegas to compete June 22 on ESPN2 for the national championship. Scissorhands, born Andy Stubblefield, is by day a 22-year-old philosophy student at Mississippi College. A chance trip to Mugshots one night set the Pensacola, Fla., native on the path of national fringe sports stardom.
How did you get involved in the Rock Paper Scissors tournament?
I went to Mugshots Thursday, March 27, to get a burger, when halfway through the night, a guy came up and said, "We're having a Rock Paper Scissors tournament and need more people." I ended up winning the first four out of five rounds, and after the fourth round, when I learned the prize was a trip to Las Vegas, I started taking it seriously. "Are you kidding me?" I responded. "Let's do this."
What are the rules for each match?
We shake hands, and it's best two out of three. We throw on "One, two, three, shoot." You go on the shoot. If you lose once, you're out.
What was your strategy?
The first night, I didn't have much of a strategy at all, and just kind of tried to read what the people were doing. Plain luck was also involved. When I got to Buffalo Wild Wings two weeks later, I tried to plan a little more. If I was going up against a girl, I threw scissors more. Girls are more inclined to throw paper, and guys are more inclined to throw rock. When I won the state finals, though, I won by throwing straight paper every time against a girl.
What do you do to gain the mental advantage?
I took inspiration from the Sylvester Stallone movie, "Over the Top." After losing the first throw in the match before the finals, I stepped back, twisted my hat around real slow and rolled up the sleeves on my long-sleeve shirt. I really think I psyched her out.
How do you feel your chances are in Las Vegas?
I feel pretty good about it. I think I have an ability to read people, and see what they're about to throw when I go up against them. It's about watching patterns, and I feel like I'm pretty good at that.
Describe the championship match of the state finals.
The very last match, I decided to throw paper every time. The first round, I threw paper, she threw scissors. The previous two matches, I'd been down. My hat was already backward, so I stepped back, took my hat off and put it back on. My friends were chanting "Andy!" and I stepped back in, threw paper, and she threw rock. We paused and shook hands, and I threw paper again, she threw rock again. All my friends started going crazy, but it took me a second before I realized what had happened.
How are you handling the women and the fame?
It's been hard. I have a girlfriend, but it's just one of those things where I have to step back and tell her "I'm going to be pretty big stuff now." She was cool with that. I laid it out there, that I'm going to have a lot of girls coming up to me, wanting me to autograph their chest. I can't help it. Young and old, every age group.
How have performance-enhancing drugs changed the game?
It's really devastating to me, the way people have come to abuse the game of Rock Paper Scissors. It used to be a pure game of fun for the family. Times have changed, and people have gotten too intense about it. They've decided they can't go on their natural skill like myself, Andy Scissorhands.
What advice do you have for aspiring Rock Paper Scissors players out there?
I tell them to start early, and practice a little bit every day. Set up a tournament in the neighborhood, see how you do. If you come out on top, maybe it's something you'd like to get a little more serious about. It's hard, and I poured out a lot of blood, sweat and tears. It's a great day when you finally get to that place where you're playing professionally. Keep striving, keep praying to that poster of me on the wall.
Watch Andy Scissorhands compete for the national Rock Paper Scissors championship Sunday, June 22, at the Mandalay Bay Hotel & Casino in Las Vegas, airing on ESPN2 , time TBA.
Rock Paper Scissors GLOSSARY
From usarps.com/rules
Cradling the Pump: Players position their off-hand horizontally and pound their throwing hand into it with each pumping thrust.
Faux pump: A shady maneuver used to rattle your opponent by intentionally throwing on the second pump instead of the third. Highly illegal.
Left for Dead: When right-handers make a well-timed left-handed throw to throw off their opponent.
Peace Out Bitch (POB): When a player wins with scissors, they may shift their wrist into a "peace sign" and arrogantly exclaim "Peace out Bitch."
Pump: Action consisting of closing a fist, holding it out in front of you, and thrusting it up and down three times
Roshambo: Nickname for RPS. Named for the great Count de Rochambeau of England, who defeated General Lord Cornwallis of Britain with an epic game of Rock Paper Scissors.
Speed-pumping: Pumping rapidly to induce panic in your opponent. Their strategy will go out the window, and they will often settle with rock because rock is already formed and takes no extra brainpower to throw.
Subpoena: The term for paper delivered palm up. It is considered cocky to serve a subpoena.
Throwing Gloves: Custom fingerless gloves designed for Rock Paper Scissors athletes.
USARPS League: America's official Rock Paper Scissors League. It's true.
Rock Paper Scissors TIPS
from Andy Scissorhands
• Play to gender. Girls are more likely to throw paper; guys are more likely to throw rock.
• Notice patterns. Watch your opponents competing in other rounds to see which throws they favor.
• Gain the mental advantage. Psyche out your opponent by using a ritual.
Previous Comments
ID

129551

Comment

Awesome! The first time I saw the National RPS championship on ESPN it rocked by world. Cheese is taken to high art in so much fun, its great. Awesome egos and superhero costumes. Lots of fun.

Author

herman

Date

2008-05-08T13:09:25-06:00
ID

129574

Comment

Maybe I should take up this sport. Finally something I could possibly win at!

Author

LatashaWillis

Date

2008-05-10T11:17:50-06:00
ID

129577

Comment

Seeing how they use the mind games is fun to watch. People wearing shirts that say "Throw Scissors" is just the start. The folks that are really good really start out from the novice in an uncanney way.

Author

herman

Date

2008-05-10T11:47:41-06:00
ID

129579

Comment

I agree about the mind games. My mind has always been in better shape than this awkward frame of mine.

Author

LatashaWillis

Date

2008-05-10T11:50:15-06:00
More like this story
More stories by this author
Like independent media outlets around the world, the Jackson Free Press works hard to produce important content on a limited budget. We'd love your help! Become a JFP VIP member today and/or donate to our journalism fund. Thanks for considering a JFP VIP membership or one-time support.