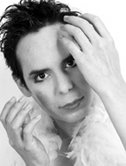 See Jade Esteban Estrada's musical about gay history at Hal & Mal's Wednesday, March 16, at 8 p.m. Sponsored by the Jackson Free Press.
Jade Esteban Estrada is a busy guy. Born in San Antonio, Texas, to a U.S. Army officer and a stage actress, Estrada won a scholarship to the American Musical and Dramatic Academy in New York. Estrada studied dance, alongside Jennifer Lopez, under Slam, the lead dancer from Madonna's Blonde Ambition Tour, among other notable teachers of the era. His music can be heard on the Golden Globe- and Emmy award-winning police drama "The Shield." In fact, when I interviewed him, he was in between takes, shooting a remake of "The Producers" in California.
Next week, before heading to present at the Tejano Music Awards (which he calls the "Oscars for my peeps"), he's donating time out of his schedule to make an appearance at Hal & Mal's. His production of "Icons I" will benefit Grace House. "Icons I" is a celebration of LGBT (Lesbian Gay Bisexual Transgendered) history, but, Estrada invokes Gertrude Stein when reminding viewers: "It's not a gay thing. It's a human thing."
Why is GLBT history important to both the GLBT and straight community?
First, let me say, I prefer LGBT. Women always get the back burner. And Lesbians are the ones who get things done. When I hear GLBT, it's another example of men taking the floor. When I hear GLBT, it reminds me that equality needs to happen in all areas. It's old-fashioned.
OK, so why is LGBT history important?
It is lost history. It's important to know all sides of the story. It's very often said that whoever wins the war gets to write history. That's just common knowledge. LGBT people have lost a lot because we had no power, no visibility in the past. It's time to recapture that, to fill in the blanks.
What does ICONS offer in explaining LGBT history?
Among my friends, it is so obvious when a man or a woman has a close understanding of their family. There is an obvious continuation of a line or a mission. There are many times that LGBT people come into the world, and they have no background, no education, no stories. I am a Mexican American. It makes me feel so good to know that I have a history, that my people have a history. If you don't know where your family is coming from, it's a very hard road to follow when you have to reinvent the wheel. Of course, our straight counterparts are going to have more of a rock to stand on because they have long lines of history of saying that. The Religious Right, the conservatives, believe a certain way because they have a long line of backing. A lot of people didn't know that Alexander the Great was gay, that Susan B. Anthony was gay. Young people don't remember 1997 and what Ellen (DeGeneres) did. It's a human right to have a cultural backing and history.
You've said that Jane Austen is your No. 1 icon. Why?
I don't know. When you sift and sift through icons, and you realize who you are most affected by, you end up with the strangest icons. I am a Mexican Catholic from San Antonio, and I'm going gaga over someone who lived 150 years ago in England. The fact that she opened up the idea that women had thoughts in such a stylized way—it's just fierce. It's equivalent to the snaps of the 1980s from African Americans. She developed mental snaps for women who were not allowed to speak. She would make these wonderful observations. These books live forever because of that.
What's the most surprising response you've gotten while on tour?
Overall, it's been a really great experience so far. I was in the Poconos, and a guy walked right into my dressing room. He had tears in his eyes, and I said "Hi." He said "I really enjoyed your show." Sometimes it's good to see people cry and know they were affected by my work. … Another 18-year-old kid in St. Louis said, "Thank you for your courage." I'm from New York. It's not courage. It's just my work.
Your event is benefiting the Jackson Grace House. Why is it important to you to donate your profits to a non-profit like this?
My show has been very successful, so, fortunately, I can afford to do these things. You have to give back to the people who really need to see the show. Somehow in my creativity, I stumbled upon something that was relevant. It would be vulgar for me to keep this to myself.
What's something most people don't know about you?
I used to be a Boy Scout. I don't think anybody knows that.
Previous Comments
ID

64544

Comment

I must add that Jade was never directly approached to do an event. He replied to an email I sent to a mailing list seeking donations for Grace House for the Xmas season. Interestingly, he was the only person to respond (talk about local apathy)... He initially suggested doing a private show for the residents only at absolutely no charge. I told him they'd appreciate that but they would get far more from a benefit show (and could attend) and far more people would get to see his musical comedy. He agreed and has been great to work with... This entire benefit has been voluntary for all participants including his basic stipened, hotel room, and more. I think it's amazing and remarkable, in this day and age, when people (including businesses) offer to do something like this out of the kindness of their heart to help others (regardless of the cause). Kudos to Jade, Hal & Mals, the alt weeklies for promoting the event (the JFP & the Planet), Campbell's Bakery (certificate for a hedonistic 4-layer cake), Lemuria (gift certificate), Mark McElroy (book donation for door prize), Michael Holloway Perrone (book donation for door prize), an anonymous person that helped with hotel arrangements (you rock!), and my peeps over at Unity Mississippi. Oh, and the academy, of course. ;-) Now, who wants to help make an HIV/AIDS Run/Walk in October a reality? You'd think in 2005 we'd have one....

Author

kaust

Date

2005-03-09T18:22:28-06:00
ID

64545

Comment

I'm excited, too. You're doing a great job, Knol. We very proud of you. And, of course, we're in on the AIDS Run. Call a meeting after Jade's over and let's move on it. My peeps will talk to your peeps. ;-)

Author

DonnaLadd

Date

2005-03-09T18:27:12-06:00
ID

64546

Comment

Can I add that I have observed that the biggest result, so far, I've seen of the anti-gay marriage vote last November was a strengthening of the gay community in Mississippi ó and more people coming out. It's amazing how attempts at discrimination have a way of doing that. Cheers to unity. We are all God's children, after all. ;-)

Author

DonnaLadd

Date

2005-03-09T18:28:43-06:00
ID

64547

Comment

We can only get stronger. I want to add my personal thanks to everyone that has donated, JFP, Planet, and everyone who has joined on with us at UNITY for all the hard work and ideas! Thank you! and Thank You Jade! Let's make this and much more happen! See everyone Wednesday!

Author

Jen

Date

2005-03-10T07:31:23-06:00
More like this story
More stories by this author
Like independent media outlets around the world, the Jackson Free Press works hard to produce important content on a limited budget. We'd love your help! Become a JFP VIP member today and/or donate to our journalism fund. Thanks for considering a JFP VIP membership or one-time support.