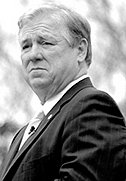 As House and Senate members met May 18 to hammer out the details of Gov. Haley Barbour's call for a special session, Barbour himself was nowhere to be found in either the Capitol or his headquarters in the nearby Sillers Building. Instead, Barbour spent that morning in Washington raising money for a personal PAC (political action committee).
The fund raiser was a $1,000- to $5,000-a-ticket breakfast for "Haley's PAC" at the Willard Hotel in the nation's capital. The PAC, which is not connected to Barbour's other fund-raising efforts, had collected $399,699 from private companies and individuals, both nationwide and locally, and disbursed $211,037.59 to various political endeavors by the end of January this year.
An invitation letter to the fund raiser from Barbour saying, "I hope we can help make sure that we grow Republican numbers in the statehouses around the country and in Congress," made the rounds inside the Democrat-controlled Mississippi House of Representatives drawing derisive snorts and the occasional bout of subdued outrage.
House members reacted by calling attention to Barbour's past as a high-priced Washington lobbyist and former head of the national GOP, questioning whether the governor's priorities were with Mississippi or exclusive to Washington politics and bi-partisanship.
"It's very ironic that he'd have a fund raiser on the first day of the special session, and it sort of gets on my nerves that the governor, the only person who can call a special session, would be out of state having a fund raiser when he should be here helping to make compromises in his own statehouse," said Rep. Steve Holland, D-Plantersville.
"It's all basically big corporations donating, and he's doling it out to Republican types around the country and Mississippi. He's got the right to do that, but it seems like to me that the governor would better spend his time in Mississippi on Mississippi matters."
Flight records for the May 16 and May 18 trips to Washington and back, carrying Barbour, his wife, Marsha, aide Ryan Annison and members of his security detail, make no mention of Barbour's breakfast fund raiser, stating only that the purpose of the trip was to "speak at a nuclear energy assembly."
Pete Smith said Barbour did attend the fund-raiser but had no intention of using the PAC to fund campaigns against local Democrats for the Mississippi Legislature in 2007, which many of them fear.
"Barbour told reporters that he hadn't done that. I think he said he hadn't done that with any of the money from that fund, but that the temptation was there," Smith said. "Money that he's raised so far has not gone to getting rid of anybody, but the election cycle is a long way away."
Aside from promoting the election bids of Washington gubernatorial candidates and other out-of-state ventures, the PAC has helped fund some judicial races such as Mississipi Supreme Court Justice Mike Randolph in Hattiesburg and Justice Bill Waller in Jackson. There were also direct payments to the state Republican Party.
Rep. John Mayo, D-Clarksdale, says he has "heard rumors" that Barbour is targeting his campaign in his conservative region, but said Democrats should be more irritated at the governor's abandonment of education and health care than Barbour's prospects for unseating Democrats.
"The Democrats are angry that he's raising out-of-state money to beat us, but I'm not angry. I think being a Democrat from a predominantly Republican district I'd be pretty stupid not to think that they're going to try to beat me and they're going to do it with money. That's the name of the game."
Mayo added that Democratic focus should stay on "real issues," not politics: "What we ought to be doing is getting on with what we Democrats are all about and that's getting our programs through to fund education, public health and Medicaid, and let the chips fall where they may. Barbour wants tax breaks and grants and low-interest loans for businesses and industry, but he doesn't want to do anything to give a break to unemployed workers. Those are the real issues we should be concerned about."
Holland said Barbour should probably worry over his own approval ratings right now (down to 37 percent in May), rather than dedicating too much attention to the campaigns of others.
"Haley's a sharp, shrewd (guy), and he's the best I've ever seen in political terms, but ... he's turned his back on the old people and the school children, and the people of north Mississippi are ready to tar and feather him and can't wait for the opportunity," Holland said. "We want governors who serve in Mississippi, who live among us and act like us. He don't fit that bill."
Republican Party Chairman Jim Herrin said he thought Barbour's nationwide popularity did good things for Mississippi and did not begrudge him of his out-of-state ventures.
"The governor has speaking engagements representing the state and the Republican Party all over the country, which I think is a mighty good thing for Mississippi's image," Herrin said.
Previous Comments
ID

64591

Comment

Don't you think that it's a shame the JFP is the only paper covering Gov. Barbour's trips around the country on the taxpayer's dime? I'd really like to see an accounting of how much time he's spent out of state, and even more, an accounting of how much money overall the taxpayers have paid for plane maintenance, aviation fuel, food, housing, etc. for the Governor, his wife, his entourage, bodyguards, etc. And you and I both know darn well that he's used to living "high on the hog," so maintaining him can't be cheap. How much is it costing taxpayers to send him on these junkets? I remember when he was running for office and was sending out all this literature claiming that Musgrove was wasting taxpayer dollars on new furniture and renovations during a budget crisis - both of which things Barbour has done since he got in office, and during an even worse budget crisis. Then he raised his office's operating funds, and now he's running around the county patting himself on the back for what he's done in Mississippi so far (when he should be ashamed of what he's done), and raising money for his private PAC. Why should we, the taxpayers, pay for this sort of thing?

Author

C.W.

Date

2005-06-08T19:59:09-06:00
ID

64592

Comment

CW, my cynical answer to "why should we pay?" - because we elected him, and now we have to live with that. It's pretty arrogant for him to be at a PAC breakfast on the first day of a very expensive special session.

Author

kate

Date

2005-06-09T07:32:33-06:00
ID

64593

Comment

Who you calling "we" Kate? :-)

Author

C.W.

Date

2005-06-09T11:15:17-06:00
ID

64594

Comment

I tell you what: Why doesn't he donate PAC money to pay for his special sessions? There's a ying and yang to that, no?

Author

DonnaLadd

Date

2005-06-09T11:16:57-06:00
ID

64595

Comment

This could probably stand it's own title under politics but I figured I'd post here and let Connie do with it what she sees fit. [quote]Mississippi is on the verge of becoming possibly the only state with prescription limits within its Medicaid program that put HIV patients at risk, a national doctors' group says. Medicaid changes that go into effect July 1 also may violate federal law, says Christine Lubinski, executive director of the HIV Medicine Association. "We've never seen anything like this before,'' Lubinski said Tuesday. ... "Medicaid program's two brand-name prescription drug limit leaves Mississippi's poorest and sickest residents with no option other than substandard HIV care. Substandard care for people with AIDS has deadly consequences.'' ... "They will only be receiving partial therapy. The partial therapy will ultimately become ineffective. These drug resistant strains that develop can potentially be transmitted to other people,'' said Henderson, a member of HIVMA." [/quote] Story @ WLOX.com Barbour, hons, can I get you to go back to lobbying so we can get a real politician that cares about his/her 'people', their lives, their children, their well-being, etc? Purrdy please? I'll throw in some buttery grits if you do!

Author

kaust

Date

2005-06-14T21:32:46-06:00
More like this story
More stories by this author
Like independent media outlets around the world, the Jackson Free Press works hard to produce important content on a limited budget. We'd love your help! Become a JFP VIP member today and/or donate to our journalism fund. Thanks for considering a JFP VIP membership or one-time support.