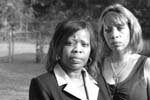 At 5:30 a.m. on Thursday, Oct. 14, someone in Iraq called Jacqueline Butler to tell her, "Your husband has been arrested, read his rights, charged for disobeying a direct order, and now he is being held in a tent." As soon as Jacqueline hung up, she called her brother and later tried Rep. Bennie Thompson's office, where she spoke with Michael Montgomery, and then she called The Clarion-Ledger to see if they could help her find some truth in the matter. What did she find? There were other troops' family members in the Jackson area doing the same thing: They had received similar calls on the same morning.
The following night Jacqueline, a 42-year-old South Jackson woman, got to speak to her husband, Sgt. Michael Butler. Her husband told her they had basically been sent on a suicide mission—the truck the five soldiers were supposed to drive into Taji, Iraq, a hostile area, was unarmed, not even bulletproof. He said, "Enough is enough." According to Butler, her husband felt they did not have what they needed to complete the mission properly.
At 5:12 a.m. on Oct. 14, 40-year-old Patricia McCook had gotten a similar call from her husband. She said he had urged her to "Wake up, baby! Please wake up! The military has done some things they want to cover up. They have arrested us and placed us in a tent under military armed guard." Sgt. Larry McCook then told her that he had sneaked away to a phone on the way to "chow" to call her, so he could only talk for a few minutes.
At the thought of the military trying to sweep mistreatment of her husband under the rug, Patricia immediately grabbed a little Polaroid picture book next to her bed, and she began writing down the names of other soldiers that had been arrested with him. She said, "He threw out the names Michael Butler and Scott Shealey."
These messages from their husbands resulted in an instant relationship between two military wives who had never met, they said in an interview Monday.
McCook said she immediately recognized the call as a desperate plea from her husband because he has lots of military experience, and he knows not to go against his commander. Some media are accusing both men of not following the proper chain of command. However, the wives said they had talked to them over the nine months they have been overseas, and both husbands had told their first sergeant of the problems with the trucks and they told their company commander, Capt. Nancy Daniels—thus following the proper chain of command for the 343rd company. It is Daniels' job to investigate these things, but Patricia McCook said the problem boils down to the concerns "falling on deaf ears."
According to both wives, their husbands' impression of Daniels has not been a good one. As a result of this incident, it was first reported that Daniels had been relieved of her duties, but now the military is saying, "Commander to be reassigned, no misconduct suspected." Jacqueline Butler says, "I feel like I know Capt. Daniels because I have heard so much about her shortcomings ... The situation had built up and blew up because the ones in charge didn't respond to the soldiers' complaints."
Butler will tell you that her husband has been a very good soldier: "He has served for 24 years, and he knows how to follow protocol. They taught him how to survive, and he is just trying to survive over there while defending our country." Sgt. Michael Butler is a licensed carpenter and mechanic as well as a husband, a father and a soldier. "He takes pride in his work and takes pride in being a U.S. soldier. That's what hurts me. Some of the media is portraying what he did as something negative, but he is a loving man and only did what he did because he thought it was right," his wife said.
He had gone to Iraq without complaint, she said, even though his tour has been extended. "He was supposed to retire in January, but they took that from him." Her husband's "re-enlistment" probably had something to do with President Bush's stop-loss policies that he and Secretary of Defense Donald Rumsfeld are becoming famous for enforcing as troop numbers pale in comparison to military needs.
Jacqueline Butler says that she is taking everything "day by day" now. Her husband has not been interviewed or seen an attorney, she said Monday. She says the unknown is making her lose sleep and her appetite, while panic attacks and headaches are becoming the norm. She urges others not to judge her and her husband unless they have walked a mile in their shoes.
"You know what hurts the most is that they (the higher military officials) are saying 'We don't care about your children or your wife. We don't care about you. You are just going to be another dead soldier or loss,' even though they are both fighting for their country," McCook said.
McCook says her husband is known as a family man in his community. He is a deacon at Jones Chapel Church in Flora, and he loves working with young people. He worked as the detention deputy for Hinds County Sheriff's Department before getting deployed. "He wouldn't have done this if he thought it was wrong, but he felt like they were going to be sitting ducks, waiting to be killed," she said. He wants to get back home alive and well, she added. "The military doesn't care one doggone thing about him. I do, and his children do. We love him," McCook said. "The president is saying the troops have what they need to get the job done, but this is evidence right here that he is wrong. I've heard that the Reservists are treated like crap. They are treated like red-headed stepchildren, and they are having to go back for a second and third time."
McCook also attacks the media who have commented that if you disobey an order during wartime, then you should be punished with death. "How can you be punished for something 'during wartime' if the president declared the war as a victory and said that the war was over?" she said, referring to Bush's now-infamous "Mission Accomplished" aircraft-carrier landing last year. There have been 965 American soldiers killed since that "victory" celebration.
The women are praying and hoping, but they both feel they can't get a direct answer to anything to save their souls.
Butler and McCook would like the world to know one thing: Their husbands didn't resist this mission because they wanted to rebel. They felt they were not adequately armed. The five soldiers who refused the mission were reassigned to another company. Since then, they have gone into Taji, Iraq, and they did so without an qualms or fussing. Their new company has the proper equipment to complete a mission in the proper manner.
McCook says that when she asked her husband if he liked his new company and his new convoy trucks any better, he replied about the better-armed vehicles: "It is a zillion times better, Baby. It's like going from a Yugo to a Cadillac."
More like this story
More stories by this author
Like independent media outlets around the world, the Jackson Free Press works hard to produce important content on a limited budget. We'd love your help! Become a JFP VIP member today and/or donate to our journalism fund. Thanks for considering a JFP VIP membership or one-time support.