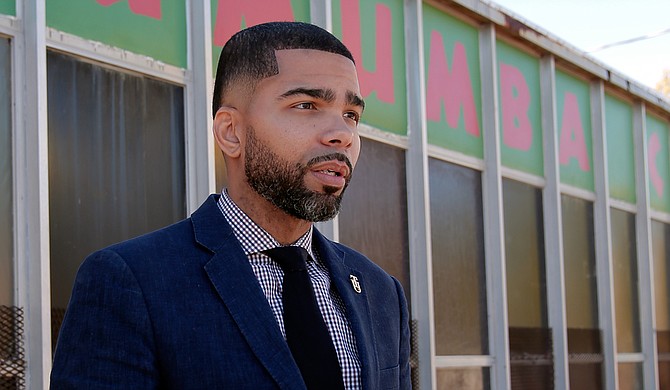 Updated May 3, 2017: 'Victory Is Mine': Lumumba Landslide Win Defies Conventional Wisdom, Polls
Of the 10 Democrats running for mayor of Jackson, five of them seem to have a shot at a primary victory based on the polling.
Incumbent Mayor Tony Yarber is a smart guy. One on one (see his interview at jfp.ms/election2017), Mayor Yarber talks the talk on education and criminal justice, and he has a better handle on infrastructure and management needs than when he took office. He now knows first-hand how the "politics of politics" can work against you.
Everyone needs a little "ramp-up" time to be mayor and get a handle on the issues. It's pleasing to see Yarber running a campaign this year that is a lot more about the serious issues facing the city and less about personality and social-media prowess.
In the end, though, we're left with two problems in endorsing Yarber. First, there's the open loop of a sexual-harassment claims against him and a member of his administration. Even if those allegations are baseless, as Yarber maintains, his past behavior and the people around him as he came into office open him up to exposure on issues of character and maturity.
Second, although two and a half years is a short time in which to judge, the truth is that Jackson does not seem stronger for having had Yarber as mayor.
Newcomer Ronnie Crudup Jr. shows an impressive dedication to young people, entrepreneurship and home ownership. However, he seems to lack a concrete grasp on all the issues he'd face as mayor. As a creative thinker and as someone plugged into both religious and business communities locally, Crudup might be a fit for a position the next administration or for a future city council race, if he's open to it.
Former Hinds County Supervisor Robert Graham's platform is straightforward—offer good customer service from the city, pave more streets, focus on education, hire more police officers and save money by running the city well. It's a technocratic approach that, arguably, would be a good fit for a man who has 20 years' experience with the Police Department and 10 years as a Hinds County supervisor.
We don't have a sense that things would change dramatically under Graham's tenure. He represents himself as the more experienced candidate, particularly in exchanges with Chokwe Lumumba. The subtext is that Graham is concerned that Lumumba is presenting a more compelling vision for Jackson, and on that we agree.
We're concerned that Graham hasn't put forth a vision on where and how Jackson will tackle the daunting problems of infrastructure, consent decrees, and a hostile metro and state government; likewise, smart programs for justice reform and redirecting troubled youth are core issues for the JFP on which we hear little from him.
Sen. John Horhn is the other high-profile candidate touting broad political experience, and he has a lot to say on infrastructure, cross-governmental negotiation, and funding from state and federal sources. In the Senate, there's no question that Horhn has been front-and-center on a number of initiatives from the 1-percent sales tax to the Capital City Complex, both of which bring more resources into the city.
Horhn has stepped up on crime-prevention issues, seeming to widen his view beyond policing to reduce violent crime. He seems genuinely interested in potential solutions our team has dug into, such as training former criminals as violence interrupters, and we certainly appreciate his work on the BOTEC study. We believe an unflinching look at Jackson crime and potential solutions is key to Jackson's future.
If Lumumba were not in this race, we would probably endorse Horhn. But, ultimately, Horhn hits a troubling flat note when he talks more about Jackson's problems than about its future potential. Too often, he uses negative descriptors for Jackson or JPS that don't offer the positive vision we think the city needs in a big way.
Chokwe Antar Lumumba is a dedicated family man whose wife and sister are fiercely active and effective advocates in his campaign. The strong women in Lumumba's family will bring additional resources and ideas to bear on the city's challenges, helping to dig deep into the roots of and solutions for poverty, as well as crime.
Lumumba's strong national presence will bring recognition and resources from outside Jackson to help raise our stature as a progressive and creative capital city that appeals to young people and innovators.
On the question of relationships with the state and region, Lumumba criticizes Horhn for some of the flaws in the 1-percent commission and the Capitol Complex District—valid points. Lumumba's goal of organizing Jackson and negotiating from a position of strength and leverage has merit; Horhn has had decades in state government, but it is not clear that transferring that experience to an executive position in Jackson will necessarily improve the deals he's made at the state level.
Lumumba offers smart thinking on criminal justice, economic development and tackling infrastructure (read his platform at lumumbaformayor.com). He takes a broad and a grass-roots approach at the same time—moving easily from the idea of raising money by leveraging the 1-percent sales-tax legislation or finding legal remedies in the Siemens debacle to encouraging intervention programs for teens such as basketball teams and clean-up crews. He's an agile thinker and promises out-of-the-box solutions and willingness to collaborate.
Ultimately, our endorsement boils down to whether we want Jackson to just be led or to also be organized. We think that only by getting organized will we really make a difference in Jackson's future. It's our opinion that Jackson needs more than an executive in City Hall who offers competence or relationships—both great things. What Jackson desperately needs is shared vision and purpose.
We've heard concerns that Lumumba will not represent all of Jackson, but we have spent enough time with him to believe that he is gifted, as his father turned out to be, with the ability to bring together very different people and groups, including the City Council and legislators, over their commonality of loving Jackson and wanting to see it succeed as the capital city.
The people of Jackson need to be encouraged to get involved not just by electing a candidate but by building a positive, hopeful movement designed to unite Jackson's citizens to tackle our collective problems and do the hard work of solving them. 
 From what we've seen, the best candidate for that type of leadership in Jackson is Mr. Lumumba.
See jfp.ms/election2017 for mayoral and council interviews and questionnaires.
Correction: We originally said there are two sexual harassment claims against Mayor Yarber, when we should have said there are two lawsuits against the City, one charging Yarber with sexual harassment and one charging one of his department heads with sexual harassment in a "sexually-charged environment" according to the complaint, which is one side in a legal dispute.
Support our reporting -- Become a JFP VIP.
The news business has changed dramatically in the past year, and we need your help more than ever to keep bringing you important stories about Jackson and the Metro. Become a JFP VIP with an annual membership or you can Sign up as a monthly supporter. Thanks for anything you can do to empower our journalism!