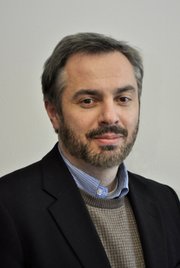 If you're like me, you're probably happy this presidential election is coming to an end. And, for a variety of reasons (not all of them the same) you might also share with me grave concerns for the future of this country based on the election cycle we've just been through.
In the end, though, this campaign presents a clear choice on the presidential level. On the one hand, you have one of the most experienced candidates to run for the office in the modern era. Secretary Hillary Clinton has been in the White House as first lady, in the U.S. Senate and has served as secretary of state.
Having been in the public eye for 30 years, she's been responsible for significant achievements—and she's made some mistakes. For the most part, I believe she has built a career on doing her job well, working within our democracy to further progressive principles, and fighting for the hopes and needs of her constituents and the American people at large, including women and children.
Over those 30 years, many people have made up their minds about Clinton, in part because a lot of money and time and energy has been spent over years and years to turn Hillary—even more than Bill Clinton—into a great liberal demon.
Given that history—including the trauma she's been through as Bill's wife—I respect her as a woman of great perseverance, resolve and inner strength. In fact, those qualities don't seem to be in dispute—even her opponent noted her tenaciousness in the second debate.
On the other hand, you have Donald Trump. Maybe he's a billionaire, although he won't release his tax returns and doesn't deny ducking federal taxes for years.
He's a reality-TV "star" (I've never seen his show), and he has licensed his name to a lot of stuff that a lot of people don't buy. Trump University is awash in legal battles.
He has zero experience in the political world, he's dangerously cavalier about American foreign-policy relationships, and his one international trip during his campaign ended with the Mexican president essentially calling him a liar. This isn't really surprising, given that Trump lies freely and loquaciously, according to Politifact (jfp.ms/trumpfacts) and many others.
It's not clear that Trump actually believes much of anything he says or the few policies he has presented because he has never been in a position to vote on or implement any government policy. In the few cases where he is on the record—the war in Iraq, for instance—it generally contradicts what he now says.
To me, it isn't clear how his ardent supporters—such as Mississippi Gov. Phil Bryant—can get excited about a man who will simply lie or grossly exaggerate easily checked facts and statistics, substituting bombast for any sort of clear principle.
Trump's business acumen is a real question because it seems to be a foundation of his candidacy. A detailed exploration of his history (jfp.ms/trumpbiz) as a developer show that he stiffs his contractors, has been sued thousands of times, and has used bankruptcy frequently to shortchange his investors and creditors when his business management has failed.
Newsweek reported this week that Trump has a track record of destroying e-mails and other documents and communications when they might implicate him or his companies in legal cases—actual situations where courts have required him to make documentation available for discovery including in cases where he's the plaintiff—and that evidence comes up missing or impossible to retrieve. Of course, it's frequently a "mistake" or "confusion" or some other excuse, to hear him tell it.
Finally, he has run a campaign (and, in some cases, a personal life) that traffics in misogyny, bigotry and bluster.
By nominating Donald Trump as its nominee, what remains of a coherent Republican Party on the national level has made one thing clear—it doesn't take governance very seriously.
Trump is a problem GOP leaders have brought upon themselves by persistently appealing to the idea that government can't do anything effectively when the truth is that government, at its best, represents our citizenry working together to build things and solve problems. The GOP, whose president was once credited with the interstate-highway system (Eisenhower) and who nominated a governor who presided over health-insurance reform in his state (Romney), now spends most of its time simply blocking its opponents at any cost to win partisan political points.
Stoking that "do nothing" attitude within the GOP ranks has meant short-term political gains—Tea Party wins, for instance, and a right-wing supermajority in the Mississippi Legislature—but the result has been an earthquake of turmoil within the party that has all but pushed out and silenced reasonable conservatives.
Given all that, my choice on Nov. 8 is Hillary Clinton, and I encourage you to vote for her, as well, regardless of the party you normally identify with.
If Mississippi shows significant support for Clinton (or even tips and goes "blue" for her), then that success would be part of a mandate for getting Washington to actually govern—instead of just grandstanding and road blocking—and finally work together as a governing team toward solutions to our nation's challenges.
Then, once this election is behind us, Mississippians must demand action from our governor and Legislature on common-sense economic issues, including expanding Medicaid and fully funding public schools.
The era of trying to "drown government in a bathtub" needs to end—particularly when it's both ridiculous (in the case of Mississippi, ours is a "taker state" with more federal dollars coming in than federal taxes going out) and destructive—health and education issues seriously affect Mississippi's ability to complete on the national (much less international) level.
Mississippi's persistent challenges and meager economic growth since the Great Recession under "conservative" leadership proves it is time for a new and shared mindset focused on progress, not obstruction, at every level of government.
Vote for progress on Nov. 8.
Support our reporting -- Become a JFP VIP.
The news business has changed dramatically in the past year, and we need your help more than ever to keep bringing you important stories about Jackson and the Metro. Become a JFP VIP with an annual membership or you can Sign up as a monthly supporter. Thanks for anything you can do to empower our journalism!