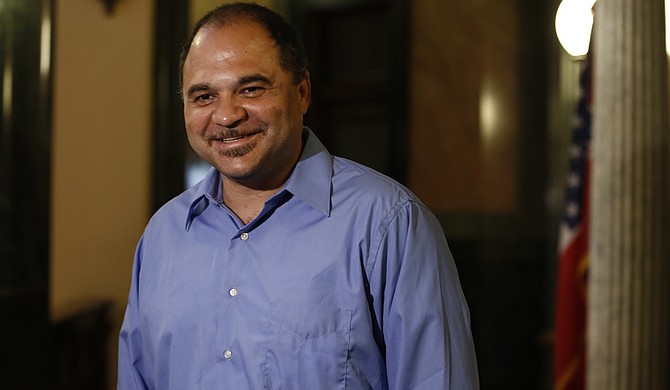 Robert Gray, a 46-year-old Terry independent truck driver, didn't vote in the Mississippi party primaries yesterday. Before this morning, he said he had never stepped foot inside the state Capitol building. Yet, as of now, he is the presumptive Democratic nominee for governor.
Gray shocked political watchers around the state by finishing first among the three Democratic candidates with 51 percent of the vote, which would not necessitate a runoff if the totals hold up. Most pundits believed Vicki Slater, who had a robust and active campaign, would capture the nomination, but she only drew 30.2 percent. Dr. Valerie Short, a retired physician, received 18.8 percent.
Speaking this morning to reporters on the third floor of the Capitol near the governor's office, Gray wore a blue shirt with the sleeves rolled up. He said he hopes he didn't win because his opponents are women. Because his campaign-finance reports reflect no fundraising nor he did have a campaign website or social-media presence, Gray surmised that it might have been his common-sounding name that made 146,387 people vote for him over two better-financed opponents.
"Most people have a Robert in their family," he said. Gray doesn't believe his lack of engagement in his own candidacy means he is not engaged in the issues. Gray said he supports changing the state flag because it's hurting Mississippi's economy, fully funding public education and Medicaid expansion.
As an independent trucking operator under the banner Fancy Horse Transportation Inc., Gray said he's currently without health insurance but is working to obtain coverage. Plus, being a small business owner who weathered the Great Recession, he has a unique perspective on the bread-and-butter economic issues.
"I work by volume, and the more money they earn, the more they're going to have and the more they're going to spend," Gray, whose CB handle is "Silent Knight," told the Jackson Free Press.
Before the recession, Gray added: "I used to have more loads and get paid more money. The cost of operating was way cheaper, and everything was just better. Now fuel cost is high, the insurance is higher, tires and things that keep my vehicle running are a lot higher. I used to buy a brand-new tire for $200 or $300; now it costs $500 or 600 (for new tires)."
Gray is unmarried and has no children. He grew up in Jackson and Terry, where he currently lives, and graduated from Provine High School and a now-shuttered truck-driving school near I-55 South.
The question of Gray's residency raised questions after reporters visited the address listed on his campaign-finance report, at 2010 West Capitol St., and found what appears to be a vacant home. Gray said he's in the process of renovating the building, for which he has paid property tax on since 2013.
Rickey Cole, chairman of the Mississippi Democratic Party, told the JFP that the party checked Gray's residency and voter registration in March when Gray filed paperwork announcing his intentions to run.
"He meets the qualifications to be a candidate for governor based on our process of vetting," Cole said.
Gray said he had a meeting scheduled with state party officials later on today, but has not spoken with Slater or Short. Cole explained that the results remain unclear because some ballot boxes from Hinds County remained uncounted, plus affidavit and absentee ballots still need to be counted. Certified results may not be available until next Tuesday.
Cole said voter turnout was low across the state, a sentiment also echoed at the election-night watch party of Stanley Alexander, who lost his bid to unseat Hinds County District Attorney Robert Shuler Smith. Sheriff Tyrone Lewis lost his first reelection attempt, ousted by former JPD gang-unit leader Victor Mason for the Democratic nomination; there is no Republican in the race for Hinds County sheriff.
Alexander, who said he will return to the Mississippi Attorney General's Office to head the public-integrity division, told the JFP that his campaign shined a light on problems he sees with the DA's office.
"I hope the people will remember this, and I hope the DA's office will work a little harder," Alexander said.
"The Republican turnout around the state, and Democratic turnout was anemic in a lot of places. There weren't vocal down-ticket races—there wasn't really something driving people at the local level," Cole said.
Last night, addressing her supporters, Slater, who has not conceded, said she was still running for the same reasons she had campaigned on.
"Phil Bryant's leadership has failed the state of Mississippi. We're sick of being 50th. We want our schools fully funded, we want Medicaid expanded, and we want jobs in this state," she said. "We are going to keep fighting, keep working together, and we are never going to give up on our state that we love."
Slater's camp remained upbeat despite the cloud of uncertainty, but the same questions seemed to be on the minds of a lot of Slater supporters: Does anyone know who he is and how he did it?
In the meantime, Gray said he plans to stay in the race until November and wants to debate Gov. Phil Bryant. At his own party, Bryant walked out clad in cowboy boots and a smile to the cheers of family, friends and patrons as the predictable results came that he would represent the GOP as their nominee for Mississippi governor.
"People always ask me what's different between this year and last year," Joe Nosef, chairman of the Mississippi Republican Party, said to the crowd. "Unity. People said last year that our party was going to be split. The leader of our party is Governor Bryant."
Touting decreases in unemployment and an increase in literacy, Bryant stayed on the positives of his campaign. He didn't mention that despite the state's funding public schools more now than in the history of the state, it still has not funded the minimal estimate for the funding of public schools, which is required by state law.
Arielle Dreher and Zachary Oren Smith contributed this report by covering the election night parties of Vicki Slater and Phil Bryant, respectively.
More stories by this author
Support our reporting -- Follow the MFP.