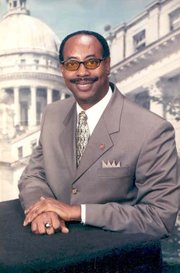 The cost of enrolling full time at Mississippi Gulf Coast Community College for an in-state resident is $1,150 per semester. Adrian Gamboa, a 20-year-old Biloxi native, pays almost twice that amount, $2,075, to take 12 hours' worth of courses at the Jefferson Davis campus in Gulfport.
That's because Gamboa is an undocumented immigrant. And, even though he lives in Mississippi and attends the same college as some of his high-school classmates, Gamboa must pay the out-of-state tuition rate.
Immigrant-rights advocates have been working to change the law to make college more affordable for Mississippi's growing immigrant population. One proposal, House Bill 209—which Rep. Reecy Dixon, D-Macon, sponsored—failed to make it out of the House Education Committee this session. Rep. Greg Holloway, D-Halzelhurst, who sits on the committee, held a hearing at the capitol Monday afternoon to discuss the issue.
Israel Martinez, a Jackson-area businessman who is an undocumented immigrant from Mexico, testified that the high out-of-state-tuition costs have kept him from attending college.
"These children, all they want is an opportunity to be treated equally," Martinez testified.
Information from the National Immigration Law Center shows that 16 states, many of which have large immigrant communities, already allow undocumented students to pay the same in-state fees as their peers at higher learning institutions.
Experts in the states that have already passed this legislation say the cost of implementation has been negligible. In-state tuition is not the same as free tuition. It is a discount, but in fact the money these students pay actually tends to increase school revenues because it represents income that would not otherwise be there.
The bottom line is that our economic future depends on educating these young people. NILC representatives argue that in states where colleges have evened the playing field for immigrant students, the cost to taxpayers has been "negligible."
Dr. Debra West, representing the Mississippi Community College Board, said the board had no official position on the legislation and wanted to make college affordable for all students.
Rep. Holloway told the Jackson Free Press that questions about how much changing the rules would cost taxpayers needed to be addressed. He said he could propose commissioning a study panel to review the issue and make recommendations for a future session.
More stories by this author
Support our reporting -- Follow the MFP.