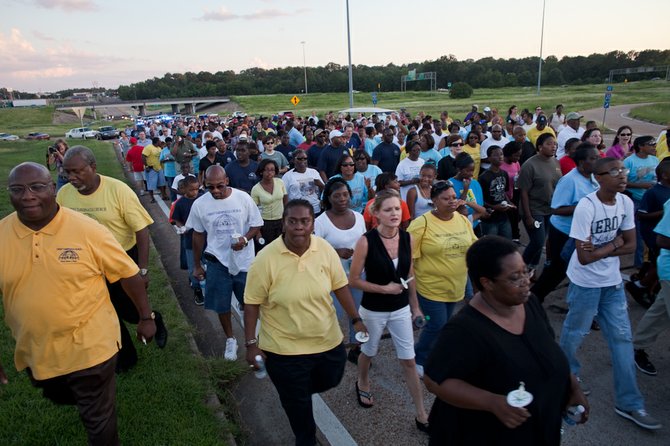 A sixth man is guilty in a hate-crime conspiracy that played out in spring 2011 in Jackson. Joseph Paul Dominick in Jackson pleaded guilty this morning to one count of conspiracy to commit a hate crime under federal law.
Dominick, wearing khakis and a bright green shirt, removed his jacket part way through the hearing as U.S. District Judge Carlton Reeves went over the government's case. According to federal prosecutors, Dominick, 21, along with five friends conspired to "willfully cause bodily injury to, and through the use of dangerous weapons, attempt to cause bodily injury to African American persons" in the Jackson area.
Specifically, Dominick's plea agreement stated that he and the other co-conspirators--Jonathan Gaskamp, William Montgomery, Deryl Dedmon, Dylan Wade Butler and John Aaron Rice, all of Rankin County--used beer bottles, slingshots and shod feet in their months-long attack spree that targeted blacks they believed to be drunk or homeless.
Dominick's plea agreement states that on one trip, the conspirators stopped at a sporting goods store for the sole purpose of buying a slingshot to shoot metal ball bearings at African Americans. Dominick carried a handgun "for protection," the agreement states.
Federal prosecutors charged that Dominick and the other conspirators boasted about the attacks and recruited other "young, white men and women" to join them for assaults.
Dominick and his friends also purchased bottled beer expressly to drink and use as ammunition in the assaults against black pedestrians, whom the group called n*ggers. During one incident, one of the gang members threw a beer bottle at a group of African Americans standing near the street, striking one of the people and knocking the person to the ground.

"Members of the group thought this was funny," federal prosecutor Sheldon Beer said in court this morning.
At Dominick's birthday bonfire early the morning of June 26, 2011, several of the conspirators drove to Jackson where they found and killed James Craig Anderson. Dominick, who dated former American Idol contestant Skylar Laine, did not go along on the trip.
Barbara Young, Anderson's sister, said after the hearing that she wanted everyone involved in the crime spree to go to prison, including those like Dominick who did not directly participate in her brother's murder.
"Who knows how many of them where involved in those night rides?" Young told the Jackson Free Press.
Judge Reeves, who is African American, said sentencing would be scheduled at a future date and left Dominick with a few words of advice: "You made a decision that will affect the rest of your life. But you can make a change, starting today."
More stories by this author
Support our reporting -- Follow the MFP.