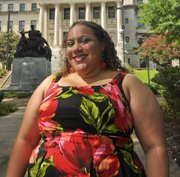 My lower middle-class grandparents' status largely shielded me from class issues. I grew up the only child of a single mother, and it wasn't until I was on my own as a teenaged wife and mother that class restraints became real. They started to weigh heavily on me. Among other things, I learned the rules of who the "proper" people are for certain jobs in the restaurants where I worked, and I saw the class lens through which some view young mothers.
As an activist (and a real-life poor person), I am offended when I have to deal with classism within the liberal political and social-justice organizations I work with. If organizations think they can serve populations that their board members, directors or staff can't or won't speak with or listen to, they are in the wrong business. If an organization attempts to serve oppressed populations or low-income people but doesn't have representatives of those groups within the operation, it has failed.
I am tired of hearing conversations within liberal circles about how uneducated some people are in Mississippi, and this is why we should worry about who votes. Our educational system isn't perfect, but I want to challenge those who make such arguments. They come dangerously close to the arguments made for literacy tests and voter disenfranchisement during Jim Crow, and they aren't something one should put into the social discourse.
If voters are uneducated on issues, it is our job to reach out, not to further alienate them. We live in a state that is trying to disenfranchise voters—we don't need political parties, through their speech and actions, actively discouraging people from participating in the process. 
If either party wishes to broaden its base, it would do well to stop demonizing poor and working-class people and, instead, try talking to us. We are nice people. We're just as good—and as bad—as middle- and upper-class people, and we, too, want to understand the issues that affect us.
No one can afford to write off whole groups of people from the social and political discourse of this country. That's a losing strategy, especially with more and more people falling into poverty. For people on my side of the political spectrum, I strongly urge caution: You cannot be "on the side" of poor people and personally practice elitism.
"You can't lead the people if you don't love the people," Cornel West said. "You can't save the people if you don't serve the people."
West is right. But he means all the people, not just the ones that society long ago chose as the "right" ones.
Support our reporting -- Become a JFP VIP.
The news business has changed dramatically in the past year, and we need your help more than ever to keep bringing you important stories about Jackson and the Metro. Become a JFP VIP with an annual membership or you can Sign up as a monthly supporter. Thanks for anything you can do to empower our journalism!