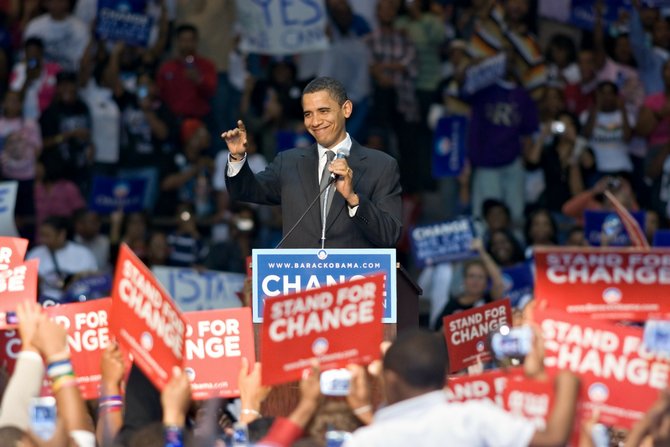 It's been a harrowing four years for the country as we've ridden out the Great Recession. The country appears to be on the upswing—monthly job growth now exceeds monthly averages under the George W. Bush administration, with more than 5 million private-sector jobs created since the economy bottomed out.
From 2000-2009, the country experienced a "lost decade" of job creation, even given the apparent boom of the mid-2000s.
In 2008 alone, 3.6 million jobs were lost; in the January prior to Obama taking office, another 800,000 jobs were lost. Ultimately, the Great Recession wiped out every job gained during the Bush administration.
Barack Obama immediately enacted a historic stimulus plan: a mix of tax cuts, aid to the states and infrastructure projects. The stimulus started to turn the tide of the economy. Obama passed landmark legislation including "Obamacare," Wall Street reform, the Lilly Ledbetter act; overturned "Don't Ask Don't Tell"; ended the war in Iraq; and began withdrawing from Afghanistan. Obama has also come down on the right side of women's choice and health care, gay marriage rights and the chance for some immigrants to stay in a country they've always called home.
The president had a huge mess to clean up. But there's much more work to be done.
The country has run large deficits over the past four years, in part because of the burden of interest payments from previous administrations' debt (roughly $400 billion a year) and previous administrations' war-making decisions ($400 billion to $500 billion in military and security spending per year over 2001 levels) along with new programs including Medicare Part D in 2006.
We've also seen the lowest percentage of revenues since 1950 (thanks to the Great Recession and Bush tax rates) despite higher outlays for entitlements and jobless benefits. Notwithstanding the hair-on-fire proclamations of Republicans, President Obama has grown federal spending modestly compared to his predecessor (who ran $300 billion to $400 billion deficits during good times), and has seen his budget deficit shrink every year since Bush's final-year $1.4 trillion deficit.
Obama has reached across the aisle to an intransigent GOP House to work on a "grand bargain" for raising revenues and cutting expenses, but the GOP's primary focus hasn't been governing the country, it's been thwarting Obama's re-election. With that off the table in a second term, the Bush tax cuts should finally be allowed to expire, and we'll hopefully see a jump in the capital-gains tax rate, which should, for instance, bring Gov. Romney's effective tax rate up from 13 to 14 percent to something appropriately higher on his millions from passively gained investment income. It's a huge step in the right direction. (Reagan raised capital gains midway through his administration, for instance, and Simpson-Bowles recommended doing away with the lower rate completely.)
In contrast, Romney has laid out perhaps the least transparent plan for a presidential campaign in the modern era. Romney's famous "Etch-a-Sketch" political persona has him on both side of issues from Romneycare to contraception and abortion rights to Afghanistan timelines to the auto industry bailout. His plan to overturn Roe v. Wade would give states the ability to outlaw abortion in all instances, as well as limit birth control and fertilization procedures—the kind of law Mississippi voters rejected last fall.
During the GOP primary, Romney asserted that FEMA should "absolutely" be shut down—a problematic position with FEMA now in full emergency mode with Hurricane Sandy.
Romney's most concrete policy—a 20 percent "across-the-board" federal income-tax cut—will not only fail to help the tens of millions who already don't make enough money to pay income taxes, but is also likely to require the middle class to give up tax breaks for home mortgage interest or childcare. (In three debates, Romney has yet to offer a specific loophole he'll close.) And his assertion that military spending should be increased in future budgets undercuts the notion that he's the solution to ideologically driven spending sprees in Washington.
Perhaps Romney's most telling moment was a behind-closed-doors campaign fundraiser at which he told his well-heeled donors that he equated the "47 percent" of people on the lower end of the income spectrum to people whom he can't convince to "take personal responsibility and care for their lives." It was a shameful performance by a man hoping to be president.
A note on Obama's vice president, Joe Biden. Biden is a close adviser to the president, involved in security and foreign policy decisions, and fully capable of taking over the White House should tragedy strike. We can't offer the same assurances for Romney's choice, Paul Ryan, a young congressman known mostly for his draconian budget proposals that don't add up.
This year, the choice could not be more clear. Re-elect Barack Obama and Joe Biden on Nov. 6.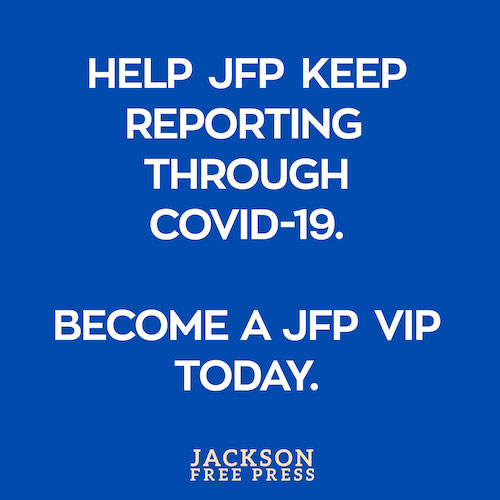 COVID-19 has closed down the main sources of the JFP's revenue -- concerts, festivals, fundraisers, restaurants and bars. If everyone reading this article gives $5 or more, we should be able to continue publishing through the crisis. Please pay what you can to keep us reporting and publishing.