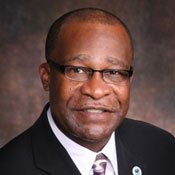 Despite Mayor DuPree's unfortunate support for the Personhood Initiative, he is the clear choice for governor against Lt. Gov. Phil Bryant, who has veered so far to the right that we've had a hard time finding a Republican who will tell us they are happy about voting for him. For several years now, we have documented Lt. Gov. Bryant's growing extremism, which has turned into sheer pandering to the Tea Party. Bryant supports nonsensical (and expensive) government regulation such as an Arizona-style anti-immigrant law, and he has called for an empty voter ID initiative that will cost the taxpayers at least a million dollars with no evidence that it will reduce actual voter fraud. He made no secret about his desire to simply redistrict voting strength away from the state's majority-black areas. Bryant also seems to be running more against President Obama and "Obamacare" (see page 45) than against DuPree. Bryant makes Gov. Barbour look moderate and thoughtful by comparison.
DuPree has "executive branch" experience (vs. Bryant's legislative resume) and, very importantly, takes a strong stance in favor of improving public education--and seems to understand much better than Bryant that any "job creation" efforts will be useless without an educated work force. DuPree also understands that creating jobs is about more than giving corporations anything they want.
We know a black man--even a conservative-to-moderate one such as DuPree--has an uphill battle in a state with Mississippi's race history. But we agree with endorsers such as the Biloxi Sun-Herald that he is the far better, and less divisive, choice than Phil Bryant. On top of that, DuPree's election will go far to send a message--including to job creators elsewhere--that Mississippi has changed. Let's elect DuPree.
Attorney General: Jim Hood, D
We won't hide that Hood sometimes worries us (such as with his support of Personhood and the death penalty), but he is a far superior choice than Steve Simpson. Hood unabashedly works against domestic abuse in the state, and we appreciate his efforts to hold misbehaving corporations accountable and bring money into the state, which his opponent seems unlikely to do.
Not to mention, it is a huge disappointment to see Simpson not have anything better to do with his campaign signs than run against "Obamacare." He is making the state look bad before taking office.
This one is clear: Re-elect Jim Hood.
State Treasurer: Connie Moran, D
Moran, the mayor of Ocean Springs, is another obvious choice, although her opponent is better funded. Moran has master's and bachelor's degrees in finance and international commerce from Georgetown University in Washington, D.C. In the 1990s, she served as managing director for the Mississippi European Office in Frankfurt, Germany, recruiting new business and industry to the state for the Mississippi Development Authority. She also worked as an economist at the World Trade Organization in Geneva, Switzerland. She would be an exciting, forward-thinking choice as treasurer. Moran is a refreshingly smart choice.
Commissioner of Insurance: Mike Chaney, R
We were concerned about Chaney four years ago, but must say that he is probably our favorite statewide Republican. Granted, it's in part because he is willing to answer our questions in a forthright manner. He is also a clear advocate on behalf of disaster victims. He's in the right job.
Transportation Commissioner, Central District: Marshand Crisler, D
We made our decision based on one Jackson-centric issue: Dick Hall supports the kind of super-highway to Flowood that is anathema to smart urban planning, and Crisler does not. Vote for Crisler.
State Senate, District 29: David Blount, D
Blount has proved a refreshing senator in a Senate without a lot of them. We especially applaud his work on behalf of public education and passing stronger laws on behalf of domestic-abuse victims.
House, District 64: Dorsey Carson, D
The choice could not be clearer. The incumbent, Bill Denny, is a dug-in conservative who seldom seems to have issues facing the metro close at heart. Carson is a personable, energetic advocate for public education--and when he talks about fighting crime, it is evidence-based. He understands the roots of crime and wants to bring that intelligence to the state Legislature. Vote Carson in District 64.
House, District 73: Brad Oberhousen, D
We like Oberhousen, a personable Raymond native, because he is talking smart development in a district where we need to hear that more often. We want to see our Byram, Terry and Raymond readers enjoy the kind of economic development coming to other parts of the city. Vote Oberhousen.
Hinds County Supervisor, District 1: John Dennery, R
We have watched with dismay as incumbent Robert Graham has come unraveled through controversies uncovered and reported by this paper and other media outlets. And he has refused to address most of the issues, leaving us no choice but to urge voters to vote against him. Dennery is a long-time and respected businessman in Jackson, and we hope he serves the entire county with integrity and compassion.
Hinds County Supervisor, District 3: Peggy Hobson Calhoun, D
Calhoun has long been one of the few Hinds supervisors who will speak out when needed and challenge some of the questionable decisions the supervisors--who too often see themselves as untouchable kings--made on the taxpayers' behalf. We can't afford to lose her now.
Justice Court Judge, District 1: Don Palmer, D
This is as much a vote against Palmer's listed opponent (as of press day) as for him. His opponent, James Hendrix, is a controversial local blogger who goes by various names and promotes often-anonymous trash talk on his site (and then sells candidates ads around it). Is he a serious candidate? It's hard to tell. He has refused an interview and told our reporters he is dropping out, but as of Nov. 1, his name was still on the ballot. Whatever his story of the day, this blogger of many names certainly has no business as a judge. Vote for Palmer, clearly the more serious candidate. (Click here for update on Hendrix campaign.)
Justice Court Judge, District 4: Damon R. Stevenson, D
As an intelligent and impressive young attorney, Damon Stevenson strikes us as exactly the kind of judge we would like to see in the metro's future. The 28-year-old Tougaloo graduate (degree in economics) and Mississippi College Law School graduate owns his own firm, the Stevenson Legal Group, and is the only candidate who appears to have a campaign website listing his qualifications--and wants to help bring the judicial system into this century. Stevenson is a native of Brandon who currently lives in Raymond with his wife, Jessica Morris Stevenson. He worked as a federal probation officer after law school until he opened his firm in 2009. Vote for Stevenson.
NO on Initiative 26, Personhood
This effort, led by men, many from out of state, is an upside-down effort to outlaw abortion, but with no regard for the life of the mother or the dangerous problems inherent in letting government make difficult and painful family decisions. Regardless of your position on abortion, this initiative clearly goes way too far, leaving the door open for legislators and judges to hurt families and even not allow them to choose whether their mother can live. There are much more intelligent, compassionate ways to discuss lowering unwanted pregnancy and abortion rates.
This must be voted down.
NO on Initiative 27, Voter ID
The effort to require voter identification at the polls is expensive and redundant government regulation at its most absurd. Its supporters can point to no evidence that it will actually fix existing voter fraud, and it will cost taxpayers and voters. Throw this garbage in the trashcan where it belongs.
YES on Initiative 31, Eminent Domain
Sadly, the state of Mississippi under Gov. Haley Barbour showed how much this effort is needed--to stop government from overstepping its authority to get private land for cheap and then give it to corporations (such as Nissan) and developers.
Note that voting for No. 31 will not stop the government from condemning blighted areas and taking uninhabitable properties and later selling them to developers. It will simply stop abuse of eminent domain in the form of corporate welfare. Vote yes.
Previous Comments
ID

165307

Comment

I realize you have already made your endorsement for Transportation Commissioner and I'm not saying I'm for or against it, but since there was only one reason listed, I thought it might be a helpful resource for your readers who want to see what the Central District Commissioners have to say when it comes to including the needs of pedestrians, runners and bicyclists as part of the overall transportation system, here is a link to do that: http://www.bikewalkmississippi.org/BWMS/projects-2/advocacy-policy-legislation/elected-officials Pardon me if this isn't the correct place to post this, I just wanted to offer an additional resource for those who might be interested.

Author

judah

Date

2011-11-02T11:49:51-06:00
ID

165324

Comment

Thanks so much for this link. Good information!

Author

redlion

Date

2011-11-05T11:32:39-06:00
More stories by this author
Support our reporting -- Become a JFP VIP.
The news business has changed dramatically in the past year, and we need your help more than ever to keep bringing you important stories about Jackson and the Metro. Become a JFP VIP with an annual membership or you can Sign up as a monthly supporter. Thanks for anything you can do to empower our journalism!