The Jackson Free Press is so far from choosing a candidate to endorse for mayor that it's not even funny. This is a good place to be, considering that this time four years ago, we simply had no choice: Candidate Frank Melton was such an obvious mismatch for the job that our choice was clear throughout the campaign.
This time, though, Jackson voters have choices. And there seem to be pros and cons with each candidate; I almost wish we could pull the best of the better candidates of the lot and build ourselves a composite mayor.
But we can't. What we can do, though, is establish certain standards—tests of whether each candidate even deserves consideration. Some litmus tests are simple: Will the candidate embarrass us on a regular basis (there goes Melton and that dude that talks about a noose). Does the candidate have a track record of lying and cheating, including to their own families? Is the candidate easily compromised due to a history of secrets? Are they over-promising on hot-button issues (like Melton vowing to cure crime in 90 days)?
If so, they shouldn't be mayor.
Then there are questions that should be simple, but too often aren't. On that front, one stands out for me above all others: Does the candidate truly, really, absolutely believe in open and transparent government? Do they believe they are a public servant who works for us, and leads by example, being open and accessible at all times? Will they walk into City Hall on day one and start changing a closed culture that has existed for many years (including under the previous mayor) that grew downright dire under the current mayor?
And will they be more intelligent than some of our local media that report that government has 14 days to turn over public information, as The Clarion-Ledger wrote a couple weeks back? Under state law, agencies are supposed to provide public information on demand, or within 24 hours, only taking 14 days if the information is difficult to compile or find.
In this week's JFP Interview, mayoral candidate Robert Johnson indicated that he believes, rightly, that public information should not take 14 days to turn over. He also says that the city should not throw up barriers to transparency by turning every public request over to the city attorney (not to mention needlessly costing us resources), as the current administration tries to do, clearly to discourage citizens and journalists from asking for information.
A bunker mentality and short-sighted thinking on the part of leaders inhibit all governments. And you can never, ever trust a leader who tries to hide public information. They clearly do not know for whom they work.
But hiding information is a common tactic used to confuse and obfuscate. Likewise, governments label too much information "confidential," and they charge too much to access it. Every agency in the state could take lessons, at least on one front, from the Hinds County Clerk's office; you can walk in, copy the files and leave without ever spending a dime. (And you can watch the clerk cut folks' hair in her office if you hit it at the right time.) The clerk's staff is probably grumpier than it needs to be, but the truth is that they give me the information I ask for, and without judging me for wanting it.
Seldom is this true for the city of Jackson or state agencies. It was so bad under the Melton administration that his sister-in-law Carolyn Redd, when she poorly directed communications for the city, admitted to two of my staff members that they didn't honor our information requests because they didn't like what we did with the information.
Here's the thing: It's not up to a public servant what we do with public information. It's not up to them what we think about it, or how we use it. It is up to them to provide it to us, regardless of who we are.
It is also not up to public officials to play partisan or loyalty games with who gets the information. What often happens is that an elected official will be buddy-buddy with certain journalists and authorize their information requests without hesitation; meantime, another outlet gets frozen out because that outlet does not agree to the positive spin that the official wants.
This goes against the very nature of open government.
Frank Melton is guilty of this kind of game-playing, even proudly saying that journalists should just come straight to him for information. But here's the problem: That only works when Melton likes you. When he's in a certain mood. When he's returning phone calls. Saying that one needs a personal relationship with the mayor to get public information is yet one more form of manipulation, and of getting journalists to pull their punches in order to have "access." (And results in the pitiful journalism that allowed many Jacksonians to have a completely skewed view of Melton when he ran for mayor last time.)
This "just-call-me" attitude toward public information is just as bad as routinely refusing information. It's an insulting game to play with the public.
Too many citizens don't think about the need for open government nearly often enough. While many of us journalists fight these battles with the city and state—we're locked in one now with the secretary of state who is putting up barriers against us getting Haley Barbour's executive orders pardoning violent criminals—too many citizens think this doesn't apply to them. At least until, say, the governor pardons the man who shot your sister in the head with a shotgun, and then the whole thing matters to you a lot more.
That's why I want the next mayor of Jackson to lead on this front. I might even forgive people who have served in the government in the past and did too little to change the closed culture—if they will step up now and communicate every way possible between now and the elections that they are going to make every city employee understand their role in an open government. I want to hear about how our city is going to release all information within a day (unless there is a good reason articulated for a delay); how the city attorney only gets involved if it's a legal question; how they are not going to try to profit on copying; that they are going to work toward putting as much information as possible online.
The candidates who convince me that they can lead on this front will then get my attention on other issues and may ultimately get my vote and endorsement. But for me, this is a defining line they need to step over.
And if they do it well, maybe Delbert Hosemann will even learn a thing or two.
Previous Comments
ID

145114

Comment

I agree wholeheartedly with your support for open, accountable government. The recent demise of newspapers all around the country, with the related cutbacks in reporters covering the City Hall beat, means that citizens will have to rely more on their web browsing skills to find out what is going on in the Mayor's office. You mention in passing your current in-depth interview of former Police Chief Robert Johnson (same name as the blues guitarist), but I have counted at least three other mayoral candidates who have gotten far better coverage in major photo spread articles. It is true that, as your writer Adam Lynch points out, Chief Johnson " is not a camera person. He doesn't smile for the lens. He doesn't sing. He doesn't dance. He also doesn't act very much like a politician, which could work against him in a Democratic primary crowded with seasoned politicians." Well, that is exactly why he deserves top tier status from you and the votes of the rest of us! Given the crime, budget issues, and other problems facing Jackson, I would rather have a serious guy who gets things done - even under economic constraints. If I want a song and dance man, I will watch television. Everyone should read the Johnson interview who wants a serious man running Jackson. http://www.jacksonfreepress.com/index.php/site/comments/the_2009_jfp_interview_with_robert_johnson_032509/ Ironically, the best endorsement of the Chief comes in the intro, where Adam Lynch says, "It's clear that Johnson has a lot of smarts, but he exudes a demeanor that makes lazy people uneasy - even those that don't work for him. There may be a reason for that." The reason Robert Johnson will make some people uneasy when he is Mayor is that he works hard, gets results, and does not go along to get along. Sounds like exactly what the city needs!

Author

jacksoncal

Date

2009-03-25T21:08:44-06:00
ID

145118

Comment

Actually, a number of pages are devoted to Mr. Johnson in this issue for this interview. As we get closer to the election, we have a limited number of issues, and covers, available. But he is the bottom third of the front cover. And, yes, we do make those decisions in part based on the photographs and what will make a compelling cover. That's the business we're in, and we reserve the right to make those decisions as we need to. Glad you enjoyed the interview, though.

Author

DonnaLadd

Date

2009-03-25T22:54:02-06:00
ID

145119

Comment

Thanks for your reply. Even if City Hall is not responsive, at least we can count on the JFP!

Author

jacksoncal

Date

2009-03-25T23:22:39-06:00
More like this story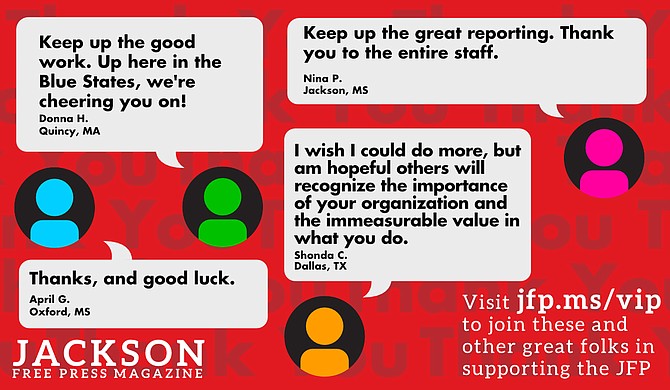 Thanks to all our new JFP VIPs!
COVID-19 has closed down the main sources of the JFP's revenue -- concerts, festivals, fundraisers, restaurants and bars. If everyone reading this article gives $5 or more, we should be able to continue publishing through the crisis. Please pay what you can to keep us reporting and publishing.