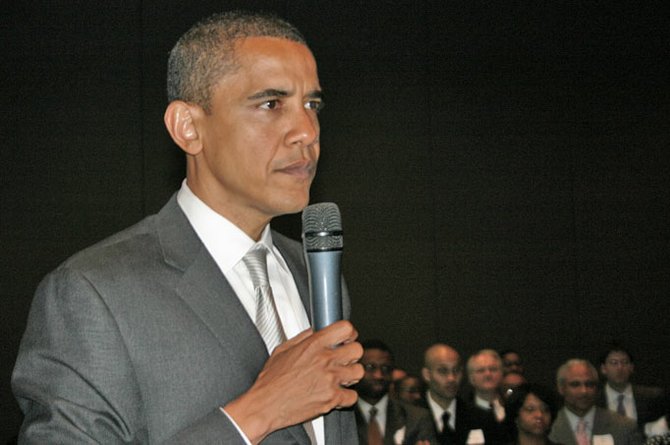 For information on how to vote, and protect your vote, please visit Jackpedia.com. Also, you can click here to find your poll location.
President — Barack Obama
Gen. Colin Powell said it best when he endorsed Sen. Barack Obama on "Meet the Press": "I think we need a transformational figure. I think we need a president who is a generational change."
Every good reason, and there are many, to vote for Obama on Nov. 4 falls under that "generational change" umbrella. As Powell said, he is the hopeful change as opposed to the fearful status quo that Sen. John McCain represents.
McCain is a certifiable American hero and deserves respect, and we hope he stays "mavericky" in the Senate, where he provides a much-needed "opposition" voice. But that voice is not one of national leadership, as the petty squabbling in his campaign, his choice of Sarah Palin as backup president, and his use of fear-baiting and divisive strategies and untruths in his campaign clearly show. But this endorsement is not against McCain; it is for Obama.
Barack Obama has inspired a nation in a way that no one who works at the Jackson Free Press remembers seeing a national leader do. He is willing to stand for his ideals, even when he knows they will be twisted against him. And most importantly, he is that generational change—with new ideas, calm resolve, and the welcome willingness to buck failed approaches and policies of the last generation and the last century.
The greatest reason to vote for Obama is a toss-up between foreign policy and economics. On foreign policy, he has been on the right side of history—unlike most members of Congress. As a new senator, he stood against what was a politically popular war (the JFP appreciates that courage; as a new newspaper, we did the same). He now wants to get us out of a war with no end in sight that is sucking up our resources and killing our family members, even as he wants to put more resources into apprehending the man who actually led the attacks on American people on Sept. 11. This is smart, and we all know it.
Perhaps more important, he wants to keep us from going into dumb wars again. He is willing to buck the conventional "wisdom" of the baby-boomer generation of leaders who do not believe it is wise to actually try to talk to our enemies before we attack them. Like most of us, he knows that a 21st-century world needs a U.S. president who is going to build bridges and alliances—including against enemies who cannot be stopped diplomatically—and repair the massive harm that George W. Bush, Dick Cheney and Donald Rumsfeld did to our good name. He knows that because we've done it one way for a long time, it doesn't mean we continue failed traditions.
On the other hand, McCain wants to return us to Cold War-era times with his pet project, the League of Democracies, that would kick Russia out of the G-8, and leave out China altogether, while inviting India in. We're no fan of the Chinese government (or its faulty products and poor human rights record) over this way, but some of us at the JFP remember well the "who's bigger" approach to warring with the old Soviet Union.
We need a leader who will seek out global alliances and conversations, and not just with (mostly) European countries, such as McCain's plan would do. In this dangerous world and in the quest to turn back and prevent radical terrorists (Islamic and otherwise), the U.S. needs to cultivate more allies, not more enemies, and Obama has the temperament to make that happen. As for McCain, if his temperment is such that he cannot look Obama in the eye, how will he fare among actual enemies of the United States?
The economy is easy. We also cannot afford four more years of Bush-McCain policies; that is not just a sound bite. In the run-up to this campaign, McCain clearly bragged to FOX News about voting with Bush "90 percent of the time." If that's not the "real McCain," then why did he compromise his integrity?
The middle class needs help. Small businesses need help. The American people need help. And here's the "straight talk"—we've got to generate tax revenue to offset the reckless spending of the past eight years. This will happen through smart health-care initiatives and tax cuts targeted to those the hardest hit by today's economic collapse. It is not "socialistic" to target tax relief beyond the wealthiest Americans, which was Bush's approach and is now McCain's. "Trickle down" did not work—although plenty of the spoils went to shareholders and CEOs of the companies getting the most tax relief and incentives. Small businesses that make less than $250,000 a year in profits will benefit from Obama's tax cuts. And people clearing more than $250,000 per year can afford a return to Clinton-era tax levels. And even McCain's economic adviser Douglas Holtz-Eakin admitted Tuesday that Americans' current employer insurance policies are better than McCain's plan.
Mississippians also cannot afford the "hatchet" that John McCain would bring to any kind of federal funding that helps our state. He would "freeze spending" in his words, and stop even the kinds of "pork" that helped rebuild the Gulf Coast after Katrina. Yes, earmarks will require a sharp scalpel, but McCain's no-pork-never-ever approach will hurt Mississippi severely.
Almost by coincidence, Obama offers the U.S. a poignant fringe benefit: This inspirational man happens to be African American. His race is no reason to endorse him or vote for him—we sure didn't endorse Democrats Al Sharpton or Frank Melton based on their race—but it does mean that today's toddlers of all backgrounds will grow up believing that they can be president, and that is no small feat in a country still plagued by race issues, as the McCain-Palin campaign has shown. It is also a way for our country and our state to show and say, "We're in this together."
We believe strongly that Barack Obama will be an amazing U.S. president who will help mend division, partisan and otherwise. Please vote for the future on Nov. 4. Lasting solutions are found in hope, never fear.
U.S. Senate – Ronnie Musgrove
This is a race we would pass over if it weren't for one important factor: public education. Democrat Musgrove works for it, and Republican Roger Wicker works against it. It is vital to help American families by repairing No Child Left Behind, and that means overhauling and fully funding requirements imposed by the federal government.
In addition, in a race marked by very ugly and petty campaign ads, Musgrove's are at least less offensive than Wicker's. It is tragic to see the difficult issue of homosexual rights, regardless of where you stand on it, reduced to a nonsensical "Village People" joke. Such ads insult every Mississippian.
Remember: This race will not indicate political party affiliation as it is a special election. Vote Musgrove for Senate.
U.S. Senate – Erik Fleming
This one was hard for us. The JFP did not endorse Erik Fleming in his recent legislative battle, and we have supported Sen. Thad Cochran in the past, due to his seniority in a Republican Congress, which happened to make him one of the biggest earmark kings in the U.S. Senate. And compared to Trent Lott, he at least seemed more progressive.
We are no longer sure, however, that Cochran offers much to the state. With his party out of power, his seniority means much less, and he has voted in ways that insult the increasingly progressive state we are becoming. He is against any federal funding of education, and he even voted against a symbolic resolution for the U.S. Senate to apologize for historic lynching. Lynching. Meanwhile, he represents the state that suffered the most of them.
Not fans of Fleming's record on women's issues, we don't find Cochran's any less offensive. And Fleming takes a progressive stance on other red-meat issues that will face our state, and could be a next-generation leader in Washington. Vote Fleming for Senate.
Supreme Court, Central District – Jim Kitchens
This is as much a vote against Supreme Court Chief Justice Jim Smith as a vote for Jim Kitchens. Smith has led a divisive, politically driven court that routinely rules against verdicts that benefit plaintiffs who have been harmed by corporations and doctors, regardless of circumstance. His campaign ads show that he makes no bones about being anti-citizen in the "tort reform" battle.
We find that Smith is one of the worst kinds of judicial activists—someone who plays unapologetic politics from the bench. It is time for him to go, and be replaced by Kitchens, whom we believe will bring a more moderate and thoughtful and less predictable approach to judicial decisions. Vote Kitchens for Supreme Court.
See the JFP Politics Blog for past detailed policy stories on all these issues.
Previous Comments
ID

140012

Comment

OK, JFP, you have convinced me. I was seriously planning on skipping the US Senate section of the voting screen. I really, really don't like Wicker and I really don't like Musgrove. That is one more "really" on Wicker. That, and what you said about education has convinced me. I will hold my nose and vote for Musgrove. Being so proud about voting for Obama will overpower that dirty feeling I will have for voting for Musgrove. Great info here... It should be required reading for all Mississippians.

Author

Tre

Date

2008-10-30T12:28:52-06:00
ID

140018

Comment

I'm going to go ahead and say I'm not voting for Fleming. Some of you guys might remember why. :) The main reason being I don't like to vote for people that are SCARED of me. That, and his ideas concerning women's issues are just too much for me to bear. Since it wasn't listed above: He believes in abstinence-only education and is staunchly pro-life.

Author

Lori G

Date

2008-10-30T13:16:24-06:00
ID

140025

Comment

Baquan, people tend to think Cochran is moderate, but he's really not, according to voting records. And his stance on education is unconscionable. I feel you, Lori. On his one, we had to balance our emotions about Fleming's women talk with Cochran's refusal to apologize for lynching, ye old moderate that he is. So we let the education card decide. Speaking of Cochran, though, has anyone else noticed the hypocrisy coming out of people like Andy Taggart and Sid Salter at the Ledger, who are going after Ronnie Musgrove for criticizing earmarks, but who presumably are supporting John McCain. (We know Taggart is.) Does he not know that McCain wants to stop ALL earmarks, regardless of what it's to be used for. Of course, McCain is a hypocrite, too, considering that he has both gotten earmarks and chose a running mate who is the queen of earmarks to Cochran being the king.

Author

DonnaLadd

Date

2008-10-30T14:10:03-06:00
ID

140028

Comment

Thad has been around a tad too long. Consequenlty, some of us are mad and will be glad when his sad butt is gone. Moreover, he refuses to move past his ole miss training.

Author

Walt

Date

2008-10-30T14:20:40-06:00
ID

140060

Comment

Fleming's terrible on abortion rights, but remember that he voted against the anti-gay marriage amendment and tried to repeal the sodomy law prior to Lawrence v. Texas. He was also one of the legislature's leading advocates for immigrants' rights, and he proposed a resolution every year to abolish capital punishment. Also worth mentioning that, although Fleming is indeed an abstinence educator, he supports comprehensive sex education. I didn't vote for Fleming in 2006 because I took NARAL's Pro-Choice Pledge, and I endorsed Kimberly Campbell before she defeated him in the District 72 primary last year (and I'm glad she did), but this year I'm going to vote Fleming over Cochran without any real regrets. It would be nice if we had a pro-choice candidate but if I eliminated every Mississippi candidate who wasn't pro-choice from the slate, the only Democratic member of our national delegation would be Bennie Thompson. I feel like some conservatives have been manipulating me on this and other points, to their amusement. I want to change the culture and stand up for women's lives but at the same time I don't want to be a pawn of people who care even less about women than the conservative Democrats do. Musgrove is the one I have a harder time with because in addition to having the wrong views on abortion, he has the wrong views on every single issue I praised Fleming on in the first paragraph. I realize Musgrove is better than Wicker but I don't know if I'm physically capable of voting for a guy who has built his entire campaign on nativist racism, homophobia, fearmongering, and intimations of theocracy. But he's good on health care and education and no worse than Wicker on the other stuff (and Wicker has after all built his campaign on the very same things), so if I vote in the race, it'll be for Musgrove. Nobody should vote for Roger Wicker; on that I think we can agree.

Author

Tom Head

Date

2008-10-31T12:03:27-06:00
ID

140071

Comment

JFP endorses Obama? What?!?! You don't say!! A newspaper in Mississippi endorsing a socialist Muslim? What is this world coming to.

Author

golden eagle

Date

2008-10-31T14:20:10-06:00
ID

140074

Comment

Snicker. I actually had a conversation last night with a photographer from another publication who started talking how Obama scared him because he's a socialist. I asked him where's getting it, and specifically how he scares him. He mentioned that radio interview where Obama said "redistribution" in the context of opposing judicial activism on the court (which seems to pass over the head of many armchair Republicans), and couldn't come up with a single other thing. Remarkable. People need to get a bit of education. He told me that he had a book he wanted me to read. I told him I had a library I'd like him to read.

Author

DonnaLadd

Date

2008-10-31T14:26:57-06:00
ID

140075

Comment

You make a good point, Tom, about Musgrove. He's spend so much time pandering to the radical right that he may lose this election because so many progressive Mississippians don't bother to vote for him. I wouldn't if it weren't for his stand on education.

Author

DonnaLadd

Date

2008-10-31T14:28:00-06:00
ID

140090

Comment

Can anyone tell me what "Mississippi values" means when used in candidates ads? Just asking.

Author

annyimiss

Date

2008-10-31T21:56:37-06:00
ID

140093

Comment

anny, "mississippi values" are pro life, pro family, pro marriage, pro religion, and pro gun. and anti anything that doesn't conform to these. what they don't tell you is that (i'm putting my foot in my mouth here)...mississippi values are also biggoted and backwards in many, many ways. conveniently left out because all the other sounds so "baseball, mom, and apple pie", right??

Author

2599

Date

2008-11-01T00:10:18-06:00
ID

140098

Comment

The Ledger followed our lead–smile–and endorsed Obama today. Funny that they talk about the McCain family in Carroll County honorably, yet never mention all their slaves. Still this is good to see. I didn't know if they had the "courage" on it. They, after all, endorsed Bush twice and Frank Melton for mayor. Maybe making such awful mistakes then had something to do with it.

Author

DonnaLadd

Date

2008-11-02T08:20:49-06:00
ID

140101

Comment

I'm actually PROUD of them. I didn't think they would do it. I was so excited that I had to wake up The Man and it was the first thing I said to him this morning. "The CL ENDORSED OBAMA!!" (I think he was more excited about the time change. He went straight back to sleep) Although I will admit, it was sort of a "Aw shucks, we're really sorry we have to do this, but ...we're endorsing Obama" endorsement (as they talked about McCain MORE than Obama in the article). I am currently waiting for the heads of several "regular" posters over there to explode all over their monitors as they see the CL has indeed endorsed HUSSEIN.

Author

Lori G

Date

2008-11-02T08:59:15-06:00
ID

140103

Comment

Stop the press! I couldn't believe it when I saw the C-L endorse Obama. I thought for sure they would somehow endorse McCain, but welcome to the party, C-L. Won't be long until the letter-writers start saying how liberal the C-L is.

Author

golden eagle

Date

2008-11-02T13:11:21-06:00
ID

140104

Comment

The Clarion Ledger is run by a black man of great social, political, economical and progressive wherewithal. Y'all didn't know? He's not without his finger on the pulse of the community, nation and world. He's my church member and we're tight.

Author

Walt

Date

2008-11-02T16:15:20-06:00
ID

140105

Comment

A wangnut somewhere has already figured out what the CL endorsement must signify: The Islamic socialists have taken control at the CL (audible gasp). I was surprised they criticized McCain's sleazy race-baiting after having praised McCain's campaign only a few days ago. I am glad for all the sane folk to get off the sinking ship, but that is a King Kong back flip dismount at the last possible moment. I give them a 10 on the 10 point scale due to degree of difficulty.

Author

FreeClif

Date

2008-11-02T19:16:01-06:00
ID

140110

Comment

but that is a King Kong back flip dismount at the last possible moment. Tee, hee. Indeed. McCain's campaign has been the lowest of the low, absolutely execrable, and everybody knows it, even his supporters. God willing, this election will mark the end of Atwater-Barbour-Rove-style hatemongering, at least as a viable force to win.

Author

DonnaLadd

Date

2008-11-03T10:28:31-06:00
ID

140111

Comment

I suspect it was a tough one for them–either endorse McCain and go against the vast tide of American dailies, and perhaps be seen as endorsing his tactics from the heart of Mississippi, or climb back on the high horse and live up to the (overblown) racially progressive reputation they've developed nationally. Plus, I doubt seriously that they want to be on the wrong side should Palin become president, which would be statistically likely with McCain's age and health. They mucked up so royally and stupidly by endorsing Bush twice and Melton. They're playing it safer here. Too bad they endorsed Jim Smith, though. That man is nothing if not a partisan and an ideologue, in the pocket of the U.S. Chamber. Of course, so was the Ledger during the whole "jackpot justice" debacle. Talk about something else they were terribly wrong on (which got them dinged by the General Accounting Office of Congress for pushing myths about "lawsuit abuse"–but I digress.)

Author

DonnaLadd

Date

2008-11-03T10:32:59-06:00
ID

140112

Comment

I guess these are even stranger, but still welcome: http://www.salon.com/opinion/feature/2008/11/03/racists_for_obama/print.html A local tie in is a relative was canvassing in another part of this state and they observed a huge Confederate flag in the window of a trailer. While talking to an African American resident who lived nearby, she (the Af Am neighbor) told them not to worry about the Confederate flag that the guy living there was o.k. --- he was married to an African American woman. The neighbor asked for extra literature and stated she would take it over to the neighbors with the Confederate flag. I hope these are signs that the times are changing. We cannot just assume that because someone is flying a Confederate flag that they may not agree with us on important things. Maybe next time around we will see :-)!

Author

FreeClif

Date

2008-11-03T11:34:09-06:00
ID

140119

Comment

I didn't know women had this much power :-)! Another unorthodox endorsement: http://news.yahoo.com/s/csm/20081103/cm_csm/ycurley;_ylt=AqAV49rxzgeAb49bK0FB0h4DW7oF

Author

FreeClif

Date

2008-11-03T13:01:02-06:00
ID

140121

Comment

Whitley, I've seen people put the flag away after meeting me. And I've seen people get rid of it after learning it offended so many blacks. However, I'll err on the side of caution, and continue to believe in some fixed manner that you can't love me and that flag equally or comparably. But I'm not opposed to some brothers with lots of free time assuming otherwise and visiting every house comprising the rebel flag to collect impirical data. The proof would be more convincing to me if the brother or brothers made their visits under the color of night, without any weapons or police accompaning them, and with a fine white girl on their arms. If they makes it out of there alive, I'd be finally convinced the flag has nothing to do with race or hatred of me. LOL. It get your point loud and clear though.

Author

Walt

Date

2008-11-03T13:13:39-06:00
ID

140125

Comment

Oh Walt, baby, you're coming from the left over reaching on me like the dude or lady who wanted to say I hate old people and high school graduates :-)! I was not implying the rebel flag ought not to make you nervous. It still makes me nervous. I am just pointing out that not ALL the rebel flag lovers wear pointy hats at night! We need every vote doggone it!

Author

FreeClif

Date

2008-11-03T13:41:23-06:00
ID

140126

Comment

I agree with the points you were making, Whitley. I was just having a little fun while pointing out we might want to be careful about assuming anything unusual along the lines of that flag until Obama gets in office and soften the hearts of our cousins a little more. Once the rebel flag possessors get those tax breaks, and start to come up in the world due to Obama's policies, I expect them to say it ain't nothing wrong with being, young, gifted and black. Some of the white boys might start to do as Jim Rome often does when some country southern white boy not knowing his race asks him his race. He tells them he's white but he wish he were black. Obviously, they don't know what to say to that and just hang up, then he cracks up laughing at them. Certainly, your point is well-taken.

Author

Walt

Date

2008-11-03T13:57:19-06:00
ID

140128

Comment

Here's some good advice from an e-mail from a woman with the local Democrats: I want to suggest that we stock our cars with water, snacks, a folding chair or 2, and a walker if we have any around the house. As we move around the precincts, be observant of the elderly or handicapped in long lines. They may not want to sit and have to get up and down; but, a walker or walking stick that they can lean on will be welcomed. I'm definitely putting water and folding chairs in my car just in case.

Author

DonnaLadd

Date

2008-11-03T14:32:14-06:00
ID

140131

Comment

Andrew Sullivan gives his very powerful endorsement of Obama today, starting with an indictment of Bush-Cheney that takes no prisoners: At its best, the Iraq war will lead to a fractured petro-state, closely allied with Iran, beset by constant infighting and terrorism. At its worst, Iraq will keep over 100,000 young Americans trapped there for the rest of our lives. The war in Afghanistan against the Taliban is at a seven year nadir. Now the really bad news: the view of co-presidents Bush and Cheney is that this is a war that can and should be controlled by only one branch of government and a war in which the job of the citizenry is to shop. It is a global war where force of arms remains too often a first resort and in which talking to our enemies is regarded as "the white flag of surrender," instead of another tool at our disposal. It is a war Cheneywinmcnameegetty where the American government has alienated - in some cases deeply - democratic allies whose police work and intelligence we desperately need. I do not doubt that military force is part of the mix to defeat this threat. (Like everyone else, I'm heartened that general Petraeus has introduced some minimal intelligence into the occupation of Iraq, although I fear it has merely made our presence more protracted and our withdrawal more difficult.) But the crudeness with which military force has been deployed, the absence of strategy or even due diligence in the execution of the long war, and the massive public relations blunders which have led the United States to lose a propaganda war against a bunch of murderous, medieval loons are unforgivable. These mistakes were compounded - and in large part created - by what I believe will one day be seen as the core event of the last eight years: the collapse of constitutional order and the rule of law fomented in a mixture of hubris and laziness by the president himself. It is now indisputable that the president and vice-president of the United States engineered a de facto coup against the constitution after 9/11, declaring themselves above any law, any treaty, and any basic moral norm in their misguided mission to rid the world of evil. This blog has watched this process with increasing dismay - and watched several attempts to bring the US back to sanity foiled by a relentless and unhinged vice-president's office.

Author

DonnaLadd

Date

2008-11-03T14:56:49-06:00
ID

140133

Comment

Then the Obama part, which is so refreshing in a world where so many of the most outspoken "conservatives" are acting like uneducated imbeciles: If I were to give one reason why I believe electing Barack Obama is essential tomorrow, it would be an end to this dark, lawless period in American constitutional government. The domestic cultural and political reasons for an Obama presidency remain as strong as they were when I wrote "Goodbye To All That" over a year ago. His ability to get us past the culture war has been proven in this campaign, in the generation now coming of age that will elect him if they turn out, in Obama's staggering ability not to take the bait. His fiscal policies are too liberal for me - I don't believe in raising taxes, I believe in cutting entitlements for the middle classes as the way to fiscal balance. I don't believe in "progressive taxation", I support a flat tax. I don't want to give unions any more power. I'm sure there will be moments when a Democratic Congress will make me wince. But I also understand that money has to come from somewhere, and it will not come in any meaningful measure from freezing pork or the other transparent gimmicks advertized in advance by McCain. McCain is not serious on spending. But he is deadly serious in not touching taxes. So, on the core question of debt, on bringing America back to fiscal reason, Obama is still better than McCain. If I have to take an ideological hit to head toward fiscal solvency, I'll put country before ideology. Rumsfeldjimwatsonafpgetty But none of this compares to the task of restoring the rule of law and Constitutional balance. Unlike McCain, Obama has never wavered on torture or habeas corpus or on keeping the executive branch under the law. His deep understanding and awareness of the Constitution eclipses McCain's. Coming from the opposing party, he will also be able to restore confidence that what lies within America's secret government - the one constructed by Bush and Cheney beyond any accountability, law or morality - will be ended or cleaned up. He can restore critically needed trust again - and force the Democratic party to take responsibility for a war which we all need to own, and take responsibility for, again. Be sure to read the whole thing.

Author

DonnaLadd

Date

2008-11-03T14:59:11-06:00
ID

140137

Comment

. That is what some of the pretend to be conservatives have not done for the last eight years. I heard about Obama's grandmom also on Baisden's show. Sad. My maternal grandmother's death hit me harder than any other since I have lived because your grandmother will often take your side even against your mother! As in that song by Bill Withers --- . Grandma's hands used to ache sometimes and swell. She said Johnnie don't spank that boy. He didn't throw no apple core, but I don't have grandma anymore. Sometimes I still need grandma's hands...

Author

FreeClif

Date

2008-11-03T15:51:20-06:00
ID

140138

Comment

I sho' wanted her to see and/or hear while living that her grandson and supporters had put the smack down on those repugnant republicans and conservatives.

Author

Walt

Date

2008-11-03T15:52:19-06:00
ID

140140

Comment

I know, me too, Walt. But she was really sick, bless her heart. Meantime, very good news on the voting front: One in four registered voters has already cast a ballot, according to a CBS News poll released Sunday night, and the early voters favor Mr. Obama by a 15-point margin. In some battleground states, the wave of early voters more resembles a tsunami. In Colorado, the number of ballots already cast this year equals 74 percent of the state's total turnout in the 2004 election, according to data compiled by Michael McDonald, an associate professor at George Mason University. Voting in Georgia has already reached 60 percent of the 2004 mark, and in nearby North Carolina, the figure is 73 percent. "It's pretty incredible," Dr. McDonald said. "We're at a loss for words, quite frankly." As a practice, I refuse to predict outcomes of elections, but I do get the feeling that a whole bunch of voters are coming together to send a collective F-You to a certain party, and one that has tried to keep millions of them from voting.

Author

DonnaLadd

Date

2008-11-03T16:01:50-06:00
ID

140141

Comment

Meantime, Kos is reporting: "If it wasn't so pitiful, it would be funny. On the day before the election, the California Republican Party has filed a complaint against Barack Obama and his campaign: Obama for America violated federal law by converting its campaign funds to Senator Obama's personal use. Senator Obama recently traveled to Hawaii to visit his sick grandmother...Therefore, the Obama Campaign violated the FEC's ban on "personal use" of campaign funds when it paid over $100,000 for the Campaign's charter to fly to Hawaii without obtaining reimbursement from Senator Obama." Just how low can you go? (One does wonder who was paying for the Palins to go back and forth to Alaska to deal with Troopergate during the campaign. Apparently, the state of Alaska is paying for a friend of Palin's to help her out on the trail. Maybe that chick did the shopping.

Author

DonnaLadd

Date

2008-11-03T16:03:40-06:00
ID

140157

Comment

What in hell is Wicker up to? Do Republicans think they're going to lose Mississippi to Obama? If not, why are they working so hard to draw his voters to Wicker?

Author

DonnaLadd

Date

2008-11-03T17:54:30-06:00
ID

140159

Comment

Eek: Bush endorses McCain's economic ideas. Take cover!

Author

DonnaLadd

Date

2008-11-03T18:04:50-06:00
ID

140175

Comment

Welcome to the Socialist States of America. The Gestapo is on it's way to help you.

Author

wade G.

Date

2008-11-04T10:38:14-06:00
ID

140178

Comment

Wade, aren't you mixing your political scare metaphors? Guess you're not the only one. ;-)

Author

DonnaLadd

Date

2008-11-04T11:06:27-06:00