Best Place to Break Up, Best Free Internet Connection: Cups Multiple locations, 601-362-7422
Sure, you're homeless, but you've got your laptop and a bottle of the Dog. That means one thing: You're headed to Cups.
You sip at your Mad Dog cappucino and look away from your screen to the serious young couple at the next table over sparring in hushed argument. She is as fresh as the rain that falls in diaphanous curtains over the cars in the Rainbow parking lot. He is a hipster at best, stinking of patchouli and feigned ambition. How could he have fallen asleep while pretending he wanted her? Now he does want her, and it's far too late. She slides away from the table, her metal chair groaning as it scrapes across the concrete.
There is nothing left to do but throw himself in a heap on the floor by the golf ball, which sees and knows all. "Why, sweet golf ball?" he asks in a sob. "Why?"
— Brian Johnson
Best Place to Break Up
Second: Fenian's Pub (901 E. Fortification St., 601-948-0055); Voodoo Lounge (824 South State St., 601-351-3300) / Third: Ross Barnett Reservoir / Funny: "901 N. Congress :-("; Babe's; Bass Pro Shop; "over the Spillway Bridge"; Capitol Veranda, MySpace
Free Internet Connection
Second: Computer Co-op (2807 Old Canton Road, 601-981-6925 / Third: Banner Hall; Last Call (3716 I-55 N., 601-713-2700 / Good showing: Fusion Coffeehouse (1111 Highland Colony Pkwy, Ridgeland, 601-856-6001)
Best Place to Buy Art: Brown's Fine Art 630 Fondren Place, 601-982-4844
Offering a dizzying array of art-related customer services, Brown's Fine Art is the art buyer's equivalent of a one-stop shopping experience. Not only can you view a diverse collection of artworks (from bronze sculpture to silkscreen prints), but you can have your piece custom framed as well. You can arrange for a consultation to find artwork that suits your budget and your space. Brown's also offers an installation service, ensuring that your purchase will be displayed to maximum effect. Other services offered by this family-run business include art appraisals, cataloguing and restoration.
— Nientara Anderson
Second: Chimneyville Crafts Gallery (1150 Lakeland Drive, 601-981-2499) / Third: Fondren Art Mix
Best People Watching: Northpark Mall 1200 East County Line Road, Ridgeland, 601-957-3744
I'm impressed, guys: Northpark Mall is a bold choice for people-watching category. You are looking us straight in the eye and saying, "That's right, I people watch, and I have no shame." At Cups, you can strategically place a book, a laptop or a latte in front of your face, not quite covering up the eyes, and stare away. But at the mall? That's it—you're staring. People are shopping, and you are dissecting the details and motivations behind every ill-fitting pair of pants, every awkward sport-sandal-and-tube-sock combo. But be careful: They may be watching you, too.
— Margaret Cahoon
Second: Fondren Corner (2906 N. State St.) / Third: Broad Street/Banner Hall (4465 I-55 N, 601-362-2900) / Good showing: Cups (multiple locations, 601-362-7422)
Best Alternative to Wal-Mart: Target
6365 I-55 North, Jackson, 601-956-1150
Target continues to offer many of the big-box advantages of Wal-Mart with a nod to the urban hipster--hence the faux French pronunciation--that resonates with voters. Yes, there's a big, big box version out in Flowood, but that stalwart Target store located right inside the Jackson city limits is, hopefully, offering up a nice chunk of property taxes annually. Not to be left out are solid choices in Fred's and Walgreen's, the latter of which came in handy for your intrepid blurb writer late on Christmas Eve.
The vote for "Nowhere, Suckas!" made us feel honored that Shaft took the time out to vote, even if he is, apparently, a Wal-Mart fan.
— Todd Stauffer
Second: Fred's (multiple locations) / Third: Walgreen's (multiple locations) / Good showing: McDade's (multiple locations)
Best Thrift/Consignment Shop: The Orange Peel
3026 N. State St., 601-364-9977
I've said it before, and I'll say it again: Every city worth living in has at least one amazing vintage-clothing store. Thanks to Kristin Tubb, Jackson now has one of the best I've ever shopped in: The Orange Peel. What's so great about it? Kristin's sense of style of quirk, to start. Second, it's in the heart of Fondren where people support creative shopping. Third, it's cheap. Fourth, the selection is remarkable, with clothes and shoes in a wide variety of sizes, not just tiny stuff most of us can't wear. Orange Peel is simply the best.
— Donna Ladd
Second: NUTS (114 Millsaps Ave., 601-355-7458); Salvation Army (110 Presto Lane, 601-982-0253) / Third: Bargain Boutique (5070 Parkway Drive, 601-991-0500) / Good showing: Private Collection (101 Village Blvd., 601-607-6004)
Best Locally Owned Business: McDade's Grocery
Maywood Mart, Belhaven, Westland Plaza, Woodland Hills,
http://www.mcdadeswineandspirits.com
We were thrilled to see that our readers rewarded Kathy and Greg McDade for the second year in a row with this honor. Last year, the city was stoked that the couple stepped up when big grocery-store chains pulled out of Belhaven and Fondren, and opened local grocers where you can actually request that items be added to the shelves. This year, the McDades really went the extra yard—bringing a grocery store back to Westland Plaza in a community that is too often under-served and unappreciated by the corporates. And they renovated the old Maywood store into a more gourmet store. Oh, and what other grocer is going to allow the local alternative weekly to Photoshop him in ridiculous, but delightful ways every single week—from being the Easter bunny to a buff football player!?! We love the McDades, and we appreciate what they do for this community (and their fab beer selection).
— Donna Ladd
Second: Back & Neck Pain Clinic (6500 Old Canton Rd., Ridgeland, 601-956-0010) / Third: Rainbow Whole Foods (2807 Old Canton Road, 601-366-1602) Good showing: Lemuria (Banner Hall, 601-366-7619); Bravo! (Highland Village, 601-982-8111)
Best Liquor/Wine Store: Kats
901 E. Fortification,
601-354-9181
Kats has been selling Jacksonians vino and liquor since 1967, and its location today, just east of Fenian's, makes it the most convenient stop for anyone living in Belhaven. The staff at Kats tells it straight—they can guide you to a dry Riesling (yes, there is such a thing) or a jammy Cabernet. And let's not forget our good friend liquor, for those nights when fancy gives way to frenzied. Whatever your drinking needs, Kats will deliver. (Unfortunately, they don't actually deliver.)
— Brian Johnson
Second: McDade's (1220 E. Northside Drive, 601-366-5676) / Third: Briarwood (4949 Old Canton Road, 601-956-5108) / Good showing: Joe T's (286 Highway 51, Ridgeland, 601-605-7602); Wine & Spirits (1855 Lakeland Dr # A10, 601-366-6644)
Best Window Shopping: Highland Village
I-55 North, 601-982-5861
One could easily dismiss Highland Village's window shopping as boutique shopping, but the sunshine without the tacky big-box front doors can actually heal depression and increase sex drive, as my husband well knows. If you've got a full day for retail therapy, hit the Fondren District where shopping goes from square footage to square mileage, and there are choices for every budget. Think Rooster's to Walker's and NUTS to Tree House. The only thing missing from these shop windows is a chocolate-and-wine-by-the-glass concept. Now someone, make that happen, and we'll also have the cure for joint and arthritis pain.
— Emily Braden
Second: Fondren (601-981-9606) / Third: Dogwood Festival Market (Lakeland Drive, 601-992-7560)
Good showing: Northpark Mall and Metrocenter Mall
Best Hairstylist: Morgan Cook at Gloss
Pear Orchard Village, County Line Road, 601-206-9211
It's not easy keeping customers happy when it comes to their crowning glory, but Morgan Cook's satisfied customers say that he outshines all other hairstylists in town. I've had dozens of hairstyles, and it's taken way too long to find the style that me and my cowlicks can live with. Once I found the right stylist, my tresses became his for life. We all have different tastes and styles, and Morgan does it all.
— Ronni Mott
Second: Brian Brower (Tangle, 603 Duling Avenue, 601-987-0123) / Third: Troy Fisher / Good showing: Roxanne Rogers at Stella's (3543 Britton Avenue, 601-366-3770)
Best Tattoo/Piercing Parlor: Squench's
3780 I-55 South, 601-372-2800
Squench has been leaving his mark on Jacksonians (and anyone else who stops through) since 1985. Three other tattoo artists have joined him since then, as the demand for and popularity of "ink" and piercings has grown. The most popular piercings done at Squench's are belly-button piercings, and you can get just about anything tattooed or pierced there, except for hands and face. If you have been contemplating taking the plunge and getting some ink for yourself (or a navel ring), take the short drive down I-55 South and go see Squench.
— Andi Agnew
Second: Ink Spot (205 W. Capitol St., 601-352-4700)
Third: Eternal Body Art (3611 I-55 S, 601-346-5963)
Best Day Spa: Aqua Day Spa
Banner Hall, 601-362-9550
Best Beauty Shop: Barnette's
Banner Hall, 601-362-9550
Barnette's Salon and Aqua the Day Spa tag team first place with spa packages from head to toe. Rumor has it that stylist positions at Barnette's are tough to get and even harder to keep, with lots of continuing education required. One should schedule appointments well in advance, or take a chance with a new hire. That's how I found Kim, and her upper-level station provides a nice respite from the chattier lower level. Aqua appointments, with the exception of massage sessions, need less pre-planning, and the prices are very moderate.
Like Aqua, Trio's spa services include facials, manicures, pedicures, massages and waxing. Employees are patient with new customers, and they are especially sensitive to privacy. I graduated Trio with My First Bikini Wax, and I recommend all other virgins do the same. Massage can range from deep tissue to just a good back rub.
Optimum Health Institute is the place to go when you're ready for some serious spa. Dr. Joseph White is on-site, which makes for a happy facial. With a physician on-site, Optimum is able to treat mild to severe skin problems, plus they offer foot detox treatments and colon hydrotherapy.
— Emily Braden
Best Day Spa
Second: Trio (4812 Lakeland Drive, Flowood, 601-608-3223) / Third: Optimum Health Institute (Dogwood View, 601-366-7447)
Best Beauty Shop
Second: Switzer's (5009 Parkway Drive, 601-956-1371)
Third: Tangle (603 Duling Ave., 601-987-0123)
Best Veterinarian: Dr. Adrian Whittington, North State Animal Hospital
5208 N. State St., 601-982-8261
I've been very fortunate to be a customer—a very good one, I might add—at North State, helmed by Dr. Whittington. The folks at North State call all my critters "babies," and they take care of them. When Willie demolished his foot, they got on the phone with Mississippi State for a second opinion and acted like Willie's foot was the most important case they ever had seen. They give discounts when you bring in strays, helping our city's most helpless "babies." I salute them.
— Donna Ladd
Second: Dr. Kenneth Jeanes at Northtown Animal Clinic (38 Northtown Drive, 601-956-4960) / Third: Northside Pet Clinic (4066 Northview Drive, 601-366-1461)
Best Cheap Workout: YMCA
Multiple locations, 601-948-4143
Does the thought of spending $200 a month on a gym membership make you queasy? If so, put on some ratty old clothes and join me down at the YMCA. People at the Y won't look askance at you when you fly off the end of the treadmill or when your shoe laces get tangled in the recumbent bicycle. In fact, I think they might hum the theme from "Chariots of Fire" just to keep you moving. And, if you can exercise by having sex, I recommend it.
— Brian Johnson
Second: Courthouse Racquet & Fitness (2625 Courthouse Circle, 601-932-4800)
Third: Parham Bridges Park (5055 Old Canton Rd.) / Good showing: Sex, First Baptist, "Get out and walk, you lazy bastard"
Best Yoga Instructor: Barbara Nobles at Body Benefits
731 Pear Orchard Road #30, 601-991-9904
In person, Barbara Nobles is so energetic that it's hard to imagine her in a stationary yoga pose. But don't be misled, she understands that yoga is about patience and gradual understanding. Although Nobles has been in the fitness industry since 1988, she discovered yoga in New York in 1999 when she was looking for exercise that would be kinder to her body. Since then she has become a Yogafit master trainer and has helped many others find balance and physical fitness through yoga. At Body Benefits, she teaches Hatha Yoga in the Vinyasa style.
— Nientara Anderson
Second: Scotta Brady at Butterfly Yoga (3025 N. State St., 601-981-6449) / Third: Jean Powers at Courthouse (2625 Courthouse Circle, 601-932-4800) / Good showing: Tara Blumenthal at Butterfly Yoga (3025 N. State St., 601-981-6449)
Best Place to Buy Books: Lemuria
4465 I-55 North, 601-366-7619
We love Lemuria's independence. Locally owned, and supporting our local writers, Lemuria's staff and store offers Jackson alternate shelves to what big box's tell us to read. Lemuria's first edition club will get you a monthly signed first-edition book; past features include John Grisham, Jill Conner Browne and Sonny Brewer's "Blue Moon Café'." Each week, book lovers can attend a signing and reading by both up-and-coming and established authors.
— Emily Braden
Second: Barnes & Noble (107 E. County Line Road, 601-991-3835) / Third: Border's (100 Dogwood Blvd., Flowood, 601-919-0462) / Good showing: Books-A-Million (4950 1-55 N, 601-366-3008); Choctaw Books (926 North St., 601-352-7281); Yellow Dog Books (100 Depot Drive, Madison, 601-605-8955); NUTS (114 Millsaps Ave., 601-355-7458)
Best Boutique: Treehouse
3000 N. State St., 601-982-3433
There are some people who like to shop, and there are others for whom it is a passion. If you're one of the former, it's quite possible that you would walk into Treehouse Boutique and not realize the jewel into which you've set foot. The shopping connoisseur realizes immediately, and becomes euphoric as a result. The fashion emporium sells apparel and accessories with 5th Avenue style, and southern charm. That's why they're simply the best.
Wilai, the same people who brought Soma to you, are also friendly to the fashionistas, which is why they won second place in this category.
— Natalie A. Collier
Second: Wilai (2763 Old Canton Rd., 601-366-9955); Fetish (4465 I-55 N, 601-98-9961) / Third: Migi's (5352 Hwy 25 #100, 601-919-8203); High Cotton (4500 I-55 N #188, 601-982-3280); Orange Peel (3026 N. State St., 601-364-9977)
Best Massage Therapist: Bill Barksdale
1900 Dunbarton Dr., 601-987-5848
When you have aches and pains because you've spent the weekend cleaning out the garage or chasing the dog, or you're having trouble relaxing after a particularly pressurized work-week, having a massage will put you right with the world again. Massage provides a healing touch to stiff, sore muscles, and can give you with an overall feeling of wellness; it can reconnect you to yourself and the human race. The more you relax into it, the deeper Bill Barksdale goes with you into that calm, clear space. Healing hands are the essence of a good massage, and Barksdale surely delivers. Therapy, indeed.
— Ronni Mott
Second: Erik MacKinnon (3915 N. State St., 601-540-4756) / Third: Brenda Vaughn (601-366-8598) / Good showing: Marty Bell (Body Benefits, 731 S. Pear Orchard Rd., Ridgeland, 601-991-9904)
Best Place for a First Kiss: Ross Barnett Reservoir
Ah, romance! A light breeze tickles the surface of the fog-shrouded water gently lapping the shoreline. A snowy egret struts majestically in the shallows, while a family of mallards leads their young to deeper water. You're away from the noise of the city—birdsong fills your ears, your eyes drink in the features of your companion in the soft light. Words aren't necessary: love is in the air. Your lips brush, almost accidentally, but the kiss is destiny—you'll be telling your grandchildren about it.
— Ronni Mott
Second: Smith Park (302 Amite Street)
Third: Fenian's (901 East Fortification Street 601-948-0050); Fondren Corner Rooftop (the corner of Fondren Place and State Street)
Best Fitness Center: Courthouse Racquet & Fitness
2625 Courthouse Circle and other locations,
601-932-4800
Repeating their "best of" win from last year, Courthouse locations provide a free hour with trained personnel to show you how everything's done so you won't hurt yourself while you're getting ready for beach season. That little bikini you've promised yourself is really within your reach. You can swim and take scuba classes in their pools, sweat it out on any number of high-tech machines, lift weights, play tennis or racquetball, or take a pilates or aerobic class at almost any hour of the day.
— Ronni Mott
Second: Healthline at St. Dominic's (970 Lakeland Dr., 601-200-4925) / Third: Downtown YMCA (800 E. River Place, 601-948-3090) / Good showing: Baptist Healthplex (717 Manship St., 601-968-1766); Body Benefits (731 S. Pear Orchard Rd., Ridgeland, 601-991-9904)
Best Chiropractor, Best Doctor: Dr. Leo Huddleston
6500 Old Canton Road, Ridgeland, 601-956-0010
"Oh my aching back!" It's the price we pay for walking upright: back problems. We're just not meant to walk on two legs. Now, if you're thinking "cracking your back" is the sole purview of a chiropractor, think again. While still focusing on the back, doctors of chiropractic like Dr. Leo Huddleston will tell you that there are numerous signs and symptoms that can occur because of vertebral subluxation—a misaligned or dysfunctional spinal segment. Because a spinal joint out of alignment can change your nervous system's proper circulation, it can affect both organ function and general health—not to mention give you one major pain in the … back. Providing pain relief for Jackson's spines is Huddleston's specialty and it's obviously well appreciated by his patients.
— Ronni Mott
Best Chiropractor
Second: Dr. David Tullos (3710 I-55 North, 601-981-2273) / Third: Dr. Jeffrey Jones (737-A Highway 51, Madison, 601-856-8850)
Best Doctor
Second: Dr. Joseph White (6501 Dogwood View Parkway, 601- 366-7447)
Third: (four-way tie) Dr. Dan Woodliff (971 Lakeland Drive, 601- 982-1283); Dr. Leland Gephardt (680 Highway 51, Ridgeland, 601-853-1867); Dr. Kyle Gordon (764 Lakeland Drive, 601-982-0611)
Best Dance Studio: The Mississippi Dance Doctors at Dance Connection Dance Center
306 N. Bierdeman Rd., Pearl, 601-956-4138,
601-932-2374.
OK, all you Jacksonians who sat glued to "Dancing with the Stars," wishing you were Emmitt Smith or Monique Coleman, it's time to get on up. Thanks to instructors Mike and Lisa Day and Shirley Miller, you can learn the salsa, East and West Coast swing, lindy hop, jitterbug, waltz, foxtrot, tango, Viennese waltz, rumba, cha cha, mambo, hustle, merenque, bolero and samba. All you need is a willingness to learn while thoroughly enjoying yourself. Each Thursday evening at Dance Connection, you can learn a different dance from 7-8 p.m., then practice it at the practice party from 8-9:30 p.m., all for $10. Ole!
— Lynette Hanson
Second: In Step Dance Club (1855 Lakeland Dr., 601-366-6671) / Third: Ballet Mississippi (201 E. Pascagoula St. #106, 601-960-1560)
Best Lawyer: William Larry Latham of Latham & Burwell and Michael Portie of Tatum & Portie P.C. (tie)
618 Crescent Blvd., Ridgeland 601-981-4470
111 Arrowhead Trail, Brandon 601-919-2366
Michael Portie has only practiced law in Jackson for two years. Evelyn Tatum-Portie, his wife and colleague, who "politely declines" 70 to 75 percent of requests for service at Tatum & Portie, says award-winning service comes from a commitment to justice.
Larry Latham, senior partner of Latham & Burwell, will "accept limited engagements" as an "expert witness" from his 30 years of experience. One cannot hit the snooze alarm without seeing the passion of the Schwartz on television. Rob McDuff, while keeping a low profile, keeps civil rights and justice at the forefront of his practice.
— Emily Braden
Second: Richard Schwartz Third: Rob McDuff Good showing: Andrew Neely and Mark Chinn
Best Dollar Store: Dollar Tree
Various locations,
601-956-3874
A dollar here. A dollar there. Before you know it, you could dollar yourself right out down to nothing left with not much to show for it. Not so if you frequent the Best of winner, the Dollar Tree where "Everything's $1.00," according to the Kelly green letters adorning the storefront. For us Jacksonians, it's all about m-o-n-e-y in the p-o-c-k-e-t. Check out the Yellow Pages at Yahoo, and you'll find four Dollar Trees in Jackson and three more in the metro area. Unless your favorite, or closest, dollar store is Fred's or Dollar General, you'll know right where to head when you need picture frames, soda pop, DVDs, jigsaw puzzles, calendars, school supplies, pretties to set or hang around your home, duct tape, toys, paper towels, coloring books, you name it.
— Lynette Hanson
Second: Fred's Discount Store (various locations, 601-371-0468)
Third: Dollar General Store (various locations, 601-373-2300)
Best Festival: Mal's St. Paddy's Day Parade
All roads lead to Malcolm White.
Mal's St. Paddy's Day Parade will celebrate its 25th anniversary this year. What began as a simple rush-hour, traffic-stopping pub crawl in 1982 is now the third largest in the world thanks to the passion of Malcolm White, Jill Conner Browne and international Sweet Potato Queen Wannabes tourists. Now is the time to nag about the parade theme, an essential ingredient for making kids smile, impressing bucketheaded judges and having the time of your life.
Wells United Methodist Church hosts the premiere family friendly, no tobacco/alcohol, festival each September with local bands, hands-on activities and a silent auction fit for all tastes, and all proceeds are donated to a non-profit. I don't want to hear parents say our families have nothing to do!
—Emily Braden
Second: Wellsfest / Third: Jubilee! Jam
Good showing: Celticfest; Outoberfest; Farish Street Festival
Best Gallery: Gallery 119 and Brown's Fine Art (tie)
3017 N. State Street, 601-366-5141
630 Fondren Place, 601-982-4844
We've got a tie between Brown's Fine Arts and Gallery 119. Both of these galleries are well known in Jackson but are very different in their offerings. Brown's hosts a much larger group of artists and sells jewelry, pottery and sculpture in addition to two-dimensional work. Gallery 119, on the other hand, focuses on painting and photography and represents just six artists at present (although many others show there as well).
— Nientara Anderson
Second: Chimneyville Crafts Gallery (1150 Lakeland Drive, 601-981-2499)
Third: Southern Breeze (4500 I55N #160, 601-982-4222)
Good showing: The Ink Spot (205 W. Capitol Street, 601-352-4700)
Cheapest Gasoline: Flying J
I-20 exit 47 at Hwy 80, Pearl
My reaction to truck stops like the Flying J is usually surprise—having grown up on BJ and the Bear and a "Thelma and Louise" view of the trucking profession, it always strikes me how many truckers wear khakis and sweaters and carry their laptops with them on the job. The Flying J doesn't just offer cheap gas, but gourmet coffee, Wi-Fi access and a fine selection of books on tape. Plus cheap gas. Meanwhile, the local Mac's Gas chain offers not only good prices across the board, but a JFP with every fill-up—the Mississippi Independent Publisher's Alliance features boxes at all Mac's Gas locations in the area.
— Todd Stauffer
Second: Mac's Gas (multiple locations) / Third: Pilot (multiple locations) / Good showing: Kangaroo (multiple locations)
Best Museum: Museum of Natural Science
2148 Riverside, 601-354-7303
Here's a museum tip: Buy a membership. I'm not sure what Mr. Steam Jeans and I would do without our family pass to the Museum of Natural Science. When the in-laws are in town, a trip to LeFleur's maintains our stress levels. The kids love the big-ass catfish, the men love to look at the topographical maps and lie about the one that got away. The women love to catch up on gossip on the walking trail. Also, with a membership, the family gets invites to sneak previews of special exhibits. Third place Ag Museum welcomes you to bring a camera to use from the rose gardens to the chapel. We love a spring day at the Ag Museum when volunteers weld metals, churn butter and show the printing press. Be sure to check out Thursday night jazz at the Mississippi Museum of Natural Art.
— Emily Braden
Second: Mississippi Museum of Art (201 East Pascagoula, 601-960-1515) / Third: Ag Museum (1150 Lakeland Drive, 601-713-3365) Good Showing: Smith Robertson Museum (528 Bloom St., 601-960-1457); Old Capitol Museum (100 State St., 601-576-6920)
This story has been corrected.
More like this story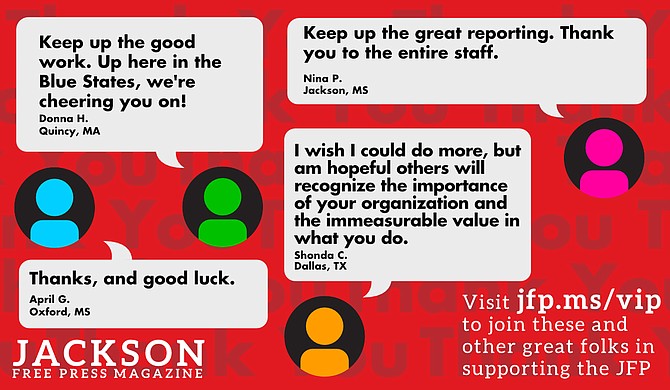 Thanks to all our new JFP VIPs!
COVID-19 has closed down the main sources of the JFP's revenue -- concerts, festivals, fundraisers, restaurants and bars. If everyone reading this article gives $5 or more, we should be able to continue publishing through the crisis. Please pay what you can to keep us reporting and publishing.