Read JFP Interviews with Trent Lott here and Erik Fleming here.
Senate candidate Erik Fleming's record in the Mississippi House shows that he's a champion for the middle and working classes. Fleming stands for a minimum-wage increase and greater oversight in government spending. He wants to make sure more Americans can afford health care, he's a vote for sound management of our natural resources, he supports fully funding No Child Left Behind while stripping it of some of its counter-productive mandates, and in the Senate he promises to be a force for reinvesting in the infrastructure of the United States.
While pragmatic and progressive on many issues, Fleming isn't our perfect candidate for the U.S. Senate—his most disconcerting stances have been on women's issues. His position on these matters gave us pause in writing this endorsement.
Fleming's candidacy also hasn't been able to muster a clarion call against Trent Lott, which could have driven more dollars and national attention to the race. Republicans are vulnerable across the country, even in "red" strongholds, but Fleming's campaign has aroused little excitement. That's too bad, because given his stance on economic issues, Fleming would be an asset for Mississippi—and he would help change the leadership in the Senate, bringing some much needed oversight to the Bush administration's conduct of the war in Iraq and its "tax-cut-and-spend" policies at home.
This endorsement is, as you might expect, as much about Lott as it is Fleming. Trent Lott has two basic problems. First, he says stupid things to reporters entirely too often, things that continue to hurt Mississippi's image and reputation. Second, he blows too much in the wind on issues where he could be a strong populist. In some ways, Lott's 2002 ouster from Republican leadership gave him a chance to reinvent himself as a maverick, perhaps in the John McCain mold. But since that time he seems to be campaigning to get back on the D.C. chat-show circuit about as hard as he campaigns for progress in Mississippi.
In 2006, mere months away from Lott's own home state getting washed away by Katrina, Lott stood against a bipartisan alliance arguing for an increase in emergency funding for the Low-Income Home Energy Assistance Program (LIHEAP). Lott seemed outraged at the idea of Washington forking over any help for freezing, poverty-level northerners succumbing to northern winters and high oil prices.
"What is it we are not going to give people for free? Is there any limit? Is there any limit to the amount of money?" he asked. "I thought we were having global warming."
That's just callous—and ironic considering that he would later sue his insurance company over his own losses. And that remark reminds us of Lott's recent loose-lipped observation that he couldn't understand why Iraqis were fighting one another, because they all looked the same to him.
In our opinion, he had his chance to represent Mississippi better than that, or someone can.
Lott is on the wrong side of the Iraq War debate, particularly if he wants to claim fiscal conservatism as his mantle. When asked why it doesn't bother him to toss away billions of valuable dollars a year on a war that we didn't need in the first place, Lott continues to insist that getting rid of Hussein is worth the money and thousands of American lives. And he says that he voted for the war appropriations in order to keep troops equipped and safe. The Iraq and Afghanistan Veterans of America (IAVA) disagree with him on his pro-troop voting record, however. IAVA gave Republicans a very low grade, and Lott a D. (By contrast, Hillary Clinton gets an A-.)
Lott voted against things like an amendment in the Bankruptcy Abuse Prevention and Consumer Protection Act of 2005 that would have protected service members and veterans from means testing in bankruptcy and put an end to unscrupulous lenders charging ridiculous interest rates to service members. The amendment also would have allowed some service members to exempt their property in bankruptcy. IAVA remembered Lott's vote.
Lott seems painfully indifferent to the bloated spending of the current government and the corrupt profiteers within his party. In June, Lott voted against Dorgan Amendment No. 4292, which would have established a Senate committee to investigate the awarding of contracts for work in Iraq and Afghanistan and to fight the war on terrorism. Those same contracts have lost millions of untracked American dollars on the other side of the planet, and we're no better for it.
In the '90s, Lott led the charge in the Senate to subpoena thousands of documents during the Clinton years in a relentless search for dirt. He and others in the Republican leadership now can't seem to bring themselves to ask serious questions—to issue a single subpoena, for that matter—of a Republican administration that has presided over the demise of the GOP's credibility on fiscal conservatism and its devolution into corruption, scandal and profiteering.
Fleming is far from perfect, but he has a good service record in the Mississippi Legislature, and he would be a welcome change as a representative of Mississippians statewide. We therefore endorse him, while encouraging him to open his mind on issues affecting women in his state.
Previous Comments
ID

89610

Comment

Fleming is the right man. Let's put somebody in there worth voting for. Fleming said recently "the only vision Lott has is what he sees in the mirror when brushing his teeth."

Author

Ray Carter

Date

2006-11-02T12:56:21-06:00
ID

89611

Comment

I'd definitely rather see Fleming than Lott in the Senate right now, but (as y'all know) I'm voting none of the above this year. Cheers, TH

Author

Tom Head

Date

2006-11-02T21:20:08-06:00
ID

89612

Comment

I'd think I'd rather vote "none of the above", except Lott can be useful if he wants to be. Fleming I still can't trust.

Author

Ironghost

Date

2006-11-02T22:23:16-06:00
ID

89613

Comment

Lott can be useful sometimes, agreed--though I suspect Fleming would also be if elected. The thing with Fleming is that he's something of a wild card; his 2004 endorsement of that nut Lyndon LaRouche is probably the best example of that, but there are others. If you want to know God's honest truth, it was his reaction to Donna and Ali's outrage over the abortion ban that bothered me more than the actual vote, and I might have voted for him anyway even despite all that if I hadn't taken the NARAL pro-choice pledge. I've certainly voted on the other side of that issue in the past. Will I in the future...? I don't know. So much has changed. I'm a NOW officer now, an author on civil liberties issues, I've built deep and lasting friendships with a few women who have had abortions who told me their stories, I have become more aware, and now I'm becoming one of those people who really cares about reproductive rights on more than an abstract level. 2006--especially Reproductive Freedom Summer--totally changed who I am, as an activist and really as a voter. My criteria are different now. Even a year ago, I remember describing John Kerry as an amazing presidential candidate, the best we'd seen since Mondale. Now I don't know what the hell I was thinking. Cheers, TH

Author

Tom Head

Date

2006-11-03T04:02:41-06:00
ID

89614

Comment

Good cynicism takes time to develop. Trust me on this. I mean, I'm sure Fleming is a nice guy and all, but unless he's been tapped as the next Obama he's going to be stuck as junior senator.

Author

Ironghost

Date

2006-11-03T08:42:51-06:00
ID

89615

Comment

Lott should be voted out of office, but Fleming is not the man to replace him with. Period.

Author

Jeff Lucas

Date

2006-11-03T09:28:17-06:00
ID

89616

Comment

Any man or woman other than Lott, by their mere presence in the position, would improve Mississippi's image. But if Lott wins, I hope he finally realizes emulating Jefferson Davis, Bilbo, and Eastland does Mississippi no good. He has enormous potential and still has time to do something worth living for. I hope he does the right thing this time.

Author

Ray Carter

Date

2006-11-03T10:01:45-06:00
ID

89617

Comment

"Any man or woman other than Lott, by their mere presence in the position, would improve Mississippi's image." Perhaps. Certainly one more Democratic Senator would further shift the balance of power in the Congress. But in addition to some troubling aspects of his platform, Fleming's campaign has been so lethargic thanks in part to the halfhearted Miss Dem financial support that its been difficult to get excited about his candidacy. Personally, I would have liked to have seen Mike Moore or Ronnie Shows run for this seat, but both men have negatives that would have worked against them also, I suppose. Shows has already lost a Congressional race, and after talking with him a couple of years ago, I believe his life is meant to carry him down a more enlightened path than partisan politics. Moore was rumored for a long time to have been interested in running, but I'm certain his political instincts kicked in and he knew "The Paudnership" would blow up in his face and ruin his chances.

Author

Jeff Lucas

Date

2006-11-03T17:08:49-06:00
ID

89618

Comment

And frankly I'm more disappointed in the polls which indicate Harold Ford Jr (D) is going to lose his bid to become US Senator from Tenn. It think he's a great candidate, and his election would have sent a powerful message to the country about the changing face of the South.

Author

Jeff Lucas

Date

2006-11-07T10:10:54-06:00
ID

89619

Comment

Ronnie Shows is a scumbag. period.

Author

Kingfish

Date

2006-11-07T10:20:04-06:00
ID

89620

Comment

I have a very, very negative opinion of Shows as a candidate, but I don't know him personally. Cheers, TH

Author

Tom Head

Date

2006-11-07T14:26:54-06:00
More like this story
More stories by this author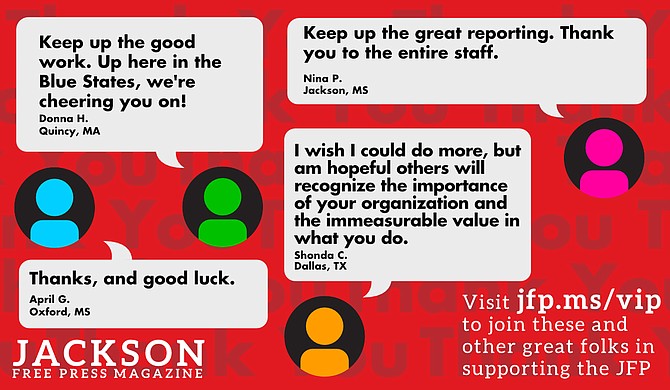 Thanks to all our new JFP VIPs!
COVID-19 has closed down the main sources of the JFP's revenue -- concerts, festivals, fundraisers, restaurants and bars. If everyone reading this article gives $5 or more, we should be able to continue publishing through the crisis. Please pay what you can to keep us reporting and publishing.