Fleming is not an ideal candidate; his opposition to abortion rights and sometimes-caustic insensitivity to women nearly cost him our endorsement.
Fortunately, the rest of his platform is more inspiring. His line that the Iraq War is the last time the U.S. should wage a preemptive war drew enthusiastic applause at a recent debate (see "The Men to Beat Lott?" May 18-24), and we cannot wait to hear him use it on Republican Senator Trent Lott. He is compelling on health care reform: He reminds us that 450,000 Mississippians have no health insurance. His call for removing prescription drug advertising from television might be enough in itself to win him the election, and he is progressive on education.
Overall, Fleming has the experience and rhetorical flair to give Lott a run for his money. That said, we strongly advise him to rethink his position on abortion rights and his attitude toward women in general.
Catherine Starr was such a non-presence in the campaign that we cannot even evaluate her candidacy. Bill Bowlin's challenge to the Democratic Party to "reclaim its place as protector of the little guy" is music to our ears. Unfortunately, Bowlin is short on specifics on a whole host of policy issues. When faced with pressing national questions like health care and illegal immigration, Bowlin seems at a loss for words, and he lacks the gravitas to stand up to Lott.
James O'Keefe of Biloxi is a passionate candidate, and his focus on restoring fair play to trade policy is almost enough to earn our endorsement. If Bill Clinton had not led the Democrats astray in supporting NAFTA, who knows how many manufacturing jobs would still be here in Mississippi rather than Mexico? Now that China is joining the World Trade Organization and further eviscerating American manufacturing, the issue is more important than ever.
Ultimately, we cannot endorse O'Keefe because he believes that illegal immigration and the government's failure to enforce the laws is pushing the U.S. toward "anarchy," and he opposes an amnesty for illegal immigrants, however many years they have worked and lived here. This stand is consistent with his support for manufacturing, but demonizing illegal immigrants represents all that is wrong with American politics.
Previous Comments
ID

66358

Comment

Agreed 100% on both the endorsement and reservations about same. I'm concerned that O'Keefe's position on free trade and on illegal immigration dovetail into what is basically a populist xenophobe platform--very much like what Ronnie Shows ran on against Pickering. I am tired of hearing Democrats play that tune, and it doesn't win elections anyway. Fleming, in contrast, is very pro-immigrant and does not harp on NAFTA. He refuses to play the xenophobe card. I have to respect him for that, even if there are other, very serious problems with him as a candidate. Incidentally, isn't it funny that the JFP only had two primary elections where there were even pools of candidates from which to choose an endorsee? All of the Republican incumbents, with the exception of Lott, are running unchallenged. Meanwhile, the Republicans are fielding an excellent candidate in Yvonne Brown for District 2. No wonder they win so many elections. Cheers, TH

Author

Tom Head

Date

2006-05-31T17:40:01-06:00
ID

66359

Comment

I still can't agree with either choice the JFP made, which shouldn't stun anyone. Erik's choices of company leave me cold, as does his abruptness with women. Looks like a light voting year this year.

Author

Ironghost

Date

2006-06-01T09:19:46-06:00
ID

66360

Comment

Iron, I should say that I abstained from the voting on Erik Fleming. Still, record-to-record, man-to-man, I believe our team made the right choices. I so wanted to be more impressed by Chuck Espy, but he just did not pull it off and came across to me as being afraid to offend his Republican supporters. That is, I don't know whether he was being truthful or not about his views. His answers in our interview were very disappointing. And when you put up what he was offering against Thompson's seniority, and his frankness on his views, it just couldn't stand up.

Author

DonnaLadd

Date

2006-06-01T09:42:37-06:00
ID

66361

Comment

I can't agree with the reasoning that because Bennie is on the Homeland Security Comm. everything will be fine. It sounds like he's still following what the Democratic Committee tells him to do. Why can't the Republicans run someone against Bennie? Some of us stuck in his district aren't afraid of a Republican.

Author

Ironghost

Date

2006-06-01T10:07:33-06:00
ID

66362

Comment

No one said anything about fine. And "seniority" is about more than that committee. The Republicans are running someone, no?

Author

DonnaLadd

Date

2006-06-01T10:11:22-06:00
ID

66363

Comment

Frank Melton is psychotic, in my humble medical opinion. I've said that now for months. If not psychotic, he suffers from either a narcissistic personality disorder, a histrionic personality disorder, a borderline personality disorder, or a sociopathic personality disorder with paranoid ideation. Don't screw with Frank. He'll take you out, and you'll find yourself dead. HDM

Author

HDMatthias, MD

Date

2006-06-03T11:41:00-06:00
ID

66364

Comment

Ironghost, the Republicans are running Mayor Yvonne Brown. She's a good candidate, and the state Republican Party apparatus--the institutional part of it, anyway--has been making a point of saying something to the effect of "Don't cross over and vote for Espy; save your powder and elect a real Republican rather than this donkey in elephant's clothing." Personally, I see Espy as more of an elephant in donkey's clothing, but either way he really shouldn't be in the race. Thompson-Brown is a race I'm much happier with. Thompson is my favorite member of the Mississippi delegation in either house, by far, but with Brown we would get a black Republican and a woman in our delegation. She's also progressive on a good number of issues--affirmative action, raising the minimum wage, etc. Yeah, she's not pro-choice (at least as far as I know), but then neither is Espy... Cheers, TH

Author

Tom Head

Date

2006-06-03T23:15:32-06:00
ID

66365

Comment

Yeah, but how many people in the delta will vote for a Republican, regardless of color or gender? Less than 49%, to be honest. It's like Jackson. No Republican will ever win an election here.

Author

Ironghost

Date

2006-06-04T14:44:26-06:00
ID

66366

Comment

Never say never, iron. The parties change, and in short periods of time. And the truth is, Republicans could do just fine here if they would lose the racist and xenophobic rhetoric that is rampant on conservative air- and blogwaves. I'm not sure that the GOP might not again be the party of progressive, as well non-white, Mississippians, especially with what the Democrats are doing here. However, it will not be the grand old party of Haley Barbour, Larry Nesbit, George Bush, Larry Nesbit, Wilson Carroll, et al. There's some growing up to do first. And there are progressive Republicans here ready to do it. They just get drowned out, too, by the dumb-a$$ radical-right crowd that tries to call anybody a "liberal" (to them meaning commie or something else equally as stupid) who dares to have an independent thought or question one of their buddies. I wouldn't write off Republicans in Mississippi just yet. They may well be back around for another pass once they boot these fearmongering dinosaurs from from midst.

Author

DonnaLadd

Date

2006-06-04T14:49:05-06:00
ID

66367

Comment

Have you guys forgotten? A Republican did win in Jackson-----Frank Melton!!!!!!!

Author

maad

Date

2006-06-06T10:56:40-06:00
ID

66368

Comment

First: Congratulations to Rep. Fleming for his primary victory. Clifton LeSeuer actually got about 45% of the vote against Bennie Thompson. Yvonne Brown may do even better--I seriously think that, now that Thompson has won the Democratic primary (woohoo!), this will be a good general election race. What the Republican Party really needs to do is work harder to groom black candidates. And I don't mean just in predominantly black districts--I mean in white districts that vote Republican. Start building up that cross-racial infrastructure that we need so that in 10 years you'll have black Republicans that you can run for more high-profile statewide office. Of course, more needs to be done in terms of calling down other Republicans for employing Southern Strategy methods, too. But the real key, I think, lies in integrating the upper echelons of the Republican Party. It is very, very hard to run a Southern Strategy campaign when you're building a coalition government alongside strong black candidates. Cheers, TH

Author

Tom Head

Date

2006-06-06T22:31:55-06:00
ID

66369

Comment

(Not that a distressing number of white Democrats don't do the same thing... But then the Democratic Party, too, has largely failed to integrate the upper echelons of its party leadership. Both parties have some work to do.)

Author

Tom Head

Date

2006-06-06T22:34:22-06:00
ID

66370

Comment

I do take some pleasure in watching the death rattle of the Southern Strategy, though I am sure thousands more will be smushed under that lost temper tantrum. And who am I to declare victory when we have Haley Barbour in office and Trent "heck of a job Strom; sorry the Dems went commie" Lott representing us? Still, allow me a moment of hope. Allow me to think of demographics for a moment. As the Republican Party falls apart under the pressure of power--and isn't it significant that the Democrats, who suffer from having a broad coalition, however much Clinton sold that coalition down the river, held power for 40 years, while the Republicans are falling apart after only 12 contested years--while they cling to threadbare foils like gay marriage and that zombie irrelevance, flag burning, I can almost see a political shift to the left. That would be cause for hope if it were not a minimal correction to the abomination of Republican rule. Hell, now I'm getting depressed again. What we need now is a Democratic Goldwater, as much as it makes me vomit blood to say so. What I mean is that the Republicans have made themselves the minority party again. But the Democrats are only centrists, at best. We are so many millions of miles away from the genuine hope one might have felt in 1965, that the United States was on the verge of living up to its Constitution, that I cannot even imagine a militant left. A president who is crazy enough to think that our society might address our shameful poverty and inequality in wealth. At least this time, the nut who brought us into Vietnam was a Republican with no redeeming characteristics at all. Eisenhower would slam Baby Bush's head against the wall and tell him to keep his mouth shut, the way he used to do to Nixon. Honestly, I wonder about this whiplash. What happens when the evangelists freak out and return to their old ways? To wit, what happens when they realize that politics is the devil's game and they go back to praying rather than voting? What happens when the "creative class" overwhelms them with sensible politics, along the lines of Republican foreign policy (i.e. treaties), gay marriage, sensible environmental and energy policy, and that venerable Republican bribe against socialism that we call rising wages? This much is assured. But how will we ever return to civic hope? At this point, I feel like Americans are like Middle-Easterners in Bush's fevered dreams: we need to be educated in the ways of democracy. It's one thing to defeat the Southern Strategy. It's another to defeat the Northern Strategy, which has always run the country anyway and is every bit as racist, but more polite. Cops kill blacks, not some drunk admired by his friends. Or rather, a drunken cop who is admired by his drunken friends kills blacks. How do we ever return to a politics of hope?

Author

Brian C Johnson

Date

2006-06-07T00:27:06-06:00
ID

66371

Comment

I stand corrected on Rep. Fleming; I see now that he's going to a runoff vote against Bill Bowlin. But I think he's still got it in the bag. The League of Women Voters always does good writeups on the candidates. I didn't show up for today's primaries because I'm in the 3rd District (and slept until late afternoon), but I might show up for the Fleming-Bowlin runoff to vote for Fleming after reading the Q&As with the other candidates, all of whom seem to be fixated on immigrant-bashing. Even Starr, who I had taken to be the progressive of the bunch (despite her refusal to bother campaigning), gave chilling answers to the League's Q&A. Describing immigration reform as "[s]omething we need to stop," and saying that the health care system needs to be "re-vamp[ed]" without offering any actual details... I mean, come on. Not that she ever actually tried to win, but come on. November will be a singularly uninspiring experience for me. If Project Vote Smart is right about Taylor, I can't vote for him, so Rep. Fleming, I guess you've got my vote, hard-won though it has been. I've also discovered to my semi-horror that I'll be voting for Chip Pickering again this year, since I won't vote for Jim Giles and there's no Democrat in my district. No big whoop; Pickering is still better than Ronnie Shows. But I do find it vaguely disturbing that if something happened that completely destroyed Pickering's reputation as a candidate, the 3rd District would be represented by Rep. Jim Giles (I-MS). Kudos to north Mississippi's Democrats for at least running candidates in the 1st District. Cheers, TH

Author

Tom Head

Date

2006-06-07T00:37:19-06:00
ID

66372

Comment

Brian, that's a damned good post. Sorry I missed it the first time around. I have to admit that I don't generally expect more than incremental progress from our leaders, Republican or Democrat. Clinton's '92 campaign--with Fleetwood Mac's "Don't Stop" as the soundtrack, with the first two Baby Boomer candidates standing in suits representing the new wave--I was just 14 when that happened, but I remember the hope so many people felt, even people who voted for H.W. Bush. Then came the health care fiasco, Ruby Ridge and Waco (when we all learned that there was an agency called the Bureau of Alcohol, Tobacco, and Firearms), and by 1994, even the moderate right wing was livid and enough centrists came along that we got the Republican Contract with America. I remember how that felt, too, eating instant chocolate pudding as I sat up at 2am watching Rush Limbaugh's TV show with my brother, and though I was reasonably liberal, even then, I remember feeling just a twinge of hope. Because it had been 40 years of Democratic leadership in Congress. Because the new people coming in seemed so competent, so eager to make revolutionary change that could benefit everybody. They failed, too. Or maybe they both succeeded; we did end the 90s on a positive note, with the economy skyrocketing and a general feeling that progress was here. But now, looking back, I wonder why I felt that way. Whatever anyone says about how everything changed on 9/11, I think we're basically still there except that Democrats are too afraid to run a 1992 campaign and Republicans are too disorganized to run a 1994 campaign. Bush-Gore wasn't really a political race; it was more a parody of a political race, with the essence of the campaign being whether to spend the the projected surplus or save it for a rainy day. Bush said spend it; Gore said save it. That's why Bush won--because saving money in a "lockbox" isn't very inspiring. It had nothing to do with social policy or foreign policy. It was all about how to manage what would turn out to be a nonexistent windfall. And Bush-Kerry? It was the spirit of 9/11 vs. the failure of Iraq, both promoted by thoroughly unconvincing candidates. But in retrospect, I don't know why it surprises me that Bush won; once again, he was the one with the more inspiring message, wrongheaded though it was. I wouldn't expect our government to give us social equality and 1,000 years of peace. I'd just be happy with a president who is reasonably competent, doesn't pander to hatemongers and fearmongers, doesn't say "bring it on," doesn't get in the way of social progress, and has something intelligent to say. Maybe John McCain could be that president. Maybe Russ Feingold could. I am much less hopeful about Bill Frist and Hillary Clinton, George Allen and John Edwards. Cheers, TH

Author

Tom Head

Date

2006-06-07T02:51:58-06:00
ID

66373

Comment

By the way: Looking back at 1994, what did the Republican challengers do when confronted with an unpopular president and a Congress they wanted to take over? They put out a "Contract with America," they promoted ideas, they put together a unified, exciting (and wrongheaded or not, it was exciting) platform. But what are Democratic challengers doing in 2006? Essentially coasting on the unpopularity of incumbents, talking about how they suck, and not offering any comparable vision with which they can reclaim Congress. At least not yet. Today, the primary season ended. We'll see where they go from here. Cheers, TH

Author

Tom Head

Date

2006-06-07T02:54:40-06:00
ID

66374

Comment

Ah, the one thing that would kill democrats the most: success. Being in charge and having to live up to the ideals of the starry-eyed masses. Too bad they don't have a leader which shares Brian's vision, even in the slightest.

Author

Ironghost

Date

2006-06-07T03:36:03-06:00
ID

66375

Comment

Tom, I find it interesting that you used Project Vote Smart to provide a rationale for opposing one candidate but never mention that your endorsed candidate "HAS REFUSED TO PROVIDE ANY RESPONSES TO CITIZENS ON ISSUES THROUGH THE 2006 NATIONAL POLITICAL AWARENESS TEST" at Project Vote Smart. Guess it's more "the devil you don't know" now?

Author

Rex

Date

2006-06-07T09:43:35-06:00
ID

66376

Comment

And since we are looking at Project Vote Smart for our cues, I certainly feel like Bill Bowlin is as viable a candidate in the run-off as Fleming. Some of his answers are not my cup of tea, but based on what I've read from Fleming, he certainly is no worse and on some issues, better.

Author

Rex

Date

2006-06-07T09:50:13-06:00
More like this story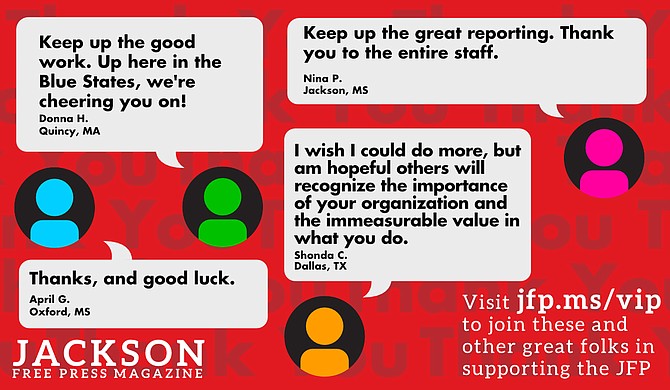 Thanks to all our new JFP VIPs!
COVID-19 has closed down the main sources of the JFP's revenue -- concerts, festivals, fundraisers, restaurants and bars. If everyone reading this article gives $5 or more, we should be able to continue publishing through the crisis. Please pay what you can to keep us reporting and publishing.