Since we wrote our stinker quote earlier this week pointing out Rep. Steven Palazzo's hypocrisy over not supporting federal Sandy aid (after begging for Katrina aid), he http://www.huffingtonpost.com/2013/01/10/steven-palazzo-sandy-aid_n_2448565.html">has thankfully flipflopped:
A Republican congressman from Mississippi who voted against the first round of Hurricane Sandy aid is now voting for the second round after having toured storm-ravaged parts of the Jersey Shore and Staten Island.

Rep. Steven Palazzo (R-Miss.), who represents Mississippi's Gulf Coast, will now be voting for the $51 billion in federal aid for New Jersey and New York residents, The Staten Island Advance reports. Palazzo, who had requested federal funds for the Gulf Coast after Hurricane Katrina, toured the areas hard hit by Hurricane Sandy following his vote last week in opposition to expanding the federal flood insurance program by $9.7 billion to pay for those affected by Sandy.
In response to: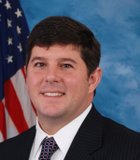 To date, no evidence has surfaced that Rice either concealed information or distorted it any way (and evidence has surfaced showing that the CIA didn't want to tip its hand).