Sort By
Date
Capitol
Just before the Senate convened on Monday, a young lawmaker tried to jam a fistful of blue and white pieces of paper into an already overstuffed bill box.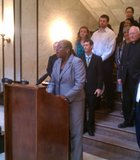 Business
Anyone with a television has seen the ads common this time of year inviting people to apply their income-tax refunds toward everything from bedroom furniture to big-screen TVs. The businesses ...
Politics
The person in charge of rooting out corruption inside the Hinds County Sheriff's Department is Marcus Wright, a former Jackson police officer and bodyguard to late Jackson Mayor Frank Melton.
Wellness
One night last fall, Watson Dollar became angry when his mother would not let him drink from her water bottle. At the time, Pam Dollar was fighting a cold and ...