Mississippi Museum of Art
380 S. Lamar St. Jackson, MS 39201
601-960-1515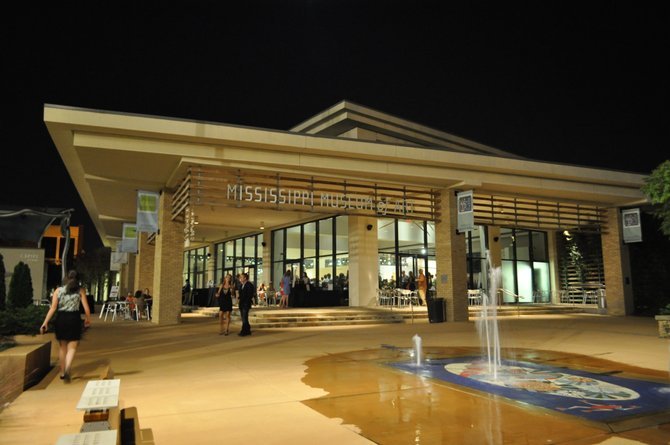 Description
As Mississippi's largest art museum, the Mississippi Museum of Art is home to some very extraordinary works of art. And it's not simply the best in local and regional art that we have on display. Every year, some of the best exhibitions in the nation come to Jackson.
In 2003, the Mississippi Museum of Art marked its 100th anniversary as the state's repository and exhibitor of local, regional, national, and international art. Not unlike other Mississippi arts organizations, the Museum had humble beginnings. The organization's seed was the Art Study Club founded in 1903 in Jackson by Miss Bessie Cary Lemly, an artist and art professor at then all-female Belhaven College. Twice a month, Miss Lemly invited some "town ladies" to join her and her students to enjoy tea and discuss art. In 1911, the Mississippi State Fair commissioners contacted Miss Lemly and the Art Study Club members to ask that they furnish an exhibition of paintings by local artists for display at that year's State Fair. That request sparked the idea for an organization that could regularly exhibit artwork for public viewing. Thus, the Mississippi Art Association was created in October of 1911 at the State Fair, and its first meeting was held in a buggy tent to avoid the noise and confusion of the Fair crowd! Fast forward sixty-seven years to 1978. The current facility opened its doors in April of that year, along with a name change to the Mississippi Museum of Art, Inc.
From an initial collection of only several hundred works, the Museum's Permanent Collection has grown to nearly 3,800 pieces with an emphasis on mid-nineteenth and twentieth-century American art. Its holdings of American art include paintings, sculptures, prints, drawings, and photographs by such notables as Albert Bierstadt, Arthur B. Davies, Robert Henri, George Inness, Georgia O'Keeffe, Thomas Sully, and J. A. M. Whistler. Photographs and works on paper include works by Thomas Hart Benton, Alexander Calder, William Eggleston, Walker Evans, Andy Warhol, and Eudora Welty. Works by Richmond Barthé, John DeAndrea, Malvina Hoffman, and Paul Manship highlight a growing collection of sculpture. Native American baskets and more than 170 Southeast folk art objects, including works by Annie Dennis, Howard Finster, Earl Simmons, Jimmie Lee Sudduth, and Mose Tolliver, are important parts of the Museum's collection.
The Museum's Mississippi Collection includes a comprehensive selection of works by Mississippians, including late-nineteenth century painter G. Ruger Donoho, photographer/writer Eudora Welty, and folk artists Theora Hamblett and Sultan Rogers. The Museum also collects contemporary works by Mississippi natives such as William Dunlap, Sam Gilliam, Randy Hayes, and Valerie Jaudon. And, the Museum holds several large collections of works by Mississippians including Walter Anderson, William Hollingsworth, and Mary Katharine Loyacono McCravey.
Important aspects of art history are represented with works on paper by Paul Cézanne, Edgar Degas, Joan Miro, Pablo Picasso, and Claude Renoir.
With a mission ". . . to engage Mississippians in the visual arts," the Mississippi Museum of Art offers year-round educational programs, often collaborating with other arts organizations, public and private schools, and community groups. Each year, the Museum hosts The Scholastic Art Awards Mississippi Regional Competition in which middle, junior, and senior high schools from around the state participate. For the adults, "Unburied Treasures" is a monthly program that features art, music, and literature. "Jazz, Art & Friends" is another popular program that combines the visual arts with the performing.
Because exhibition space is limited, works from the Museum's Permanent Collection are rotated throughout the year in the Permanent Collection Gallery. The Mississippi Museum of Art Affiliate Network also helps to showcase the Museums' holdings. Statewide affiliates are qualified sites that host exhibitions curated at the Jackson facility and transported to the various intra-state venues.
In 1992, the Mississippi Museum of Art initiated The Annie Laurie Swaim Hearin Memorial Exhibition Series which showcases world-class art on a biannual basis. In 2004, Paris Moderne: Art Deco Works from the Musée de la Ville de Paris drew one of the largest crowds ever to the Museum. There have been others of equal importance and popularity: Dutch & Flemish: 17th Century Paintings from the Harold Samuel Collection; Degas: The Many Dimensions of a Master French Impressionist; and The American West: Out of Myth, into Reality, to name a few.
Over a span of 100+ years, the Mississippi Museum of Art has emerged from a parlor room tea party to an outstanding regional art museum. Come see for yourself today. If it's great art you're looking for, you are sure to find it here.