Gabe Porter (left) is the manager of True Local Market and owner of A Little Time to Grow. Liz Smith (center) of Inspired Dreamz poses with jewelry she made. Brian Newman (right) hopes to one day open a collective art studio where he can work on his passion: pottery. Photo by Ryan Oehrli
Stories this photo appears in: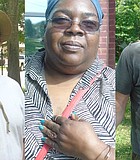 Art
At first, Gabe Porter only wanted to sell his produce somewhere new and with air conditioning. It was spring 2018, and Rainbow Grocery was going bankrupt. Porter told the owners ...