Robert Luckett, a civil-rights historian and associate professor of history, also serves as director of JSU's Margaret Walker Center. He is also the interim director of the Council of Federated Organizations Civil Rights Education Center on JSU's campus. Photo courtesy JSU
Stories this photo appears in: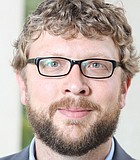 Education
The Center for Creative Leadership and the W.K. Kellogg Foundation recently named two Jackson State University professors, Robert Luckett and Byron Orey, as participants in the WKKF Community Leadership Network.