After naming Jeff Sessions attorney general, Trump soured on him for recusing from the Russia investigation, calling him a "traitor" and a "dumb Southerner" according to a book by Bob Woodward. Here, Sessions speaks at a Trump-Pence campaign rally in August 2016.
Stories this photo appears in: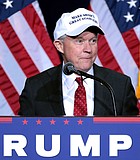 National
President Donald Trump once described his attorney general, Alabama native Jeff Sessions, as a "dumb Southerner," according to a new book by journalist Bob Woodward.