In 2015, Democrat Bo Eaton (pictured) sought a sixth term in the Mississippi House. The race between him and Republican Mark Tullos went to a tiebreaker that Eaton won in a drawing of straws. But lawmakers tossed out some ballots that local officials originally said were properly cast. That gave Tullos the seat and Republicans a supermajority in the House.
Stories this photo appears in: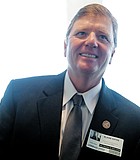 Politics
A federal court is ending a dispute over a 2015 Mississippi House race that originally went to a tiebreaker but was then overturned by the Legislature.