The short- and long-term future of the Jackson Zoo is unknown, after the City of Jackson bailed the zoo out financially on Aug. 2 and Beth Poff, the executive director, resigned on Aug. 9 after it surfaced she had mismanaged bond funds.
Stories this photo appears in: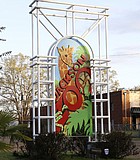 Business
The Jackson Zoo's future is the latest victim of Murphy's Law: Whatever can go wrong, will go wrong. And in the last week, it has.