Sandy Middleton, executive director of The Center for Violence Prevention in Pearl, wants to see a paradigm shift from criminalizing prostitutes to prosecuting "pimps" who sell sex workers and the "johns" who purchase their services. Photo courtesy Sandy Middleton
Stories this photo appears in: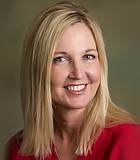 Crime
Amid widespread efforts to crack down on sex trafficking, particularly of children, those who participate in adult sex work—often called prostitution—are getting caught in the sweeps. Many consider this a ...