Jackson pop artist Adrienne Domnick (pictured in front of a mural in Bywater, New Orleans) often creates pieces that center on artists and musicians that she finds inspiring. Many of them are African Americans. Photo courtesy Mississippi Museum of Art
Stories this photo appears in: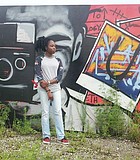 Art
Pop artist Adrienne Domnick recently sat down with the Jackson Free Press at Offbeat in midtown, where she paints, lives and serves as president of the Business Association of Midtown.