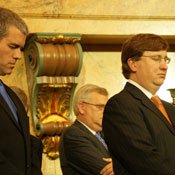 Stories this photo appears in:
Politics
Lt. Gov. Tate Reeves: "I have a message for people in both parties who are scared of the future of education reform: buckle your seat belts."
Politics
The mood in the Mississippi House chamber after Rep. Mark Formby made the motion to adjourn sine die was similar to the last day of school before summer vacation.